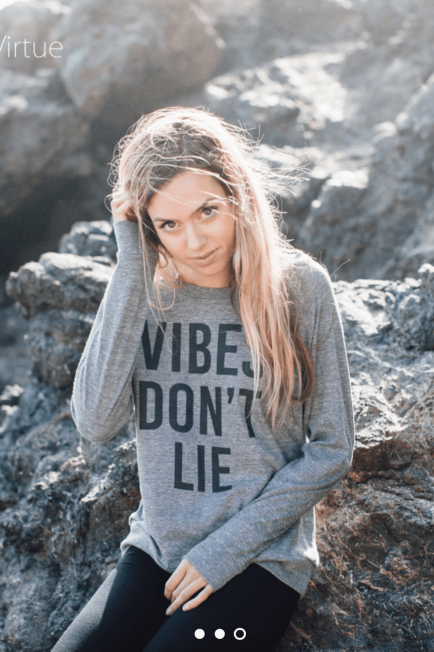 Guess what today is…?! The official relaunch of TBV Apparel – the conscious clothing line I started with my good friend Tynan Daniels in April 2014. We started the line as a project to exist as an extension of my then-blog The Blonde Vegan. I thought fun phrases like "Oh Kale Yes!" and "Is Vodka Vegan?" were fun and playful and would shed a lighthearted look on the importance of living and being passionate about living a healthy lifestyle.
But after a year of successful sales, countless new phrase ideas, awesome collaborations, incredible photo shoots, endless amounts of hard work, and the efforts of a small but mighty TBV dream team… We decided it was time to take TBV Apparel to the next level.
What does the next level entail, you ask?
A killer site revamp that represents the So Cal beach-inspired, free spirited personality the brand has developed, SIX (!!!) new t-shirt phrases, a bunch of new t-shirt styles, and a solidified energy and cohesiveness that signifies what we are all about. All in all, if I had to explain what we are about at the core in two different sentences: High On Good Vibes & Making Our Own Magic. (Both of which are now t-shirt phrases, of course.)
Did I mention that the website was redesigned by my two TBV Apparel masterminds Tynan & Cole?
Yeah, they are graphic designers on top of their many other skills. They design, print and ship all of the tees, Tynan does all of the photography (he also did all of the photography for my book!) and Cole is the face of our TBV Apparel Men's Collection.
I am basically ridiculously lucky to have them. Say hi to Cole below! 🙂
Especially, you must check out the look book on the site! It is to die for. I cried when I saw it. Cried.
We are so thrilled to have a place to share all of our new designs with you that represent what we stand for: creating a community of like-minded individuals by sharing our core principles of truth, balance and virtue. We hope that our clothes will encourage you to live a passionate life that you are excited about just like we have. That's what we all deserve, and that's what our tees symbolize.
Last month we held a contest for TBB readers to come up with some of our newest phrases for this redesign. I am thrilled to announce that we loved so many of your entries (over 800!), that we chose not one but FOUR winners. The winners are…
Gabrielle Terzano of @livelaughyum for "You Had Me at Savasana," Stacey Oswald at @simply.stace for "My Kale Shake Brings All the Boys to the Yard," @jenconn for "Namaste or Whatever," and @happyhealthymama for "Somewhere Between a Donut & a Juice Cleanse."
You all KILLED IT with your phrase ideas! Thank you to everyone who put in your vote — we chose the top four, and we hope you love the designs we came up with to accompany the sayings! All of the winners will get a free t-shirt with their winning phrase on it as well as a lifetime 10% off of TBV Apparel. Your support and love means the world to us.
On top of those four, we also made a "Make Your Own Magic" crop tee and a "I'd Rather be a Mermaid" crop tank.
Each of the tees represent what we love & want for all of you: to live a passionate life and to make your own magic wherever you go.
Also, shoutout to the unbelievably gorgeous (inside and out) Natasia Lutes for being our TBV Apparel angel! Natasia not only rocks the tees with utter perfection by being our very own real life mermaid, but she also represents the key elements of truth, balance and virtue that are oh so important to us. On top of that, she is a healthy rockstar and a purveyor in BALANCE. She is an inspiration and we are lucky to have her as the face of our brand.
All in all, head over to www.truthbalancevirtue.com to check out everything & shop your hearts out! We. Are. So. Excited!!!
#VIBESDONTLIE
#TBVAPPAREL
#MAKEYOUROWNMAGIC
And we have soooo many more that we are so stoked to share with you. All on the site! Can't wait to hear what your favs are!