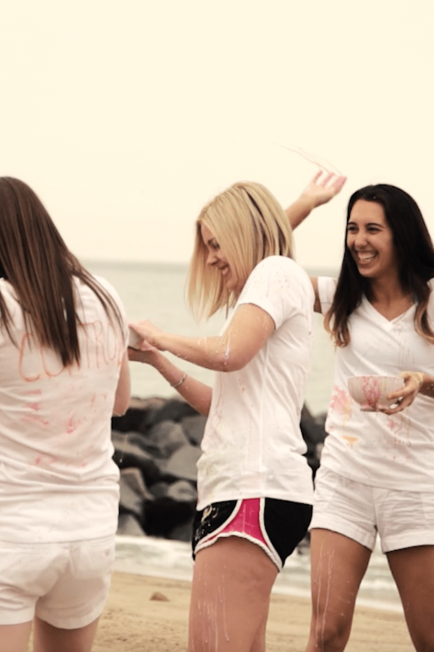 The Art of Messing Up Your Life
( MESS UP YOUR LIFE, the video. In case you wanna watch before you read! )
Sounds counterintuitive, right?
Why would I want to mess up my life when I could work to make it as perfect as possible: perfect body, perfect career path, perfect relationships, perfect sleep schedule, perfect fitness routine, perfect exterior in hopes that it will all blend to create the most perfect, content & wonderful interior there ever was?
Let me tell you why. Perfection is not fun. It's attainable, but not maintainable. Once you reach your "goal weight," "goal job," "goal ____" [FILL IN THE BLANK, you know what I'm talkin' bout!] you set a new, higher, more unattainable goal for yourself.
Perfection is an issue. It's not reality – it's an escape from reality… A vessel to channel our nervous energy into that inhibits us from living in the moment, cultivating meaningful relationships, being in touch with our creative potential, and being effortlessly happy with who we are.
For many of us, reality is scary. It's something we run & hide from for fear that what we see in front of us is going to be displeasing. REALITY is the face we see looking back at us in the mirror; reality is the look in your eyes, the curve of your waist, the sentiment behind your smile that tells you how your day really was.
And not all days are perfect. In fact, most days are NOT perfect.
But you know what I've learned about perfection?
The happier you are with what you have, who you ARE, and where you are, exactly in this moment, in every moment, the less you'll care about perfection and the more you'll care about living in the moment — maintaining the true happiness of being your true self. "Stepping into your light," as my dear friend Lisa calls it, which really resonates with me.
Once you step into your light, getting messy isn't about fear of imperfection. It's about embracing every ounce of imperfection to be perfectly, effortlessly, blissfully you.
#BEYOU
Filming this video was cathartic for me in so many ways. As you can tell in the beginning of my speaking part, it was emotional — I was near tears many times throughout the morning that we filmed, and re-watching it not only brings me to tears but makes the tears stream down my face. Stream.
It makes me bubble up with emotion not only to see how far I've come, to re-wire my mind every time I see it to embrace GETTING MESSY versus striving for perfection, to hear my authentic self shining through even if I was afraid, to look back and see how far this journey has taken me…
Not only does it make me cry because of all of the above, but to see my friends taking part in the video with me and allowing themselves to be vulnerable as well — that's what hits me in the feels with this video.
When we started filming that morning, it was a surprise to everyone involved that we were going to be writing our insecurities on the back of our t-shirts. In fact, I told everyone that part was optional because I was so unsure that they would want to put themselves out there so candidly. (Understandably so!!!)
To my great surprise, after one person stepped forward to write an insecurity… everyone stepped forward. One beautiful soul after the next after the next, and even though it was a new thing for many of us to be so vulnerable, we did it together, and it was a supportive, loving & incredibly magnetic environment to be so open within.
Beyond that — beyond my 9 or so dear friends that took part in #MessUpYourLife with me — I extend this video to all of YOU. I extend the invitation to celebrate your insecurities, the permission to be rawly, openly, PROFOUNDLY open and vulnerable, and to let the emotion flow.
To open up about those insecurities so you can let those bad boys go.
The more we talk about our insecurities, the less and less real they become. So much of what we dwell on about our bodies/minds/lives that makes us unhappy and insecure all exists in our MINDS. Once we get it all out there in the open, it's hard to believe that such little figments of our imagination can have so much impact.
Try it. I promise, it feels good.
THERAPEUTIC to the 91754938498237th degree!
I would be forever grateful & honored if you watched this video & commented by telling me what your insecurities are — what you want to let go of. I will read every comment (as I always do!) and burst with joy and love for all of your openness and vulnerability.
We are a team, never forget that.
Time to embrace who we ARE and never look back. Here's to living in the messiness!!! Here's to living our LIVES.
#TBBTribe
Thanks hugely to Enjet Media for bringing this video to life. I am forever grateful for your support, love & killer vid skills. You guys are everything.
P.S. If you want to hear me talk more about my journey, check out my podcast interview on the fabulous Daily Groove Summit. Honored to be a part of this project with so many health & wellness rockstars.
P.S.S. If you want to hear me talk ALL about my journey, the link to preorder my book, out November 15th, is here. Email me once you have preordered and I will add you to the #TBBTribe email list… With tips & tricks for staying balanced & HAPPY and healthy in your every day life. Basically, more of this bloggy, straight to your inbox. Boom shaka laka!!!
P.S. x 3: Please SUBSCRIBE to my YouTube channel if you like what you see. The more subscribers I have, the more videos I can create because it will be more legit for me to do so… ya feel? XOXOX love you peeps to the moon and beyond a mill times over.