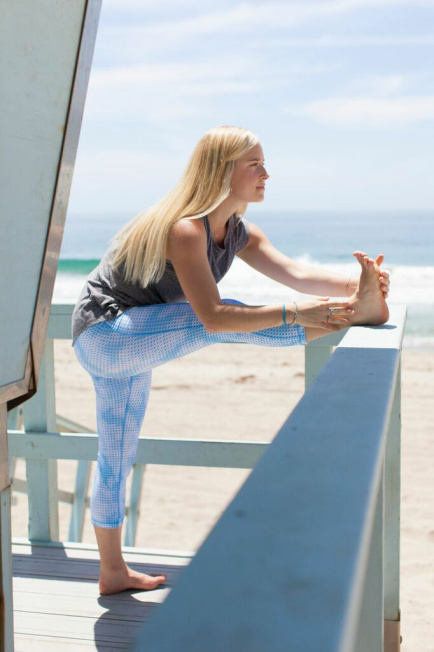 Why I Like to Workout While I Travel
( BTW !!! This post was inspired by my girl Lauryn Evarts of The Skinny Confidential. She wrote this post while traveling to Cabo & it got me thinking… I do the exact same thing. And I have a lot to say about it. )
SO! You all know I have been traveling for the last 6ish weeks, & even before that I can't remember a time I was in L.A. ( where I live !!! ) for more than two straight weeks at a time. In fact, I was talking to my roomie last night about how neither of us can believe I have lived in this apartment for a full year, & we agreed that that "full year" really means about 6 months total MAYBE, if we are being generous with wording here, because I have been gone so much between last July & now.
Don't get me wrong. I love traveling. I have not even been back a full week & I am already planning my next adventures to Miami, Costa Rica, NYC and *fingers crossed* Bali. But there is also something so, extremely nice about staying put… a.k.a, having a home base to come back to.
And what really throws me off with all this travel is feeling like my home base is not quite as homey as it should be. I returned from Hawaii & my suitcase from NYC was hardly unpacked! My "blog room" ( I need to do a full post on this room soon… it's my office, overflowing with boxes of athletic clothing & health food products at the moment) resembles a straight up explosion, & I still have to settle in and stock up on groceries so I can make yummy recipes for you all… and so I can make myself dinner instead of eating out all the time!
Not to mention, I am apartment hunting as we speak! Talk about switching up home bases. 
So aside from all of that, it's pretty nice to keep some semblance of my regular routine while I am traveling. And not only is it nice — it is necessary.
I am someone who gets very, very, very, very, very thrown off if I feel that something around me is not right / if I feel forced to do something I don't want to do. ( i.e. eat something I don't want to eat because it's the only thing around & I forgot to bring my own food; not exercise because no one else is exercising or because there's not a gym/yoga studio/allotted time slot; stay out way later than I want to because I don't have another way to get home; you get the picture… )
So pretty much, because of that inherent part of my personality, I have to know what I want, and I have to know how to make that happen. I am not necessarily a "go with the flow" kind of person ( in some ways I am, but not many ) so that means it's up to me to figure out what I need to do so that I can be happy, content & fulfilled in every situation.
Oh, I also have a ton of anxiety. So if I feel that I need to workout and the workout doesn't seem like an option… my reaction is not pretty.
So here we go when it comes to the reasons I like to exercise on vaycay…
A) Routine is hugely important to me. Traveling takes you out of your regular routine enough as it is, so if you throw caution to the wind & stop doing everything you're accustomed to doing at home, it will be that much harder to come back to it when you return. This is the same reason I check my email almost daily on vacation ( even if I don't respond until I get back, I like to know what's up ), keep up with my friends & family as often as I am when I am home, & why I like to eat pretty normally to how I usually do. ROUTINE is huge for me.
B) Structure!!! I don't know about you, but when I go on a tropical vacation (like Hawaii!) there is a whole lot of lounging going on. I love unwinding on the beach or by the pool with a good book, napping in the sun & daydreaming the day away. ( PS, this is one of the books I read in Hawaii… it's a MUST if you have not read it. ) But I still have that part of my personality that wants to be DOING something. It's how I am! That's why it's extra nice to add some structure to my day so I don't go stir crazy. If I know that I've worked out that morning or have a workout to look forward to in the afternoon, it keeps my day structured & makes me feel productive.
C) Getting the anxiety out: If I am not on a tropical vacay, I am probably in a city like NYC, somewhere in Europe, SF, etc. In that case, structure is not what I need. The trip is probably already structured enough. In that case, I exercise for the mental relief! My body gets wound so, so tight if I don't workout. I've tried in the past to convince myself that walking oh so many miles per day in a city like NYC counts as working out on vacation… but it just doesn't. There's something so uniquely satisfying about getting your sweat on and getting lost in your own mind while you exercise. I for one need that kind of release in my life, and I am so happy that exercise provides it.
D) Sitting on an airplane ain't good for the bod, & I need to stretch that ish out: This is a HUGE reason why I workout on vacation, even if the trip is short. Sitting on an airplane torks my back, neck & shoulders into the most uncomfortable of positions and I can't just sit by and feel that way for days on end after I arrive somewhere! I need to get on the ground and STRETCH, and the best way for me to do that is usually a power vinyasa yoga class. If I don't know of a studio nearby, I either look one up or I do my own practice on the floor. It feels heavenly and I am always so grateful that I spent the time to do it.
D) Vacation is my "me time," & practicing good habits when you have the time cultivates them for the long run. Oftentimes being on a trip gets us away from the stressors of our everyday life and gives us the much needed time to focus on ourselves. If we spend that time cultivating unhealthy habits, we won't return feeling refreshed & recharged. We will feel drained and depressed to be back. I like to spend the time, while I have it in abundance on vacay, on myself & feeling as good as I possibly can. Although I would LIKE to workout every day while I am home, sometimes I have too much going on to make that happen. On vacation there really aren't many excuses. And if I sit around drinking all day and not moving my body, I'm not going to return feeling all that refreshed… ya know…
D) It's a great way to connect with people! I have had some of my best conversations with people during hikes, surfing, long walks, swimming in the ocean or searching for a good yoga studio. It brings you together with the people you're traveling with and you're working toward a common, healthy goal. I dragged my parents on long, long walks with me every day in Hawaii & we talked about so many things we probably wouldn't have had we just been chillin' by the pool with a pina colada. My brother-in-law & I have tried so many awesome yoga studios in so many towns & cities because we always seek them out, it's something we both love. My niece & I always have the best time adventuring together and trying new things because we both like exploring places by diving right in. It's a great way to bond. And if you're traveling alone… it's a great way to meet like-minded people!
E) I like dessert… a lot. I'm definitely not saying that you can't eat dessert if you don't workout. That is silly and not true. But I am saying that when I personally have a great workout, I can eat more dessert without having to experience that gross, overly full feeling. I like to indulge a little extra on vacation… for instance, we had the BEST ice cream place around the corner from us in Hawaii, and I went there pretty much every single day. Mint chip with chocolate fudge, baby. And since I was running/doing yoga/going on super long beach walks/surfing all the time, my body was hungry & needed the extra fuel! Plus, I still felt good & confident in a swimsuit because I wasn't stuffing myself without moving my bod. It's a win win.
E) It can be a great way to experience the culture. This is true in some places, but not all. Like in Italy, working out outdoors is not a great way to experience the culture because they simply don't workout there (lol, trust me… running on the street in Italy is like asking to get hit by a car and annoy every pedestrian there is). In Costa Rica, it was SO COOL to run on the streets & familiarize myself with the towns nearby. In Hawaii, getting in the water and surfing is part of Hawaiian culture, and same with waterfall hikes, beach runs & mountain biking (I don't bike, but if you do like biking it's a great way to experience Hawaiian culture/history). Getting OUTSIDE means living… moving, breathing, enjoying the bodies we live in. It's important.
Lastly… I finally started the #TBBTribe email newsletter ( !!!!!!!! ) & I am so, so, so, so, so, so, so, so, so, so ( wow, I'm insane ) stoked about it. You can SIGN UP HERE, & emails will be going out every Sunday evening! YIPPEE. More to come on my newfound structure / schedule soon– I am feeling real good about it. 
What are your thoughts on working out on vacation? Are you a total "let me lounge I'm on my vacay" kind of person (that's cool too, we are all diff), or are you more like me & need to move your bod in order to relax?! Would love to hear.