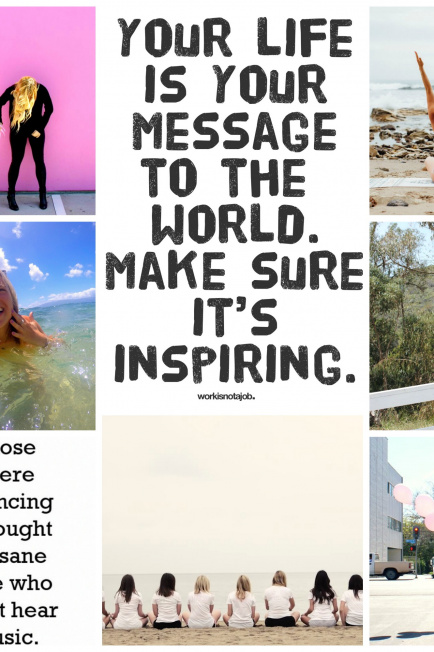 Free Spirit Diaries: How to Create Structure in Your Life While Maintaining Your Independence
JUST GOTTA LET YOU KNOW: This post is a little long & doesn't have a whole lot of fun photos or anything like that, but bear with me here because if the title struck you then I think this is going to resonate – A LOT. 
▶ ▷ ▸ ▹ ► ▻ ▶ ▷ ▸ ▹ ► ▻
HEYO! I've been doing a lot of thinking lately, about striking a balance between creating structure in my life but also leaving myself enough wiggle room to be spontaneous, travel, work at my own pace & save energy for the passion projects in my life that I love oh so much.
The daily struggle, right? Creating a life for yourself that is reliable and efficient but also super fulfilling, tons of fun and personally challenging.
It can be a tricky thing, working for yourself. Especially when you are a notorious free spirit who doesn't exactly do well with the standard "structured lifestyle."
That's why this career path has been an absolute godsend for me. I get to do all the things I love: write, connect with people, talk about health & fitness, be creative, take mid-day yoga breaks, collab with like-minded people, film videos & build my own schedule. I don't have set hours or anywhere specific to be at any specific time of day, for the most part. If I feel like taking a day off or hopping on a plane to work from a super different environment, I can totally, 100% do that.
It's… awesome. ( To say the least. )
I wholeheartedly believe that everyone can find the perfect job for them that meets their passions, needs & fulfillments. You can read more about my thoughts on that here.
But, as all things do, being your own boss comes with its own set of challenges. It lacks the dependency of a traditional or corporate job, which means if you're not putting in the effort ( even if you are putting in the hours, with this lifestyle it's all about EFFORT and effectiveness of your effort ), then you're out of luck. Or at least you're not thriving as much as you could be / should be.
So, in order to thrive as much as we possibly can in our alternative environments, we've gotta be efficient with our time! Mapping out our days helps make that happen, even if the scheduling itself isn't necessarily "traditional."
Have I mentioned that I don't do well with the whole structure thing? The simple solution of writing tasks down in a day planner & sticking to them doesn't cut it for me. My daily to-do list in every day planner I've ever owned always, inevitably, turns into a medley of all sorts of colors and shapes and plans and ideas and inspiration for posts I want to write/books I want to work on/events I want to plan/quotes that pop into my head in the middle of the day/what have you. I am a doodle queen… like for real.
As the years have gone on I've learned that just because my organizational skills are different from many people around me, that doesn't mean I don't have them, and it doesn't make my skills any less effective. I just have to exercise them & not let the daunting task of figuring it all out get in the way. And when I do that, doing it my own way works better for me.
That's why I blog! So I can create my own schedule. But I also have big goals for this blog, for my book Breaking Vegan, my clothing line TBV Apparel & the business of TBB as a whole. So I can't exactly just sit around dilly dallying either. It's a push and pull, a learning curve, a BALANCE.
▶ ▷ ▸ ▹ ► ▻ ▶ ▷ ▸ ▹ ► ▻
A lil' metaphor action…
So, stick with me here. I'm about to create a little bloggy job metaphor to explain how I like to map out my days:
I like to think of my job as more of an adventurous road trip than a straight-up journey with a destination. A little corny? Yeah. Totally applicable? Chyeah. Read on…
If you have a map with the purpose to take you from A to B, chances are you're not really going to deviate from it. Why would you? You might get lost, and it will make you late. You just want to get to your destination — and that's cool! There is a time and a place for such trips.
If you're going on a road trip, sometimes the point is to kick back and enjoy the ride. You still want to get to where you're going, of course, but it's okay to make some detours along the way. If the opportunity to see a really cool waterfall that you didn't know existed pops up, you'll probably take it! If a friend lives an hour or so away from the freeway but you haven't seen her in forever & you want to catch up, you can do that. You don't have to be anywhere at any specific time. You'll get there, and you have trust in that.
My job, as a lifestyle blogger / author / creative entrepreneur, definitely falls on the "adventurous road trip" end of the spectrum. I understand that that type of lifestyle doesn't work for everyone. In fact, I know people who would hate the unpredictability of an only semi-planned, open-ended road trip! But when it comes to life choices that's what works for me, and I embrace it. I love being able to shift my schedule around to fit in spontaneous lunch dates and fun workout classes and an impromptu trip to the beach if I feel like I need to breathe in the fresh sea air. That nontraditional structure is what I need in order to thrive.
But here's the thing: Just because traditional structure doesn't do it for me, doesn't mean that my life is just a free for all. Like I said, I have big goals. Having big goals means having the responsibility to stay on top of your shit. Ya feel me?
When you have goals, you need a roadmap. A roadmap for a ROAD TRIP, no matter how often you allow yourself to take detours & how far those detours take you. Because after all, some of the best moments of your life might happen on those detours — those beautifully unplanned moments where you feel most alive. And they MIGHT just set the stage for a brand new building block in your business. Crazy cool, right?!
▶ ▷ ▸ ▹ ► ▻ ▶ ▷ ▸ ▹ ► ▻
My Road Map:
SoOoOo, I recently decided to try mapping out my weekly schedule. And it's been helping SO MUCH. Here's a little glimpse into how I set it up:
I broke each day down into:
1) Blog / work focuses: creating & capturing visual content for posts pertaining to food, lifestyle, TBV Apparel, product reviews, fitness, home decor, etc. ;working on Breaking Vegan + #TBBTV
2) Creativity: free writing, reading fav blogs/websites/books for inspiration, collaborations with like-minded people, brainstorming/writing new content
3) Organization: catching up on emails, responding to emails, working with my photographers, planning weekly schedule of meetings/collabs/workouts/interviews
4) Self: daily exercise, plans with friends/family, travel, chill time, try new things
Some days of the week focus more on #1 and #2 than others, and some days focus on #3 and #4. I've tried to find a balance between all of the above to make my time the most useful & enjoyable.
ALSO, I've set a little schedule for the bloggy blog & what you can all expect when you come here.
▶ ▷ ▸ ▹ ► ▻ ▶ ▷ ▸ ▹ ► ▻
MY SCHED: 
I will be posting a new YouTube video every THURSDAY from now on (yipppeee!). Soon, Fridays will be "Truth Balance Virtue Babe of the Week" posts (get EXCITED — I am lining up a fabulous crew for this!), while Mondays – Wednesdays will focus on recipes, workouts, recovery inspiration, product reviews, travel recaps, fashion posts & more. Basically, M-W is my time to be supa dupa creative go with the flow TBB like I really am at heart, while the structure of the Thursday/Friday posts will keep my booty on track. SUNDAYS will be the day of the week that I send out my #TBBtribe email (sign up here for the weekly newsletter!) & Wednesdays will be all about capturing content out of the office — lifestyle posts, collabs, the works.
It's a start, but I'm feeling good about it. I also wrote a list as long as my body twice over about all the things I need to do / catch up on, and having it all written out feels soooo weirdly cathartic.
Plus, I'm gonna be easy on myself. If a week comes around where filming a new video just seems whackadoo impossible because of other things going on, it's not going to be the end of the world.
That's why I do what I do… because things like that fly in the bloggy world! At least, when I'm the boss they do… 😉
▶ ▷ ▸ ▹ ► ▻ ▶ ▷ ▸ ▹ ► ▻
Thoughts?! Who's with me on the whole non-traditional structure thing? I think it's so fun & fulfilling to create an alternative career path for yourself, but it's also a ton of work. I think I'm a bit addicted to the work… I think most of us bloggers are. If we weren't we sure as hell would have chosen a different path, ya know?! I feel good about my new routine… Let's SEEEE how it goes!! Xox