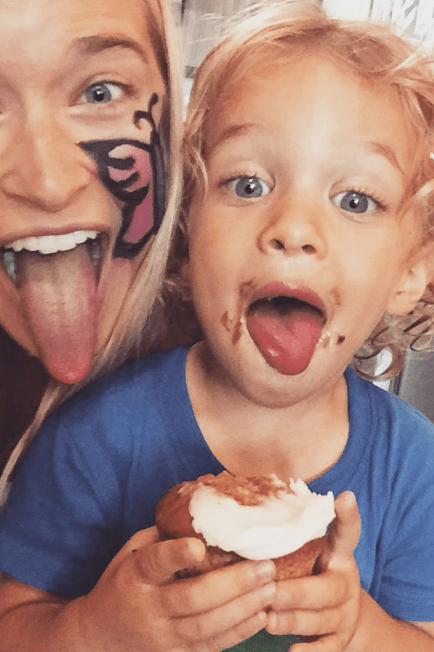 TBV Babe of the Week: Superfood Goddess Sophie Jaffe
Happy Friday, beautiful babes! Two really awesome things are going down right now: I am headed to Chicago today to speak at the Create + Cultivate conference (eek, SO EXCITED) & I am featuring my soul sister gal pal sista friend healthy rockstar yogi love Sophie on the bloggy today as our Truth Balance Virtue Babe of the Week.
Sophie is truly the ultimate ray of sunshine in my life — there is no other way to put it. As one of my dearest friends in the whole wide universe and also one of the most glowing, energetically positive, brilliantly capable & light-spreading people that I know, she is the definition of what we strive to represent at Truth Balance Virtue.
Wearing I'd Rather Be a Mermaid Crop Tee
Let's get a big YAY to have Soph on the bloggy today, because we get to get a glimpse into the life of a business owner, magic maker, fitness / yogi queen + mamacita of the year (mama, a huge aspect of who she is, and her children are my spirit humans in life). Like MAJOR LOVE for those kids. Major, major. We all need a little more SOPHIE in our lives, so let's go!
TBV Babe of the Week… Miss Sophie Jaffe! Otherwise known as the Goddess in Chief at Philosophie Superfoods, beautiful mama & one of my very best friends.
Q: Give us a little glimpse into what inspired you to start your business, The Philosophie, and what it is now versus what it was when you began.
A: Philosophie began with me simply wishing that I could have an amazing blend of superfoods and proteins together in one, convenient jar. I didn't want to run out of camu camu or another individual ingredient and then feel like my smoothie wasn't complete, so I went all over LA searching for high quality, fair-trade, organic superfoods and then began packing them into mason jars and little bags. I started giving the blends to friends and family and making everyone workout and nutrition guides. One day, I was in the sea in Israel with my husband, Adi, and he turned to me and said, "You should really grow what you're doing and share it with more people, make it a company." And since that day, Philosophie has blossomed into something much bigger than I had ever imagined. Our products have helped everyone from George Clooney to my own dad and are continuing to help so many more people discover wellness and feel as vibrant + alive as they can.
Wearing I'd Rather Be a Mermaid Crop Tee + Make Your Own Magic Crop Tee
Q: You are the true definition of a powerhouse woman who has a LOT on her plate. Between running Philosophie, being mama to Kai & Leo, spending quality time with the hubs, being seriously one of the most open & energetically available friends I have ever had the pleasure of having, showing up to work-related events, running Philosophie demos, filming Youtube vids, keeping up your yoga & fitness, travel and taking time for you… What helps you stay grounded? Hoowww do you do it, stay on top of it of it all, and refrain from breaking the f down sometimes?
A: I used to feel so stressed about making sure that everything in Philosophie was moving forward while also being the best mother and wife I could. One day, it hit me though—as long as my kids are safe, happy, and healthy, that's all that truly matters. Everything else is an added bonus in life. In addition to using this standard for my definition of "success," I also meditate and set intentions for my day, returning to those when I need a positivity boost. Working out + eating healthy also play an integral part in helping me feel my best and be able to power through everything that I need to get done.
Wearing Make Your Own Magic Crop Tee, Flowing through Dancer Pose
Q: On that note, how has learning to delegate certain aspects of your business helped you to grow it? You have a small but mighty team, you are super trusting, and at the core YOU are the face of your brand… Was it ever hard to give up the control of running every little aspect of the business?
A: Yes, it's absolutely hard to completely give in and trust. However, I absolutely love watching people take ownership over where they sparkle and shine and adore helping them express that. By opening up my team to more people, I try and create a safe place for them to grow and expand, while spreading their wings and the Philosophie message. I still pretty much have my hands in every single aspect of Philosophie – just not  single handedly anymore. It feels good to feel supported while providing support at the same time.
Wearing I'd Rather Be a Mermaid + Make Your Own Magic Crop Tee
Q: Enough about work for a sec. Tell us how you first got into the healthy lifestyle that is such a huge part of your life today, and how it's evolved over time.
A: I gravitated towards health psychology and received my B.A. in the field—I really see it as something that helped me forge a path to inner strength and wellness. Then, after college, I began working at an organic raw juice bar down the block from my house and eventually became the manager of the store. I was so excited to help change the eating habits of others and was also able to change my own habits and find a path to curing some of my own discomfort that I faced with dairy, meat, and other foods that weren't working for me at the time. I became a certified raw vegan chef, a yoga instructor, personal trainer and my passion for healthy living lead me to create Philosophie.
Q: You, like me, were raw vegan for many years before you found your way back to balance… What does a true "healthy diet" mean to you, and how do you practice balance in your every day life?
A: Instead of creating a "healthy diet" based on limitations and rules, I eat from a place of love—love for myself, my family, and my world. I eat because I love how the food tastes and how it makes me feel. The moment you do something that's "good for you" without having any passion for it is the moment that it loses some of its power. So it's simple—find recipes for nourishing dishes you can't wait to make, buy organic fruits + veggies from local farmers who pour their passion into their food, and enjoy each bite, each sip that you take for the gift of vitality that it is. I don't like to put myself in a box or label myself — it feels more opener here (as Dr. Seuss would say).
Q: Speaking of balance, what do the elements of truth, balance & virtue mean to you, and how do you practice them on the daily?
A: Truth means being authentic, not forgetting who I am. Yes, I'm a business owner, a chef, a yogi, and a fitness and wellness coach, but above these ventures and passions, I'm a friend, a daughter, a sister, a wife, and a mother. And to be the best version of myself that I can, I actively try to use love + compassion as my guiding light in everything I do. In fact, Rumi's quote, "Let the beauty of what you love be what you do," is essentially my mantra for how I go about my life.  Everything I do is rooted in wanting to make the world a brighter, more healthy place for my kids, my husband, my family, my friends, and even people whose paths may never cross with my own. I want to put as much love as I can into the world, and for me, this means sharing nourishment and wellness.
Q: Anyone who follows you on social media develops a strong connection to your beautiful humans Kai and Leo. I for one am madly addicted to them and feel a crazy intense connection where they appear in my dreams at night more often than they do not, but that's another story. Tell us about your little men and how DIFFERENT their two personalities are! How does it feel to watch them grow into their own? (I mean, they're still babies, but you know what I mean…)
A: Wow. Great question! Kai is our first born and came out earth side very wise, introspective and kind hearted. He's always been pensive, careful and calculated. He wants to understand everything in a cerebral and spiritual way. He FEELS things and is highly highly sensitive. I saw a healer / psychic who connects with angels once and he told me Kai is at a level above that of angels. That I should allow him to have as normal a life as possible but to always know he's incredibly unique. We talk about death and life and cycles a lot… He's not like other kids. His sun sign is in Virgo which shows up often — he's very grounded, an earth sign, desires everything in order. He's almost 5 and I CANNOT believe it.
LEO Beo, our second, was 3 1/2 weeks early. He came through earth side with such ease. My birth with him was pretty magical, I had an emergency c-section with Kai (super traumatic) and with Leo I wanted a different, more natural experience. We successfully had an incredible birth connection, I felt like a rock star and he came out happy and easily. Since then, it's not been as easy. He's also a wonderful kiddo but SO different from Kai! We weren't quite prepared 🙂 Leo is FEARLESS, will try anything Kai is doing (who's 2 years older!) and is more opinionated, a bit more simple compared to Kai and super fiery. Leo makes us laugh so deeply and has a sense of humor about him that's impossible to not to admire! He moves through things much more easily, unlike Kai who gets stuck on things and needs to really work on it to get to the other side. Leo reminds me not to take life so seriously and to have FUNNNNN while Kai reminds me of the magic every single day contains if you just look around and stop to notice.
Q: You have shared super intimate details of your personal life and marriage online, on the radio and on your site for people to see and connect to. I am hugely inspired by your honesty — how has being so open about your experience helped you grow in your relationship and as a person?
A: Once we overcome the fear of being incredibly raw and vulnerable, we have the capacity to truly grow. Sharing my own intimate experiences has helped me heal and come to terms with some of the more difficult moments in my life by creating a space for others to discuss these sorts of issues and just know that they're not alone in dealing with them. It also helps us connect more deeply with one another. By stripping down to our truest selves, we allow others to see us for who we really are, and they, in turn, are so much more likely to share with us their true selves, ultimately allowing for greater trust and compassion. Here's my most recent women's health article, and adis TedX talk all about Shame. You can read more here & here.
Q: Favorite TBV tees, and how you like to style them!
A: LOVE the mermaid shirt with black yoga pants, LOVE the Do you Even Yoga with cut off shorts!!!!! Not gonna lie, I love ALL OF THEM.
Q: If you had ONE DAY, entirely to yourself, no phone, no kids, no people around or obligations at all, what would you spend that day doing?
A: I would get a Thai massage! It's so relaxing and makes me feel like I'm in Thailand again, traveling and so free. I'd also go to a yoga class, take a hike through nature, journal in my backyard naked, or go to Venice to visit all of my beautiful soul sisters.
Q: Fav quote:
A: It's long, but it's a goodie!
"Our deepest fear is not that we are inadequate. Our deepest fear is that we are powerful beyond measure. It is our light, not our darkness that most frightens us. We ask ourselves, Who am I to be brilliant, gorgeous, talented, fabulous? Actually, who are you not to be? You are a child of God. Your playing small does not serve the world. There is nothing enlightened about shrinking so that other people won't feel insecure around you. We are all meant to shine, as children do. We were born to make manifest the glory of God that is within us. It's not just in some of us; it's in everyone. And as we let our own light shine, we unconsciously give other people permission to do the same. As we are liberated from our own fear, our presence automatically liberates others."
-Marianne Williamson
Q: Where else can we find you?! Social handles, site, YouTube, etc…
A: Website, Facebook, Twitter, Pinterest, Instagram, YouTube! You can find my collab vid with Jordan here— lots more where that came from!
Wearing Loving Lately Tee + Oh Kale Yes Tee
Visit Sophie at The Philosophie, check out her AMAZING superfood powders (especially Cacao Magic… I literally live for it) & check out her fav TBV tees!!! And check her out on social media & fall IN LOVE with her children + her high vibe lifestyle.
Hope everyone has a phenomenal weekend! Love you all! And if you live in Chicago… I'd better be seeing you this weekend! We are having a meet up on Sunday– email me for details.