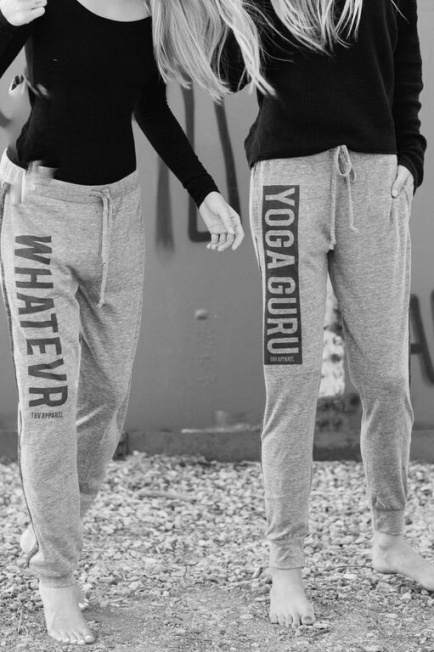 TBV Winter Look Book Has Arrived…
When we started TBV Apparel over a year and a half ago, we had our core designs like "Oh Kale Yes!" "Is Vodka Vegan?" "Health is the New Black" "Yoga Junkie" "Hashtag Vegan" and a couple of others. The theme was very much health, and we translated that directly onto the tees. You also probably know that at that point in my life, health was nearly ALL that I cared about… And that was certainly showcased through the blog and the clothing line.
At the time I never would have / could have imagined how much we were to grow in a short period of time — and now with the official launch of our WINTER COLLECTION (ahhh!) I feel that our brand personality has evolved tenfold and is taking it's own shape and form beyond just this blog and this audience.
( And when I say "we," I'm talking about my business partners Tynan, Cole and myself. I am beyond lucky to work with them both (they are seriously the strengths to all of my weaknesses — as it should be in any good partnership), AND they are also some of my very favorite people to be around for so many reasons. Together we have crafted the vision for what TBV is & where we envision it going. )
Here's a snapshot from our first ever TBV shoot in March 2014 — which was pretty much just me gathering a bunch of friends to rock the tees and have fun on camera (maybe that aspect hasn't changed a whole lot from then to now? Ha!):
Over the months, it has become pretty clear to us that people are into relatable, funny, very current & comfortable graphic tees — especially people buying clothes on the Internet. Everyone likes having a reminder to keep it healthy, stay inspired, get their yoga on, drink their green juice, etc. Plus, it's so fun to rep those phrases in public and have such a seamless conversation starter with other people who also get that lifestyle. The health phrases have always been our thang!
As more time passed, we realized there was a desire among our audience for more than just wellness tees, so we started playing around with a few other phrases and designs — more stuff related to inspirational, "make your own magic," "fall in love with your life," high vibe kinda living. We still have fun with the health phrases, but now that we are really developing our brand personality we have honed in on our focus.
In a short, at TBV we want to help inspire you to fall in love with your life & remind you that creating a life that you ENJOY every second of is actually awesome. Have Mad Respect for your Mondays, Express Yourself with No Regrets, Always Stay High on Good Vibes & Remember to LET LOVE IN.
It's hard to use an exact sentence or two to define the brand, because it's been evolving before our very eyes and now it truly is more than ever, but at the moment if I could sum it up, I would say: We want to inspire you to live life to the fullest, and we want you to look damn good doing it.
We still have fun with the wellness puns & relatable health topics ("Acai What You Did There"…), BUT what we are becoming is so much more than just health. Wellness is part of the puzzle, but creating a life you love is a full on lifestyle.
With our new phrases like Let Love In, Nap Guru, Mad Respect for Monday,  Buddha for President, and (way) more, we are giving you guys a glimpse into what's important in our lives, and spinning it into something you actually want to rock on the streets. 😉
And because my two business partners are guys, we couldn't NOT expand our men's collection with these new seasonal looks. We are sooooo beyond stoked to share these with you (and your brothers, husbands, boyfriends, friends, dads…) because before our guys' phrases weren't totally cutting it — we know that. We are growing and figuring it out as we go. These phrases were crafted for men in particular, and ladies… who doesn't love a good man bun?
We also have new SWEATSHIRTS (!!!!), SWEATPANTS (!!!!!!!!!!) and muscle tanks for you to shop this season, because as we've grown we've also made note of the importance of effortlessly comfortable style with you can wear in a variety of settings. Especially cozy by the fireplace with some hot chocolate — Am I right?
Check out the look book on the site… And check out my current favorite phrase while you're at it. 😉
As always, so incredibly grateful for you guys who have supported us along the way, shopped our stuff & inspired us to grow and continue building this brand. If you've made it this far into the post… Use the code "jordanheartsyou" for 10% off all items for the rest of the week to celebrate not only the launch of the winter collection, but the awesome new direction that the brand is going in.
Special thanks to Natasia Lutes, Magen Mattox, Wes Aderhold, Austin Daniels, Cameron Lindsay, Andi Layne, Jerry Wolf & of course Ty + Cole for making this new collection come to liiiife. What would I do without any of you guys?? TBV would definitely still be in my head, so um, glad that's not the case. 🙂
PS Tynan made the entire look book, edited the photos & consistently makes our TBV visions come to life, so I would highly suggest following him on Insta and checking out his stuff. His photography will blow your mind (he also tends to travel the world and make you feel like you're there through his photographs, so trust me he's fun to follow along with). How did I get so lucky to snag him as my designer / partner / photographer / dear friend?