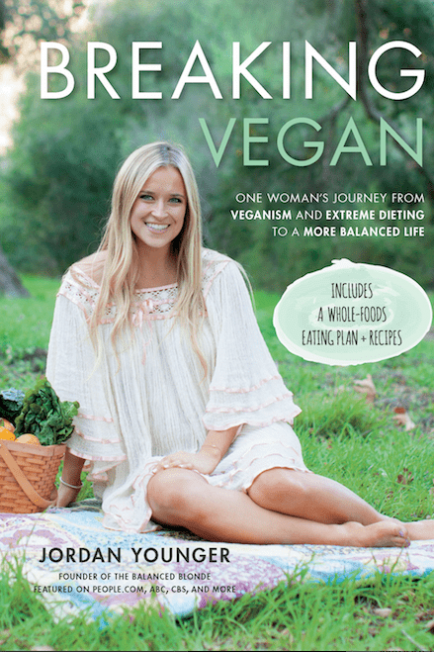 Exciting Things This Week + My Skincare Prayers Have Been Answered!
You guys!!! So much exciting stuff has already gone down this week, and it's only Wednesday! MY BOOK released on Sunday, those of you who preordered have been receiving the book and beginning to read it (ahhh!), a story about Breaking Vegan is the #1 (!!!!) trending article on the NY Post today, I am currently en route to NYC for a super fun SELF magazine project that I can't wait to share with you guys, and, um, did I mention I'll be in NEW YORK for the rest of the week with my mom?! Excitement city.
Oh, another cool thing? I am currently writing this blog post from the air, thanks to a little thing I like to call Fly Wi aka Wi Fi in the air aka Flying Wi Fi. Don't ask me how I thought Wi Fi was pronounced when I was in high school (when the term first started being used), but let's just say my Spanish teacher was the first person to use the word around me so I said "Wi Fi" in Spanish for years before someone corrected me… (HINT: "Wee Fee"). #LOL
Anyway, I digress. I haven't slept much in a few days so you have to forgive me for my rambles. Also, I haven't been able to post in a few days so I will admit I'm feeling extra rambly because there is so much to say!  🙂
Now for the topic of this post: Did you guys know that October was National Eczema Awareness Month? Yes, I realize I'm about a month late (or a week, depending on how you want to look at it), but when I heard about it I knew I absolutely had to get involved. I'm not sure if you know this about me or not, but I have a lot of skin issues… Mainly due to the fact that my skin is extremely sensitive, I have a lot of allergies and I react to things like crazy. I have suffered from eczema and psoriasis since I was a kid, and although my skin issues with both have gone through highs and lows, I am never surprised when a little eczema patch pops back up somewhere on my body.
When I was in elementary school I had HORRIBLE eczema behind my knees that pretty much looked like the chicken pox but worse, and I was itchy all the time. I also sported a transparent green Baby G watch (yeah, you know the one!) that gave me raging eczema on my wrist but I refused to stop wearing it because I thought I was too cool for school. Every cream I tried from my doctor was a steroid cream that was greasy, stung my skin and didn't do much to clear up my issue. Plus, even if it worked, my eczema eventually came back — that's how steroids tend to work, especially for people like me who don't respond well to heavy meds even if they're topical.
NOW that I'm an adult, I've learned that eczema (along with other skin issues) can 100% be stress-induced. I definitely acknowledge that I lead a pretty stressful life… Between all the travel, juggling a few too many projects at once and not necessarily balancing it all out the way I know I need to in order to maintain my inner ZEN that keeps me sane.
So, around last year I went on a hunt for natural skincare products that don't contain nasty additives, acids, alcohols, cooling ingredients, essential oils (my skin is way too sensitive for that even though I like them), fragrances, parabens, sulfates, phthalates and scrubs… I discovered Skinfix and I was STOKED. When you have as many criteria as I did, you really don't expect to happen upon a company that actually works. 
In the past I'd been told that because of my sensitive skin, I should avoid additives but I should also avoid NATURAL skincare because "it wouldn't work" to clear up all my issues. That sucked for me to hear, because I am all about the natural route and really didn't want to put products on my face that were going to contain anything that would inflame my skin / bother me personally.
Products like Skinfix are the answer to my skin problem prayers! And the awesome thing is, their products are not just for cleansing / moisturizing… They also have an ECZEMA BALM that legitimately works. I wouldn't tell you it did if it didn't. And although it's thick (I mean, it's a balm), it's not greasy and it doesn't have a fragrance so it doesn't leave that yucky, pungent residue that a lot of other products on the market tend to leave.
Even though my eczema has been cleared up for the last several months (knock on wood), I still get severely dry skin as the weather starts to change and I am always looking for a product to reach for that's not just going to dry me out even more once it soaks into my skin.
Lastly… I'll leave you with this info because if you're anything like me, you will want to know all of the details before you make a purchase of something you are going to use on your precious SKIN!! I am a firm believer that your bod is a temple and the way you treat it says a lot — once I took the leap into really taking the time and effort to care for my body from the inside out (especially my skin… and my hair and my nails, but exercise and whatnot too), I felt a HUGE difference in confidence. People also respect you more when you take the time to take care of yourself. You deserve it.
Dermatologist tested and recommended
Made with natural ingredients
Free of fragrance, steroids, parabens and phthalates
Treats and reduces eczema flare-ups
Calms irritation, redness and itching
National Eczema Association Seal of Acceptance™
Active Ingredients: zinc oxide 15%, prunus amygdalus dulcis (sweet almond) oil 7%, colloidal oatmeal 2%, allantoin 1%.
Inactive Ingredients: beeswax/cire d'abeille, butyrospermum parkii (shea) butter, buxux chinensis (jojoba) oil, glycine soja (soybean) oil, paraffin wax, petrolatum, tocopherol.
SO! Who wants healthy skin? I'm going to be doing a takeover on Skinfix's Instagram next week and I cannot wait!!!! Check them out at Target, and if you try it, let me know your thoughts!
ALSO… THE BOOK — Have you read it? Have you received it in the mail? Have you seen it in your local B&N?