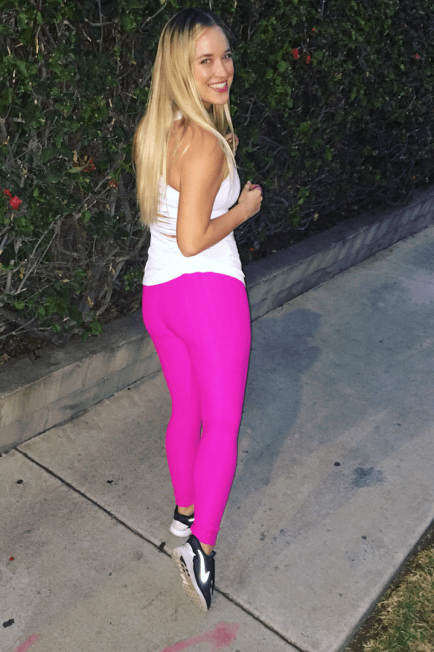 Loving Lately // 11.19.15
Hey hey hey! So in the wake of yesterday's "Why I've Been Feeling MIA" post… I've decided to do a Loving Lately write up to get myself back in the TBB groove. This style of bloggy post is my favorite kind, because it's really just a medley of all of the things I'm into right now — and it's in LIST form, and you guys know I love a good list!
Readdyyyy? Let's get it goin'!
▶▷▸▹► Kitten Snugs. So if you follow me on social media, you are well aware that I am in love with my four month old kitten Hudson Riley. Obsessed. Cat mom central. I may as well plan to never leave LA again because every time I leave him (with friends/fam, of course) for even a few days, my heart aches for him so badly and I have to actively try very hard not to think about him or wonder what he's doing at every waking second of the day. One of my absolute favorite things as a first-time pet owner is how SNUGGLY Huddy is. He nestles himself right up into my chin to fall asleep at night, and while I write on the couch during the day he wraps his furry little arms around my legs to get in some good cuddles while he naps. I may sound like a total kitten mama freak to you right now, but anyone who has had a serious bond with a pet knows what I'm talking about. It's just me and Hudson at home — no roommates, no significant others, no nada. We have developed a super intensely close relationship, and from the moment I got him I tried to get him used to being around people / cuddling / being held in my arms. When he stares into my eyes I can FEEL his little soul connecting with mine, and it's one of the best feelings in the world. My baby Hud has my whole heart.
Below photo taken by the fab Iselin + Hale, a.k.a Huddy's beautiful Auntie Danika
▶▷▸▹► Good photography. I am an absolute sucker for great photography. Actually, I'm a sucker for anything creative that is done well and done with passion and good intentions. I had such an amazing day shooting for Eddie Bauer with the talented Katie Shuler a few weeks ago, and while we were snapping pics we had an incredible conversation about branding. We discussed the difference between someone who is super passionate and clear about their brand identity versus someone who "sells out" to try to either copy someone else's brand, be the next big thing, make the most $$ possible off of their brand, etc. There is a fine line when you're creating a brand based around creativity and personality, because of course you have to monetize it (for me, that means brand partnerships), but people are really there to hear you write and create content from your SOUL. Katie experiences similar feelings when it comes to branding her photography business, as far as only wanting to take on clients' tastes that radiate the aesthetic she is most passionate about. Where I'm getting at with all of this is — Katie Shuler's photography brought me to TEARS when I saw the photos we'd taken. They were just so, so, so, so ME and so what I am going for with The Balanced Blonde (remember in yesterday's post I talked about honing in on my focus). My emotional reaction to her photos from our day was such a beautiful reminder that while sometimes I have to pump out content like it's my job (because it is), it is SO important to wind down, reflect, and really think hard about partnerships that I agree to. This blog is my baby, my muse and my livelihood, and I want it to have as much longevity as possible — a.k.a I want to do it forever! Cheeeers to good photography to supplement the messages and stories I am so passionate about sharing.
▶▷▸▹► Making up my own hashtags. I spoke on a panel at Social Media Club LA on Tuesday night, and I found myself giving this advice to the audience of creative entrepreneurs: make up your own hashtags! Be silly with it. Use them to showcase your personality. Stray away from the #thinspo, #thinspiration, #skinnybitch kinds of hashtags because to be honest, those aren't empowering women at all. They are promoting one lifestyle, and usually they are promoting one singular way of eating and/or living. I am ALL about gaining inspiration from people on social media and the Internet, but wellness advice and weight loss advice do not go hand in hand. I am not a medical professional and I have never claimed to be– I am all about sharing real life experiences with real life people! #nodisclaimerneeded, because I just share my tips and tricks and use hashtags like #TBBisobsessedwithkale and #TBVapparelallovertheworld and #thebloglife and whatever I feel like typing in that very moment. I am all about that real time talk — being REAL with my audience has never served me wrong. Don't try to be cool, try to be you. 🙂
 ▶▷▸▹► TBV Apparel partnering with Elite Daily! One of the coolest things about working in the social media influencer space is having the opportunity to connect with other influencers who are KILLING it. Elite Daily is beyond the prime example of that (they've grown to 1 million followers from about 40k earlier this year and we are obsessed with them), and we were lucky enough to partner with them for a shopping spree giveaway to TBV Apparel! Congrats to miss Jennilynn F. on Instagram for WINNNINNNGGG – we cannot wait for you to pick out your swag!
▶▷▸▹► GRAZE Snack Boxes! I am all about the healthy, portion-controlled snack options out there — because while I am all about balance and listening to your bod, I also know that a lot of people who are trying to find and maintain a healthy lifestyle need a little bit of help in the portion department. I love Graze because their subscription snack boxes customize a selection of healthy snacks that come in fun little containers with the coolest names — like Banana's Foster (banana chips + nuts + little fudge pieces), Berries & Cream Gelato (white chocolate buttons, mini dried strawberries, dried raspberry strings, yogurt covered strawberry pieces) and all sorts of combinations of dry-roasted, unsalted nuts. The snacks are all pre-packaged and light-weight, so you can pack them with you and take them on-the-go (I like to snack on them in the car after a day of meetings / before yoga), and they aren't going to overly fill you up before your next meal. Check them out on their website, and tell me this service isn't one of the coolest ever…
I also did a Q&A with them that you must read! So fun. **Lastly, use code BBLONDE to get your first box of Graze FREE!!!**
▶▷▸▹► Seeing my BOOK on shelves at Barnes & Noble!!! Okay, honesty: I haven't been into a B&N yet since the book has launched (life has been too crazy for words), BUT a lot of my friends, family, fellow bloggers and even my mama have spotted the book at B&N and sent me fun photos and videos! It is truly a surreal feeling to know that the book is out there and reaching people that have never seen my blog and are not yet familiar with my story, and that makes me so happy I could burst. Here's a photo my mama snapped at the book store and then uploaded to her Instagram on her OWN (very impressive, as I often post for her…!!). It made my day like you wouldn't believe.
▶▷▸▹► Almond milk lattes. YEP. I put "almond milk lattes" on our TBV Apparel "Loving Lately" tee when we created that list over a year ago, but in all honesty I was way more of a cold brew with almond milk kinda gal. Lately I have been ALL about my iced almond milk lattes from Alfred (my place, you know this) — and I add an extra shot of espresso for that extra fuel. I've been getting it nearly every single morning so I couldn't not share. It's definitely on the list.
▶▷▸▹► Foray Collective. Okay, so this is awesome. A few lovely gals I know started Foray Collective as a new kind of shopping platform to discover both style inspiration and cutting-edge designers. They've gathered a mix of influencers from all platforms to help tell the stories of each brand, and I am lucky enough be sharing my passion for fitness and comfort/athleisure in partnership with one of Foray's athletic wear brands Booty by Brabants. I certainly love a good pair of neon pants, especially when I am headed into a yoga class or when I'm running at night (it gets dark SO EARLY NOW and I like to stand out so cars don't see me). Their stuff fits so comfortably and has that extra stretch and versatility that makes them especially perfect for gym-to-errand activities (a.k.a my life in a nutshell). Check 'em out below! Wearing their Rosa Leggings & Spandex Tank Top. Love both, for the record.
▶▷▸▹► VIRTUAL BLOG TOOOOUR: Breaking Vegan is being shared on so many lovely blogs that I admire and read on the daily. Yesterday Andie Mitchell featured the Pumpkin Spice Smoothie recipe from the book on her blog, and today the lovely Hanna Montazami & Kelly LeVeque will be sharing. Stay tuned for Davida of The Healthy Maven and Lauryn of The Skinny Confidential  to share later this week — along with some fun giveaways sprinkled in!
What are you guys loving lately? Anything I mentioned here strike your fancy in particular? PS, I CANNOT believe that next week is Thanksgiving — headed to Cabo with the fam and I am so exciiited!!