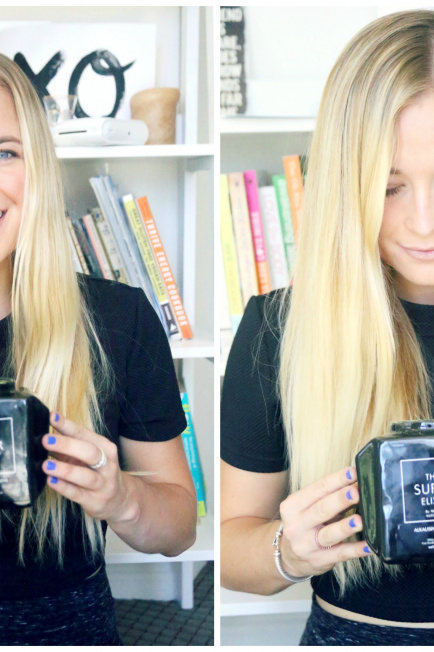 Let's Get Inspired: Elle Macpherson's Super Elixir + Chia Pudding Recipe
LET'S GET INSPIRED!!!
My new thing on the bloggy blog is that I want to start highlighting, in depth, women who inspire me. I have done this in the past with the TBV Babe of the Week series, the Recovery Series, the Inspirational Highlight series, on and on. But especially right now in the wake of all of the SHITTY things going on in our world and the utter lack of compassion and respect for others' lives (and successes), I think now is a more important time than ever to use my blogging space to SUPPORT other people who are absolutely, abashedly, without a doubt, KILLING IT.
On that note, can I get an AMEN for hottie beauty lovely wonder woman Elle Macpherson being a literal goddess on earth? I have followed her career for years, and not just because she is the most beautiful person on the outside — which, um, she is. I follow her journey and successes because I am always endlessly inspired by women in the public eye who succeed in one area (for her: MODELING, duh) and use their platform to go on to create further business ventures and do so much good in the world.
The lovely miss Elle leads a very healthy, active and packed lifestyle. She is the founder, primary model, and creative director for a series of business ventures, including Elle Macpherson Intimates, a lingerie line, and The Body, a line of skin care products and NOOOWWW wellness super elixir company WelleCo.
Let me preface this by telling you that I am in love with WelleCo — not only the mission behind their company but also the taste. #MINTY. I'll get there in a sec. I am super passionate about working hard to alkalize my body and balance my pH, because I've found that when my pH is leveled I feel so much better in my daily life. You know how my stomach problems are, so when I find something that helps… Like chugging water all day long and incorporating this Super Elixir — I stick to it.
WelleCo is all about alkalizing the body. When Elle learned from her nutritional doctor that acidity in her body from the toxins of our every lives — the chemicals in our foods and the ones we pump into our atmosphere — was causing her to feel run down and yucky, even though she lived an otherwise super healthy lifestyle, she developed a passion for alkalizing foods, and sharing that passion with others.
So what she did, like the badass businesswoman that she is, is partner with some other fabulous and accomplished women, PHD Nutritonal Doctor Dr. Laubscher, and marking and publishing extraordinaire Andrea Bux. Together they created their first product, which is the one that I happen to be obsessed with. SUPER ELIXIR!
The product is an all-in-one organic, high potency Alkalizing Greens supplement. It's all about celebrating feeling great, keeping it simple and promoting becoming the best version of ourselves, without the pressure. Now THAT is something I can stand behind. In the wake of all of the "you're only healthy if you eat THIS way" talk and the "my diet is better than yours" mentality, I can't tell you how refreshing it is to come across a company that wants to promote us feeling our best in our own bodies — point blank.
You can add the Alkalizing Greens powder to anything. Anything at all. I am all about adding it into smoothies with bananas, almond milk and almond butter (YUM TOWN NATION), but you can also mix it into water, yogurt, chia pudding, any milk of your choice, etc.
In this particular recipe, I added it to a vanilla chia pudding.
RECIPE:
Vanilla Chia Pudding: 3 tablespoons chia seeds, 1 cup almond milk, 1 teaspoon vanilla extract, 1 tablespoon pure maple syrup (or honey or agave)
Purple Smoothie on top: 1/2 banana, 1/2 cup almond milk, 1 tablespoon Alkalizing Greens powder
Toppings: Gluten-free granola, coconut chips, chia seeds, anything you prefer!
So, if you're interested in learning about alkalizing foods, balancing your pH, drenching your bod in nutrients, tasting something healthy and delish and PACKED FULL of greens, check their stuff out. And with the holidays coming up, they have a lot of fun holiday gift sets. They even have candles… I know some dear friends of mine who would be obsessed with getting a yummy healthy smelling candle as a holiday gift!
Also, again — I just think it's so cool when successful people in one industry go on to create business ventures across a range of industries — ESPECIALLY when their creations are helping people be happier, healthier and overall to feel great. <3 LOVE. Who's with me?!?!