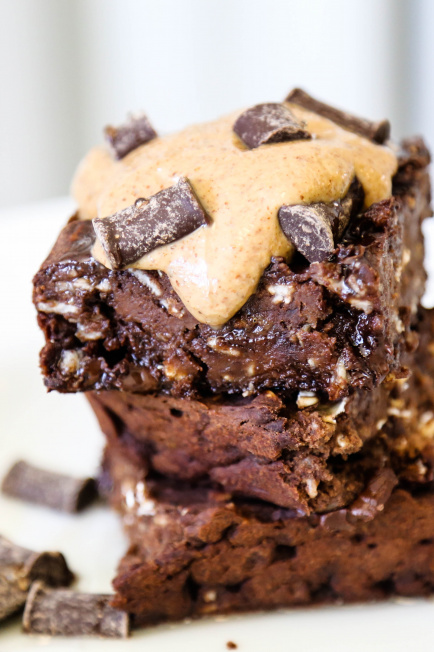 Black Bean Chocolate Chunk Brownies
Ummm, you guys. I might have just created the all-time best healthy brownies on planet earth. I have been trying to perfect this recipe for a long time, and I think I finally got the ratios down so that they taste yummy, the texture is dense & fudgy and not spongey or too soft, and they're full of nothing but nutrient-dense and protein-rich ingredients.
I went a little cray cray with the protein here because for those of us with active lifestyles, it makes sense to sneak in additional clean protein sources wherever we can. The protein in these brownies comes from the black beans, the almond butter & the gluten-free oats. There are 15oz of black beans in this recipe, which equals 90g of protein. Woo, baby! (For reference, the average sedentary woman should be getting about 46 grams of protein per day, and 56 grams for the average sedentary male… So add about 20-30 grams to that if you live an active lifestyle!)
Plus, there are about 19g of protein in the 1/2 cup of almond butter used in the recipe. Score. So if you add up the grams, then divide by somewhere between 8 and 10 pieces (depending on how large or small your pieces are!), that's about 13g of protein per brownie. Can you say amazing? For a dessert?! Yes please.
But as you guys know, I don't like to get caught up in the numbers of things. I just wanted you to be aware of how protein-rich these babies are, because that gives them a major advantage as far as how good you can feel about putting them into your bod. They are also super low on the glycemic index (just sugar from the agave), and they are vegan, gluten-free, dairy-free and soy-free. So they are allergy friendly, clean & healthy as can be.
I am so stoked to have partnered with USA Pulses to become an International Year of Pulses Ambassador — or else I may not have been playing around with black beans to begin with1 Not sure what pulses are? Let me tell you — if you're anything like me, you'll be surprised that ya didn't know. Dry peas, lentils, chickpeas, and beans all fall into the category of pulses. Otherwise known as some of the easiest and most commonplace ingredients to work with! All year long I'll be bringing you fun, simple, healthy recipes utilizing them. (Like my Peanut Butter Chocolate Chip Dessert Hummus from last month!
Now, let's get to the recipe…
Black Bean Chocolate Chunk Brownies
Ingredients:
15oz black beans (drained & rinsed — I like the brand Eden Organic)
2 whole bananas (fun fact: I used one large plantain instead this time & it was delicious)
1/3 cup unsweetened cocoa and/or cacao powder
1/3 cup agave nectar (add a littttle more if you like your brownies really sweet)
1/2 cup dry oats (Gluten-free Bob's Red Mill is my fav)
1/2 cup dairy-free chocolate chips (I like Enjoy Life)
1/2 cup almond butter (or peanut butter, sunflower butter, whichever you prefer)
1 tsp vanilla extract
Method:
Preheat oven to 350 degrees Fahrenheit.
Grease an 8×8 pan and set aside. (I use coconut oil spray to grease.)
Combine all ingredients except for the oats and chocolate chips and blend in a high-speed blender or food processor.
Pour into a bowl and mix in the oats and chocolate chips.
Pour into the pan and bake for 30 minutes or until you can stick a toothpick through.
Let them cool. (This step is important — I know how hard it can be, but trust me on this! Let the texture get dense and fudgy.)
Slice and enjoy!
I am so thrilled with how these turned out, especially because they are so full of protein and nutrient-rich amazingness! I hope you guys love them. Tag me in photos on social media if you try them, and hashtag #tbbmademedoit! It feels good to get back in the kitchen and create recipe posts for you guys. I've missed it… Back to my roots!