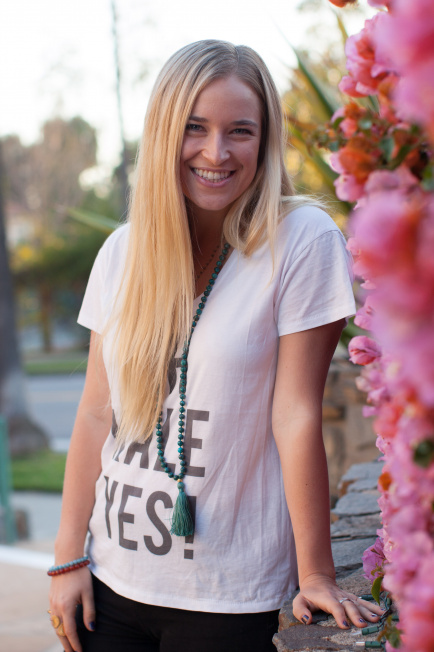 TBV Apparel x SATYA Jewelry Giveaway!
Hellllo my angels! Do you remember the awesome collab between TBV Apparel (my clothing line) & Satya Jewelry last year?
Satya's team helped us come up with our Vibes Don't Lie phrase for our grey pullover, which not only remains one of our best-sellers but has also become such a cornerstone life mantra for our brand to abide by. Not to mention a phrase I throw around in my personal life & relationships like it ain't no thang.
Really though… You should hear some of the conversations we have in a typical TBV meeting. If we don't whip out a "Vibes don't lie," "Namaste or Whatever," "Buddha for Prez," "High on Good Vibes," or "Just Let That Shit Go, Homie," in straight up regular conversation then it wouldn't be a normal day for us.
The perks of having really high vibrational awesome good energy t-shirt phrases. 😉 I try to surround myself with nothing OTHER than good vibes in every area of my life — ask any of my friends or fam. I am all about that soul cleansing + space creating + nooooo room for negativity or non-genuineness.
Why We Love Satya
Satya Jewelry is meaningful, inspiring and beautiful — their business is rooted in the high vibe life just like ours is, and they are globally conscious on top of their timeless style. Their mission is to inspire each person's own individual truth, and I couldn't feel a more real or personal connection to that. In both TBB and TBV Apparel, that is what I strive to do on a daily basis, and to see other companies with such down to earth and purposeful missions makes my heart sing.
Below I am wearing my favorite Satya pieces with our Buddha for Prez swoop– you can shop the whole outfit on their site!
TBV x Satya Round II – GIVEAWAY!
Which brings me to our new collab with Satya. We had so much fun with the first one, we figured why not bring the power duo back and do something new and fun together. It's so great in this online sphere to find other brands that align so closely with your own mission, and when you do — you gotta take advantage of that synergy and create awesomeness together!
This time we have partnered to sell TBV Buddha for President tees on their site, and they will be giving away one stretch bracelet with every sale!
Additionally, we will be giving away TWO Buddha for President tees to two separate winners chosen at random on social media. The contest will be open for 7 days, so I will choose a winner ONE WEEK from today! All you have to do to enter is…
Repost one of the photos from this blog post
TAG @tbvapparel & @satyajewelry
Hashtag #TBVxSatya #tbvapparel #satyajewelry
Write a fun little caption telling us why you'd like to win the shirt! (IT'S SO COMFY & CUTE YOU'LL DIE.)
PS… If you follow my snapchat (@jojoyounger), then you know that I recently gifted the gorgeous Scorpio Zodiac necklace to my assistant Danika because it fits her personality so mucho. It looks amazing on her and I am so thrilled to gift a few others to come of my favorite Zodiac-savvy lady loves in my life.
Who's ready to enter! Head over to INSTAGRAM and get to postin'… If you don't have an Instagram, feel free to comment below and I will include you in the list of winners that I chose from! Xx
Satya doesn't look half bad with our Oh Kale Yes swoop either. 😉