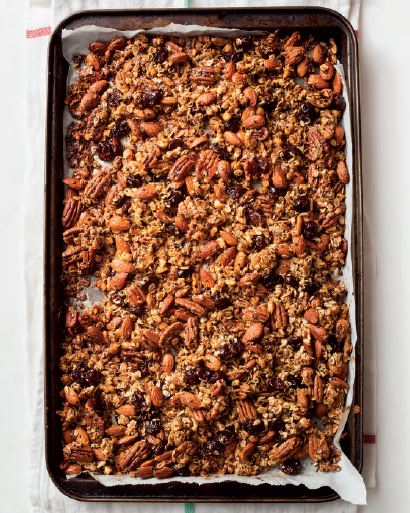 My Girl Crush Wrote a Book, & it's AWESOME.
Hey beauts! Hope everyone had a great holiday weekend and soaked in some great time with fam, friends, loved ones, or yourselves at the very least — sometimes some serious alone time on a long weekend is my FAV.
My weekend was filled with hilarious moments with my parents (if you follow me on Snapchat @jojoyounger then you know all about it…!), wine tasting with my lifelong best gal pals, Easter egg hunts and poolside yoga with my sweet 3 year old niece, lots of food (TOO much food) and gorg river walks.
The American River is seriously my life… Sneak peek photo below, but a full blog post in this outfit is coming mañana!
Sweet, sweet Sactown… The most peaceful place on earth. Also, my DAD took this photo and the others in this post! He may not have a computer, understand the difference between an iPhone and a Facebook (I'm serious), or have any desire to take his ancient cell phone out of his glove compartment, but he is a damn good photog. Doesn't take a single blurry or unnecessary shot. Love that man and his patience. <3
Anyway, as for the topic of this post — My girl crush of the century wrote a BOOK, and you need to know about it!!!
Some background on my <3 <3 for Kathryn!
To give you a bit of background on Kathryn and my love for her, it all began when I was interning at LA Yoga Magazine when I was in college and we wrote a story on the adorable LA-based yoga teacher who was the brand ambassador & model for ToeSox.
I was astounded by her strength in the poses and the raw beauty in the black and white photos (this was before activewear marketing started using strong, badass yogis in their ads right and left, so I was especially obsessed!), so naturally I looked her up and found her website.
Stalked the shit out of her, realized she was just as awesome as I assumed she was, and have had a huge girl crush on her ever since.
Then, after following her journey for quite some time, she and I appeared on the covers of Happiness & Wellbeing Magazine and then Yoga Digest Magazine back and to back — her cover the month directly before mine both times. You know how I am with believing in & receiving those fateful signs from the universe, so I had to believe there was reason behind the connection.
And then, to top off the cosmic signs already drawing us together, we ran into each other last Spring in the Hearst building of NYC of all places. Two blonde yogis, one from Los Angeles and one from South Carolina, happening upon each other in one of the busiest and non-yoga-ish buildings in bustling NYC — a city of 8.4 million people.
If that isn't the definition of MEANT TO BE, then I don't know what is!
Kathryn's Book: AIM TRUE!
I know you could listen to me talk about my love for Kathryn all day (hehe), but now let's talk about her book.
First of all, the layout is so gorgeous it hurts. The book is full of colorful photos and designs, lots and lots of crescent and full moons (you KNOW I am a sucker for anything moon-related), great info on how to be your happiest & healthiest self, 100 yoga poses and 85 healthy and yummy recipes.
Boom. A book that covers all the best info on how to be happy and healthy — my kinda read.
My best rendition of Kathryn on her cover, props to my Daddio again for the photo. 😉
The book is named Aim True for so many wonderful reasons — mainly because the phrase has a universal and personal definition all in one. It generally means that we are going in the right direction, but it has such a deeper meaning than that within all of us. For Kathryn, it draws back to her lifelong admiration for the goddess Artemis.
I won't tell her whole Artemis-inspired story for you, but I can guarantee you it's one that you don't want to miss. Kathryn's story is something we can all relate to, and she found a way to get back to the inner child, the inner goddess, the inner badass girlboss who was so blissfully happy in her own skin doing what she loved that nothing else mattered.
Kathryn lends powerful real-life advice to help us aim true & fall in love with our bods like starting a journal, eating with a purpose, reshaping the way we look at food, stopping the comparisons to others, joining the "Body Renaissance" (don't get delete-happy with your photos– post pics of the real YOU in your gorgoeusness and all your strength and glory), choosing loving responses, and so much more.
Recipe Amazingness: The "I Can't Quit You" Granola!
Guess what? If you love something, you don't even have to think about quitting it. You can find healthy substitutes for some of the traditional ingredients, (or make it ANY OLD WAY you please!!), and enjoy it like food is mean to be enjoyed.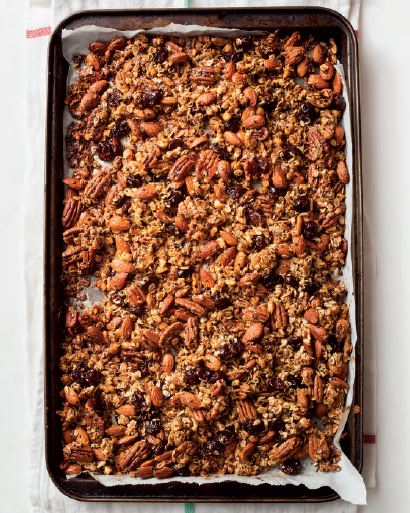 Ingredients
½ cup ghee
½ cup dark brown sugar
½ cup raw honey
3 cups rolled oats
2 cups pecans
1 cup whole raw almonds
1 cup walnuts
½ cup flaxseeds
½ cup sunflower seeds
½ cup black sesame seeds
1 cup dried cherries
Method
1. Preheat the oven to 350˚F. Combine the ghee, brown sugar, and honey in a small pot and cook the mixture over low heat until the butter melts and the sugar dissolves. Stir until fully combined.
2. Spread the oats and all of the nuts and seeds on a cookie sheet lined with parchment paper. Drizzle the ghee mixture over the granola mixture and stir until all the pieces are coated with a lovely goo.
3. Bake for 10 minutes. Remove the sheet and give it a good toss with a wooden spoon, then fold the cherries into the mix. Continue baking the granola for another 8 minutes; let it cool. Break apart the pieces and store them for up to 2 weeks, although I highly doubt they will last that long.
Where Can I Find It?!
You can check out her book on Amazon, from any of the links on her website, and now in your local bookstore!!!
Even my dad loves it 😉
Don't miss it! And if you share on social, don't forget to use her official hashtag #AimTrueBook to join the conversation!!! And #tbbmademedoit, so I can see. 🙂
XO