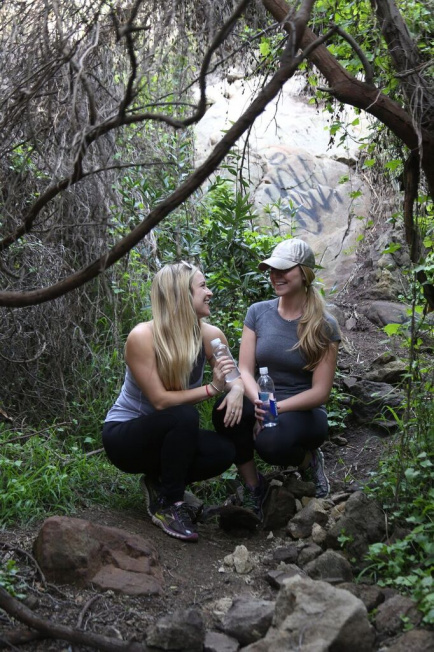 My Apartment Makeover || Creating Space for What Really Matters
When your best friend starts a professional organizing business, what is the most logical thing to do? Get her on the next flight to where you live, of course, so she can organize every single nook & cranny of your life.
Then spend the week romping around town with her (to Bed Bath & Beyond x 2, Target, and The Container Store — obviously) and trying desperately to soak in some of her badass organization skills.
Meet my best friend Katherine (well, Katie to me). My sister, my other half of 20 years and counting, the most organized person that I know, and truly one of the most pleasant human beings you could ever choose to be around.
You probably recognize her name from my book if you've read it, or at the very least from many, many blog posts in which she has appeared. 🙂
Katie has done all sorts of cool things since we graduated, including moving to NYC (and living with me!), working at Tiffany, moving back to Nor Cal, playing a big role in getting a start up off the ground, and now starting her own organizing business.
You KNOW how I feel about the entrepreneurial #girlboss life, and when that is combined with Katie being one of my very favorite humans, you can only imagine how much happiness and inspiration it brings me to watch her do something she wholeheartedly loves for a living.
Not only does the organization aspect ring true to something she genuinely loves and is great at, but the home decor portion of her business is perfect for her too. If you have ever set foot in her apartment or any space that she's decorated, you'd know what I am talking about — it's one of those DREAM living spaces that makes you want to copy every single thing about it.
You know, like a Julia Engel or a Lauryn Evarts. They just know what's up.
Pretty. Freaking. Cool.
So now, let me tell you about Creating Space, & show you some fab photos we snapped of her magical work on my apartment!
What is the importance of Creating Space?
Have you guys read The Life Changing Magic of Tidying Up? If you haven't, you should. It's pretty much Katie's bible when it comes to the work that she does, and now it's become mine too.
When we declutter the space around us, we are able to declutter our minds.
For me, getting rid of years' worth of clothes, products, papers, books, makeup, shoes, etc that I no longer have a need for in my life has been absolutely life changing. I am now able to live and work in my living space with so much more clarity and zen.
The cornerstone of Katie's business is helping others find peace of mind through immediate and ongoing organizational practices. That means people who are too busy & fast-paced to slow down and organize on their own without a serious kick in the pants (ahem, moi), and also people who have physical or emotional limitations that prevent them from doing the organization on their own.
Yeah, we had a lot of fun while she was here. 😉
I don't know about you guys, but I find it very emotional to go through belongings that I have had for years — and I am only 25! I can only imagine what it feels like after accumulating *stuff* for decades, moving houses, having a family, and so much more.
It is so, so, SO beyond helpful to have a guiding force helping you through the process, and Katie's demeanor couldn't be more fitting for that.
Katie seamlessly rearranged my cluttered shelf (a ladder shelf, BTW, which she inspired me to get when we lived together) by giving each item the space it needed to breathe, and also by reorganizing my books and helping me decide which books I didn't need anymore. Now my shelf space looks great and I get compliments about the arrangement of my lil' knick knacks on the daily!
Our Experience Creating Space in TBB Home + Office!
Well, my home & office are one in the same. You guys probably know that from following me on Instagram, Snapchat, and this here bloggy blog.
I do everything from home. I collect books like it ain't no thang, I get extremely attached to personal items (I have had certain clothing items since middle school… for real), it's hard for me to get rid of certain things because I get sent so much stuff for the blog that it can be hard to differentiate, oh yeah… and, I am NOT AN ORGANIZED PERSON.
I wish I were. I really do. But thank god for the Katie's in my life to keep my world goin' around.
While she was here, we hit up a lot of home goods stores. I was SO grateful for her expertise in patience in all of those places, because I literally can't step foot into a Bed Bath & Beyond or Target without feeling anxious and overwhelmed. Not my scene.
But, such necessary places to find household and organizational items. Full disclosure- I hadn't even fully moved into my apartment before Katie came, and I had been living here for SEVEN months. That's how much I do not thrive in the organization department.
We also spent a lot of time in my apartment, carefully (yet somehow very efficiently) going through boxes, bins and closets of belongings to put things in Good Will bags and rearrange the stuff I decided to keep. 
She rearranged my kitchen and helped me find a place for everything. She helped me pick out this handy knife set at Bed Bath & Beyond, found me cute dish towels that match the rest of my apartment, cleaned out my cupboards and refrigerator to keep only the essentials, and even helped me find the perfect cleaning products so that I can keep it nice & spiffy-clean on my own.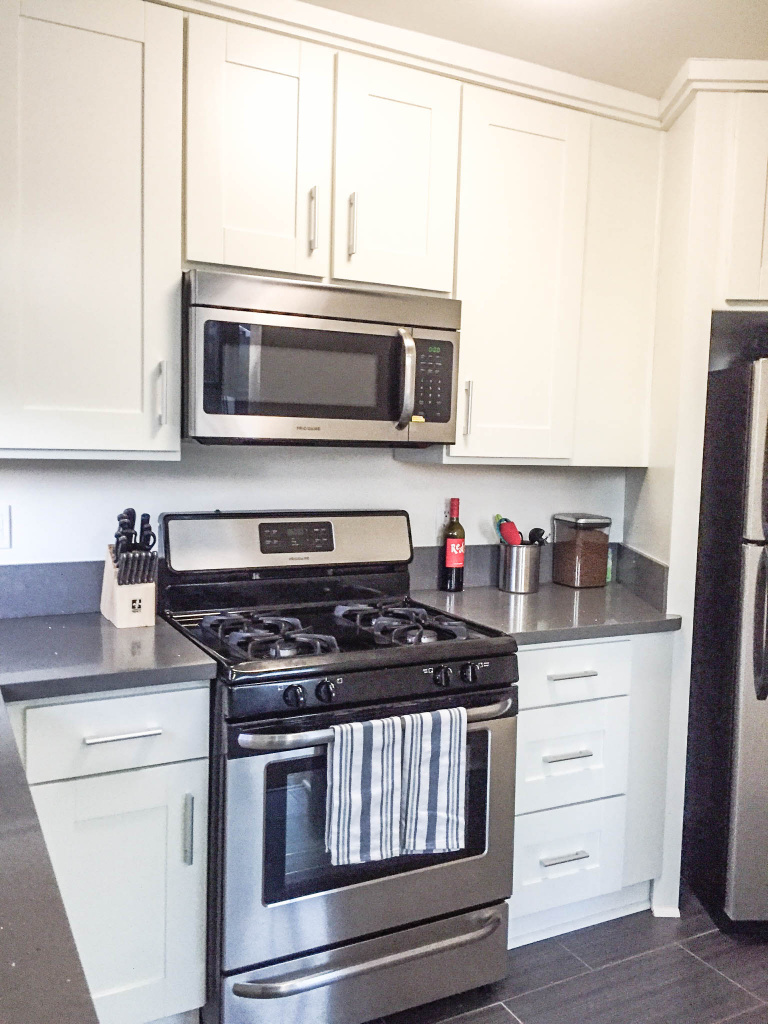 And one of the absolute best things she did while she was here was help me get a little more decoration up on my walls and in my space– in other words, she helped me create a THEME. I'd say my theme is relatively minimal, zen and beachy, and very much the home of a writer. I have a lot of bright whites and cool tones, and she helped me stick to that vibe when it came to decoration.
She hung my artwork on the walls, something I had been putting off for MONTHS, helped me pick out the right frames, spaced them out accordingly, and hammered them right in. Hudson was a fan too. 😉
And being the wine connoisseur that she is, she made sure I had adequate space for my little wine collection… Something I keep on hand for her and my other girlfriends, since I am not a big wine drinker myself. But you can't entertain and not have wine in your house — so finding the perfect subtle spot for it was a must!
Tell Me More About Katie's Business!
Aside from the work that Katie did in my apartment, she offers a wide range of services. She does digital organization (the next on my list to do with her… an organized computer is SO NECESSARY), design & space consultation, move in & move out start to finish, and A to Z purging. I think we definitely did the A to Z purge… Even though my apartment is tiny compared to some of the houses she works on!
And then there was the ladder shelf in my room, which we left a lot of open space on — so nice to look over from my bed and see absolutely ZERO clutter. 
She is based in Northern California but is willing to travel, and *cough cough* she DOES have a place to say in Los Angeles whenever she comes down, so L.A. is a very doable location for her!
Katie is easily one of the most down to earth, easy to get along with, positive and outgoing people that I know. In my two decades of being friends with her, I have rarely heard her complain and have never seen her be insensitive to someone's feelings. This job takes serious people skills, way more than I have (LOL), and I am pretty sure she was born for it.
You can contact her here if you are interested in a consultation. Trust me, you won't regret it. Giving yourself the gift of creating space is the greatest thing you could possibly do for yourself, your productivity, and your sanity. 🙂
PS, check out her website's GALLERY here, and don't forget to follow her on Instagram  — such beautiful decor inspo, and a great testament to her work.
And for fun, here is a pic of Katie and I celebrating New Years 2013 below. I don't think we've ever missed a New Years together!
And if you have more questions about the importance of creating space, how awesome I found the process to be, or anything of the sort — don't hesitate to reach out! Leave your thoughts & questions below and Katie and I will both take a look and answer them!!! XO