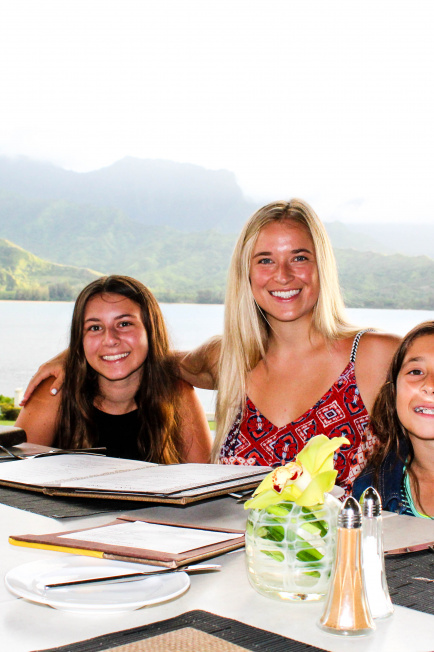 Kauai Recap Part 1: The Feels
Hi, HI! I'm baaack after a nice extended vacation where I did a lot of thinking, a lot of writing, and a lot of RELAXING. Okay, maybe I didn't relax as much as I usually do on vacation, but here you'll read why…
There was a lot on my mind. Not in a bad way or a good way, but in a contemplative way where I simply had a lot of important things to think about and figure out while I was away.
I will say that thanks to all that thinking, I learned a lot. Mainly about myself, how I deal with things and how to enjoy life as much as I can. A lot of this learning was heavily introspective… even though I was there with my family and cherishing every second I spent with them, I also did a lot of thinking about where I am in my life and what I want.
It was kind of the perfect setting to do this type of thinking. A gorgeous resort nestled on the beach in the middle of the lush green mountains, with the people I am closest to (who luckily understood that I was in a very introspective place), with the newness of an island we had never been to before yet with the comfort of a yearly Hawaii trip we've been taking since before I was born (we usually go to Maui).
We had days where we hiked through the mountains and slid through the mud to get to beautiful waterfalls and iconic ocean spots, and we had days where we hung by the pool and I took loads of photos with my dad for the blog. I also had a spa day all to myself — where I got a 90 minute massage, steamed and sauna'd my heart out, and laid in the spa's "relaxation lounge" for upwards of 3 hours. Thinking. Texting with friends. Thinking some more. Editing photos. Thinking even more.
And somehow being away from the familiarity of my daily life, yet still very much engaged with people on email and the phone for work and staying in touch with close friends, I was able to gain some clarity on certain areas of my life that my heart so desperately needed.
I made decisions about certain personal areas of my life that weren't easy. They really tugged at my heart strings and for days on end even made my sick to my stomach. I went through feelings of anger, sadness, anxiety, and pure disbelief at some of the things that were rising inside of me when I really, truly, sat quietly to think about it all.
I also went through periods of calm. Periods of knowing that everything was going to be just fine, that I just needed to do a little soul searching to figure out what I would need to work through it.
I know I'm being a bit vague about what I worked through — vaguer than I probably have ever been on the blog — but that's because some things (VERY few things) in my life are so dear to my heart that I feel it necessary to keep the details more private. For the time being, at least. Maybe in book #2 I'll dive in a little more… 😉
Anyway, back to what I discovered as I worked through the hurt & sadness I was feeling:
I had to listen to my heart. The truth in my heart was on POINT and wasn't going to stop keeping me awake at night or running through my mind during the day until I listened to it, acknowledged it, and dealt with it.
I let myself feel it all — most of all, the uncomfortable parts. I didn't run from it or throw myself into my daily routine (I couldn't; Kauai had no routine available for me!), but instead, I dealt. I let it happen. I didn't ignore. I did a lot of writing. A lot of late night pondering.
And now, here I am. Feeling refreshed and like I really learned a thing or two about myself and how my mind, body and soul work. It isn't my normal post-vacation refreshed feeling… As wonderful as that feeling may be, but it's more of a cathartic release. An acceptance that there is a time and a place to move FORWARD with my life in ways that are sort of scary. But worth it. But scary.
Beyond that, I feel like I learned a lot about how I can enjoy every day to the fullest. For me, it's a balance of: rigorous exercise, healthy food, surrounded by people I love, lots of productivity and TBB work sprinkled in, some time in the ocean or in the sun, and at least a couple of hours to myself each day to decompress, write, read, Instagram stalk, you know the drill.
Of course that's just a template for how I like to enjoy most of my days, but I like a little adventure thrown in there too. Some curve balls are always welcome. But if I know that that's my routine that I can always come back to — I am happy.
I started learning that about myself a few months ago with my therapist when he told me something that CHANGED MY LIIIIFE, which is that I am a "Highly Sensitive Person." Read this book if you haven't yet — literally life changing, if you are also an HSP or close to someone who is.
So when those feelings creeped up inside me on my trip — mainly the way I feel super anxious when I am not in control of when I can leave a place / how long I will be there / etc, I knew what to do. Take the control back. Be a little bit of a diva when I need to be. It sounds silly, but trust me it saves everyone a lot of agony in the end. Then my family gets me at my best, and I can still do my own thing when I need to.
That is just one little example of something I learned, but now looking back on it I feel like I learned SO MUCH more than that. My happiest moments were rooted in all of the most laid back times on the trip — connecting, laughing, being present in the moment and not worrying so much about everything else. (If you saw my Snapchats then you know we had a lot of hysterical laughs!)
But in order to be in the present, to truly liiiiive in the moment and be as happy as can be, we've all gotta work on ourselves to be at that solid point as often as possible. That's why I am happy to do the work on myself even when it's not the most fun or obvious thing to do on a tropical vacation… It's work. But I am never going to stop working on myself until it all clicks in the best way — and then I will keep working on myself. 😉
Never ending process, yo!
I know this might not be my most positive of posts, but in my mind there is a lot of positivity here. That's how this introspective stuff works — dive into the muck, and then come out with a fresh new perspective, feeling more alive and more in tune with what you want at this current stage of your life.
I know there are a few things I want to focus on for the next few months:
My 300-hr yoga teacher training starting in a few weeks, which will make me 500-hr certified. So, so excited about that and to dive in and give it my all.
My Going Viral eBook that I have been working on about the business of blogging.
Beginning work on book #2 with my agent and jotting down all the notes that have been floating around my head for nearly a year.
My friends, the people who mean the most to me and make me incredibly happy, spending time with them and planning different little adventures with them.
Huddy. (ALWAYS.)
More meal prepping at home, because cooking is so therapeutic for me and I always feel my best when I eat more at home.
Maintaining the photos I have been taking for the blog and Instagram, because I am pretty stoked with the imagery I have been coming up with in Hawaii and right before I left. Photography is so inspiring to me and I always want to create the time to work that into my blog and my life.
Lots of mini-travel, so I never have to leave Hudson for too long but still get that sense of adventure in that I so deeply crave and love.
Continuing to work on myself through tons of self-care, Ayurveda, therapy, yoga, writing, and all the good vibes. 🙂
Keeping up OrangeTheory 5x a week because it makes me feel like a rockstar.
Being present in the moment. Always.
A pretty good list, right? Not all that different from my July Goals post, but even more clear and centered after having some time away to tune in and think. Oh, and to READ more. Lots of good focuses. 🙂
Anyway, feeling pretty blissed out even if I am slightly emotionally drained. I am hopeful, and I am excited to do my thang and give myself all the love and focus that I deserve.
Xo,
Jordan
P.S. LOTS more Hawaii pics, and ALL of the Kauai recommendations & good eats in tomorrow's blog post. I just had to share my soul first — you feel me?
With my baby girls below!