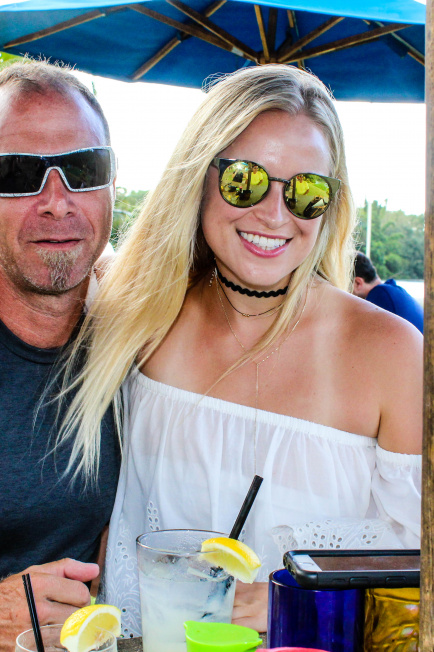 Kauai Recap Part II: What to DO, Where to EAT, & More!
Okay, now for the Kauai recap you've all been waiting for. In the last post I told you all about my feelings in Hawaii (so blogger of me), but today I am going to tell ya about all of the must-sees on the island.
A few of you have mentioned to me that you are heading to Kauai in the next few months… And I have one thing to say about that: you are in for a treat. The island is gorgeous, and very old-school Hawaii. I am used to being on the island of Maui, and Kauai couldn't be more different than all the newness and modernized parts of Maui.

Kauai is all about the outdoors, the scenic views, the adventures and excursions, and the small town vibes. There are a few great restaurants (will name them below), a few killer juice bars, and from what I've heard not many great hotels, but the St. Regis was definitely awesome. (Not sponsored… I wish, hehe.)
Where to Eat…
Okay, let's start with the food. Because food is always the best part. 😉 We ate a TONNNN of sushi on the island, because it was fresh as can be and every place seemed to offer a huge variety of fish. Here were a few of our all-time faves:
The Dolphin: Literally the best sushi I have ever tasted. They are mainly an all-sushi restaurant with a few different cooked fish options. If you go, make sure to get there at 5:30 when their doors open for dinner so you can put your name in for a table! They don't take reservations and they get absolutely packed. Both times we went we got there at 5:30 and had an hourlong wait (well, the first time they said it would be an hour but it was actually way less). I ordered the Lobster Roll the second time around and OMGGGG it was delightful. Seriously amaze. If you have a gluten allergy be sure to specify because a ton of things were fried and there are a lot of diff sauces. My tummy didn't feel amazing the next day, but the food was legit worth it. LOVED this place.

Postcards Cafe: I adored this place. Some people in my family weren't crazy about it because the menu was super healthy and didn't have as many options as some of the others, but I loved it. I had the baked polenta with a hemp seed sauce and an Organic Greens salad that was simple but delish. My parents loved their seared ahi there, and we also got a Silken Tofu Chocolate Pie after dinner (all vegan and gluten-free) that was sort of rich but also totally delicious. I would make this place a must-stop on your list.
.
Kilauea Fish Market: We went there for lunch twice and I was totally hooked! I could have eaten lunch here every day. It is a tiny hole in the wall (right next to Kauai Juice Co, actually!) and definitely nothing special about their atmosphere — but the food is AMAZING. I got the vegetarian plate with tofu, brown rice, cabbage, and beans and devoured it both times. It was simple but done so well. My family had fish tacos and a fish wrap that were apparently some of the best they had. (Pro tip: the food takes sort of a long time to prepare, so put your order in and then check out Kauai Juice Co next-door while you wait! I went to the juice place first and regretted it because then my family was 100% done with their food and it was raining out by the time my food was ready… #TBBlife.)
.
Bar Acuda: This was definitely the most gourmet and trendy restaurant we went to on the island. In fact, it was sort of too gourmet for a health nut like me, because everything came in an elaborate sauce and was all very foodie-esque. Don't get me wrong, I am a total foodie, but there weren't really simple enough options for my sensitive tummy. It is a tapas restaurant and everything was delicious — but just know going into it this isn't going to be a particularly healthy night! I had lentils with braised kale and a garlic cream sauce and a Waldorf salad. (I also ordered scallops that never came out…). But all in all, it was a really cute place and fun to get dressed up. Order to hibiscus iced tea! And check out the shops nearby afterward, and go to Jojo's Shaved Ice down the street for the best dessert ever!
.
Kauai Juice Co: If you follow me on Instagram, then you know I love this place. We discovered it on one of our first days on the island and kept going back for more. I fell IN LOVE with their "Almond Bliss," which is a cold coffee drink with cold brew, almonds, cinnamon and dates. I could drink it every morning of my life. I need to figure out how to get it shipped to me… Also their avatar drink is delicious (coconut water, pineapple, chia and blue magik e3 live!). And try some of their heavenly shots and elixirs!! I had the sugarcane shot upwards of 5 times… Full of SO MANY good minerals that are great for your joints. Amazing for people with arthritis, like my dad. GO THERE, if you are a juice nut like I am! The Avatar juice is above, with pineapple juice, coconut water, e3 live blue magik, and chia seeds! And below are the SUGAR CANE SHOTS that I am now obsessed with! #MineralsOnMinerals

Jojo's Shave Ice: Well, I am obviously partial to this place because ummmm…. duh. JOJO. Me. Everyone in my family joked at least once (if not 10 times) that they named it after me. I even have pics to prove it. 😉 I didn't get shaved ice here, but I got ice cream and IT WAS THE BEST MINT CHIP I'VE EVER HAD. The chocolate chips were huge chunks and it was literally so delicious and creamy. I don't eat ice cream often, but when I do… It better be that good. My nieces both had milkshakes (chocolate and cookies & cream) and they were both out of this world amazing too. Like woah. GO HERE.

Kauai's Best Shave Ice: This place was really cute and a must-stop for that reason, but I will definitely note that everyone I encountered working there was painfully unfriendly and unhelpful. We gave them a ton of business while on the island and they were nothing short of rude most of the times we went. However, their shaved ice is beautiful and photo-worthy. If you go, get the banana!! It was my favorite. I also loved the coconut and vanilla. My fam was all about the root beer flavor.
Aloha Juice Bar: Best acai bowls on the island! I chickened out about ordering one myself because of the apple juice base (apples don't really mesh well with my stomach), but I tried my niece's and sister's and loved it. Their bowls are small, so you can mosey around the town of Hanalei while you're there and try other things too! (Apparently Bubba's Burgers nearby is amaze.)

Kauai Grill in the St. Regis: Overall the food at the St. Regis wasn't my favorite (although everyone who worked there was ridiculously nice which counts for a LOT in my book), but the scenic views at Kauai Grill are to die for. You MUST go check out that view and soak it in. If you go there, make sure to request a seat on the patio when making the reservation. It's a million times nicer than the dining room. I loved the seafood medley — a bunch of seafood in an amazing red curry sauce.
What to See…
Queen's Bath: So technically I don't know if I should recommend Queen's Bath because apparently it can get really dangerous when the tide is high and people have been washed to sea from there before! However, when we were there it was totally tame and TOTALLY worth going to. Be ready for a muddy hike that basically turns into a straight up slip n' slide at certain points. Wear water shoes and/or hiking boots. When you get down there you'll see a few different rocks you can jump into the ocean from. There are some high ones for the pros, and some lower ones for anyone who doesn't want to be super risky. (I stuck to the tame ones!). The views are beyond gorgeous. Don't miss this if the weather is good.
Wailua Falls: This was kind of a major excursion, so if you're not into 7-hour day trips then don't do this. I wouldn't necessarily be into such a long day (see my post about being an HSP…), but I will say this adventure was worth the time it took to get there. The trip includes a 2 mile kayak and a 2 mile hike to a GORGEOUS waterfall, and then the 2 mile hike and 2 mile kayak back. It was definitely a do-it-once kind of adventure, but it was beyond gorgeous and if you like having a super active day then you will enjoy. 🙂 Plus, the photo opps. If nothing else, do it for the photo opps.
Hanalei: The town of Hanalei is super cute and worth walking around and checking out while you're there. There are some adorable shops and cute hole-in-the-wall restaurants. The Dolphin, Postcards, Jojo's Shaved Ice, Aloha Juice Bar and Barracuda are all in Hanalei, so you can check out the town before or after you hit any of those places up! It's really close to Princeville which is where a lot of the resorts are, so keep that in mind when making dinner reservations!
.
Kapa'a: Another adorable town, closer to the airport (further from Princeville). I wish I could have explored it more but it looked awesome when we drove through. Lots of shops, cute restaurants, Mexican food, sushi, yoga, juice, etc. If you're by there or have time to kill before the airport… Check it out!
.
Poipu Beach: Another near-the-airport destination. I didn't go but my family did and they loved it.
.
Napali Coast: Everyone told us to do the Napali Coast hike buttttt with all the other excursions we didn't make it. But I wanted to add it to the list because a lot of people have told me it's a must! You can do the long version or shorter version… Both look amazing.
Where to Stay…
I loved staying in Princeville. We stayed at the St. Regis and it was beyond lovely. The views were spectacular, rooms were really nice, restaurants were nice but the food was just eh. The pool is great and it's situated right on the beach so you have great beach access and the ocean is really tame and shallow for a long ways so you can swim and cool off. Princeville is also near Hanalei so very easy to go into town for shops and food!
In the town of Princeville there is a great little plaza with a Foodland (essential if you need snacks, shampoo, anything grocery store related while you're there), and a Lappert's ice cream. I fell in love with Lappert's on Maui years ago, so I was pretty stoked they had one there too!
Oh, and the spa at the St. Regis is PHENOMENAL. My day in their steam, sauna, massage room and relaxation room were literally the best part of my trip… I'm a sucker for total self-care days like those. Now I am determined to find a great spa close to me LA where I can sauna and steam to my hearts' content!
Spa Day VIBES
And their gym was AWESOMMMEEE. If you stay there, I recommend the gym by the spa — it's far nicer, bigger and less crowded than their other gym.
What to do…
I know I already mentioned what to see, but I also wanted to mention what I like to DO on vacation.
I like to relax, soak in good time with my family, do a lot of reading, have a spa day, exercise a ton, try new things, and SLEEP a ton. Catching up on sleep on vacation is essential… It was the only week in my adult life that I can remember that I didn't set an alarm until our very last day.
Gym with mamacita everyyyyyy day.
Just giving you ideas in case you're one of those people who doesn't usually unwind from work or likes to go-go-go-go the whole time you're on vaycay.
Regardless, make the trip yours. Do what makes you happy. Refer to Part 1 if you want to read more about the soul searching I did on this trip. 🙂
Xo,
Jordan
P.S. Search the hashtag #tbbtravels on Instagram to see all of my Kauai pics and to see what else I've been up to on my travels lately!
Fam love <3