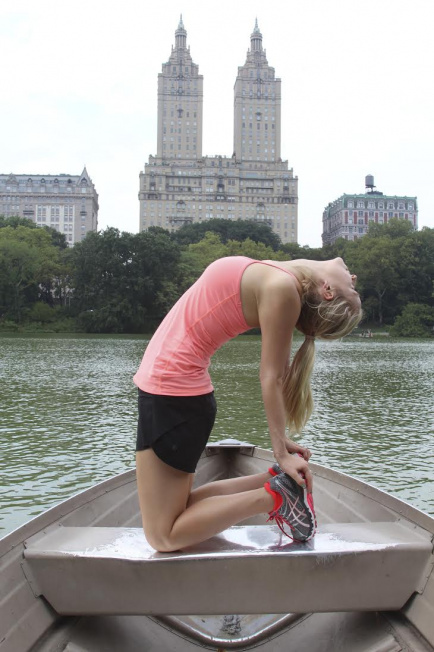 As I was sipping my green tea this morning in my huge ceramic Alfred coffee mug (yes, I bought it & yes, I use it on the daily) and whipping together a coconut yogurt & blueberry parfait for breakfast, it suddenly occurred to me… August 1st, 2013 is the day my blog launched. Just about three years ago to the day.
Today is August 4th, I know. I am a few days late to the party. Partially because I always remember June 18th, 2013 to be that milestone "starting" day for me, since that is when I started the Instagram account that preceded my blog and garnered my first ever Internet audience.
My first ever "About Me" photo 😉
The moment that I started my Insta account I knew I wanted to start a blog to go along with it. I just wanted it to be perfect, and I knew whatever I could make on my own with my limited knowledge of WordPress and my ZERO knowledge of coding, graphic design, DSLR photography, etc. wouldn't be up to par in my mind.
So I found the perfect designer (a.k.a one of the only designers I knew at the time, but yes he was perfect in my eyes) and we set out to create TheBlondeVegan.com! Side note: thank god you can reroute URL's these days. Or else I would have been a little bit screwed when I switched my blog name a year later.
Does anyone remember my original TBV logo?! It was a cursive black font with a strawberry for the "O"! Along with a pretty basic WordPress theme and iPhone photos galore, by the time my August 1st launch date came I was ready to hit the ground running.
The ORIGINAL Blonde Vegan Smoothie, w/ Blonde Hair (Banana Ice Cream) on the top to boot. 😉
It's amazing looking back at that time now and thinking WHERE has the time gone?!
I launched my blog the same week that I started grad school. I was in a M.F.A. Creative Writing program at The New School in New York, and I was convinced that when I started school I would have no choice but to blog a lot less.
That was the PLAN.
But oh how plans change, deviate, and in my case… Totally dissipate when you're listening to your heart and doing what feels right.
I was immediately obsessed with blogging. I loved grad school, and balancing the two wasn't terribly difficult at first since they both consisted of a lot of writing, creativity, and pouring my guts out. But from day one it was clear that my heart was with my blog, and anything that took serious time away from it wasn't getting even close to my full attention.
Soooo long story short, I left grad school after one year to pursue this Internet shindig full time.
I could go on and on about that journey in itself, but instead I want to tell you the top 10 things I have learned since starting this blog THREE years and THREE days ago. Whatttt?!
What I've Learned Since Starting My Blog:
Even though blogging can be a 24/7 job, life is a lot better when there are some boundaries set and a certain amount of flexibility with work. For the first two years, I didn't take a day off. I barely took an HOUR off — I was way too in love with what I was doing and I wanted to grow it in every way possible. Now I've calmed down a bit. I take vacations, I workout in the late morning with friends instead of at 6am or 8pm, I set goals for myself outside of work like running marathons and doing yoga teacher trainings. I prioritize PEOPLE. It makes my blogging a lot better, and makes for a much more interesting life for people to follow along with. 🙂
I love Snapchat. And now Instagram video too, I suppose! I love giving my readers & followers an honest look into my daily life. I am a dork, and that's the me I want you guys to get to know. It feels like you're all my friends… So why not take you along in my daily life with me?!
Writing 4,500 word posts is fun & all, but people resonate with posts that are shorter too. Because they actually READ the whole thing when it's shorter. No need to inundate people with extra words and paragraphs unless totally necessary. (Although I think I still do that… #learning.)
Building a brand off of the Internet is hugely important. I think it's too risky to put all of your eggs in one basket… In a blog, or in an Instagram account, or on a YouTube channel. We never know what's going to happen with various social media platforms, so bringing a blog into REAL life by writing books, hosting events, creating products, consulting, teaching yoga (in my case!) etc. helps make the brand more tangible and longterm.
Photography is FUN, and my photog skills have evolved a lot since those early iPhone photo shoot days. I love Lightroom to edit… Looking at my photos from my pre-Lightroom days makes me cringe because I think they look so much better now!
Since I do work for myself, making too many plans during the week (even when they're work-related) really takes me away from the creativity of blogging. I need time to brainstorm, write, photograph, come up with new ideas… Or else no content gets created! I definitely have to limit my midweek plans, whereas I used to be all over the place. [Not to be confused with being flexible, because I truly have gotten a lot more flexible.]
Having a management team helps. A LOT. Especially when brands are being pushy & trying to walk all over me.
Working with good people is essential to my happiness & the overall success of my blog. Whenever I've found myself in a position where I am working closely with someone (or a brand) I don't particularly get along with, I've learned to listen to my gut and part ways. It's usually a tough conversation, but always worth it.
DESKTOP COMPUTERS ARE LIFE CHANGING. Just got one last week… Seriously, thank the lord because with the amount of writing I do, I'd have a broken neck in 5 years hunched over my laptop all day everyday.
Engage on social media and on other blogs. Always. If you don't, other bloggers will have less respect for you and you'll sort of appear like you think you're too cool or too above it once you reach a certain point. Never stop supporting other bloggers! We are all in this together.
Another one of my original photos… From the first day that I started the "Yoga" section on my blog!
Thoughts?! Have you been following along since the beginning, or are you a newer reader? Or somewhere in between, perhaps? I love looking back & taking a trip down memory lane. 🙂