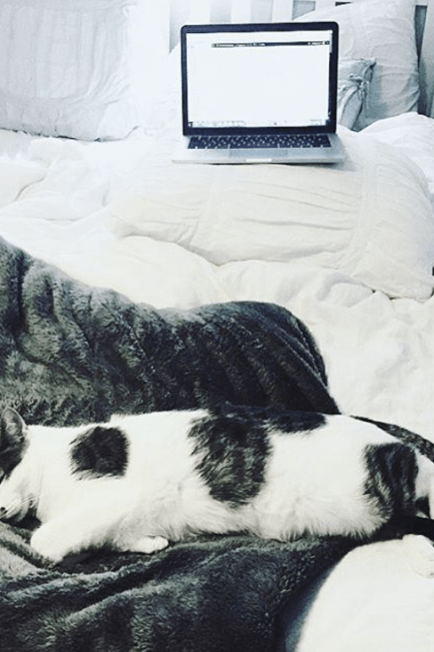 Hi my boos! Whenever I get my inspiration streaks on Snapchat & now Instagram video, I always ask you guys what you want to see on the blog. You've given me some great ideas to take back to my drawing board, and one of the number one requests I get is to do a "Day in the Life" post!
The funny thing about a day in the life for me is that it changes EVERY DAY, so whenever I try to describe my typical day to someone, I end up throwing in bits & pieces of all different types of days as I explain to them. Photo shoots, travel days, writing days, book promotion days, interview days, beach days, marathon training days. And then they're like, "WHAT? Your life is CRAZY."
Sometimes it is. Sometimes it isn't.
So I figured it might be fun to start a weekly (or bi-monthly, we'll see how much you guys like this!) "Day in the Life" post that is written the actual morning before the day that I post it starts. It's Friday morning right now, 9:06 a.m., and I am going to tell you guys what TODAY is about to look like.
If that's not a real glimpse into a day in the life then I don't know what is!
A Day in the Life // Friday: August 5th, 2016
I suppose I should start with last night to set the stage!
Last night I went to a Gold Rush event for Equinox, an awesome challenge they put on for their members to potentially win a "Gold" membership. The Gold membership includes a LOT… So it was pretty obvious as to why peeps were dragging this massive AF boat across the sand to try to beat everyone else's times. I have been an EQ member for a long time, and even though I am a HIIT/yoga girl for the most part — I LOVE having a gym where I can just workout and do my own thang and chill in the spa afterward. Plus, Earthbar. (The smoothie place attached to the gym.)
Of course I hopped into the boat to do some yoga. I didn't participate in the challenge because I already have an EQ membership that I am happy with, buttttt it was fun to see my Equinox peeps and reminisce about all of the fun stuff we've done together over the years. (Like my APP LAUNCH PARTY, circa Nov. 2014!!!).
After the event, I went to my fave plant-based Thai restaurant by myself, which I love to do every so often, especially after an event where I have to be so "on." Then came home to read & snuggle with Hudson.
Now let's talk about today (!!!):
8:00 a.m.: Woke up to my alarm, cuddled with Hudson, and got out of bed a few minutes after to feed him his breakfast! I have switched up his daily feeding schedule, and now that he eats *less* (I found out I was over-feeding him, FML) he never lets me forget that breakfast happens promptly when my alarm goes off. I also remembered when I woke up that I had a dream he already turned 2 years old, which I found strange because his first birthday was July 6th. I kept wondering in the dream HOW a year had gone by so quickly?!?! Thankfully it's only been a month… I have not lost my sense of time entirely. Only my subconscious has. 😉
8:20 a.m.: My morning routine. Wash my face (with my Rodan + Fields "Unblemished" products for those who have been asking!), brush my teeth, scrape my tongue (get rid of those toxins, baby), clean Hud's litter box (yeah, I'm one of those psychos that does this EVERY morning), meditate on my yoga mat for 10 mins.
8:40 a.m.: Make green tea & iced cold brew with almond milk (I've linked to my fave organic brands). Put them on my desk & proceed to make two Instagram stories to show off my NEW DESKTOP computer & my new desk set up. I turned my desk diagonally into the corner of my living room yesterday so I have a view of the outside without the sun harshly shining in on my full desk. Pretty stoked about it.
9:00 a.m.: Sit down to check emails, download Spotify on my new desktop & answer some texts that I got late last night. I turn off my phone at a certain hour every night so I can zen out & read, so I always have texts that I wake up to in the morning! If I didn't I would be sad, haha. This morning it was my brother Jeff, my friend Jordan Younger (yep, SAME name), some texts from Twitter (I get updates when people tag me), J. Albrecht and my BFF's Alexi & Katie. The reason I am being so detailed about it is because I feel that a huge part of me is who I am because of my friends & family. They are everything to me, and when I have good days and bad — I am in constant communication with many of them. Their support means the world, and I like to reciprocate that always.
9:06 a.m.: Started writing this post, and made the executive decision with myself that I would work out at 4 p.m. today instead of my usual 10:45 a.m. The creative juices are flowing and I don't want to interrupt them!
9:45 a.m.: Will probably finish up this post around then, and get back to emails for a few. Then I will sign some contracts my management is waiting on, type some captions for some sponsored posts, and then make breakfast.
11:00 a.m.: After I eat breakfast I will sit down to work on my upcoming "Business of Blogging" eBook. (You can preorder HERE.) Working on big projects takes time & diligence, man. I practically underestimated that all over again even though I know quite well after writing my book! Funny enough, I think this new computer will give me the extra kick of inspiration & motivation I need to get it done so it can be in your guys' hands! I can't WAIT to share.
1:00 p.m.: I have an interview with the amazing Katie Horwitch of WANT (Women Against Negative Talk) for her #WANTcast podcast. I am beyond stoked to chit chat with her, especially because she moved to New York a few months ago so I haven't seen her in a while & we always have the best talks. You guys will have to tune in when it comes out. She is the goddess in the middle of this photo we snapped when I spoke on her last WANT panel!
2:30 p.m.: Okay, DON'T JUDGE ME. At 2:30 I am speaking to an animal communicator on the phone. This is something I have done twice before, and both times it has blown my mind and it feels like I am communicating directly with Hudson. I like to check in with him and see how he is doing, especially because I have been traveling a ton lately and I want to see what his thoughts are about that and that he knows I will always, always come back for him. Call me crazy if you don't believe in psychic/medium/communicative/energy or powers… But after trying it, I am ALL about it. I think some people have a gift, and this communicator I speak to totally does. I'll write a whole post on it if you guys are interested. Just tell me if you are!
(P.S. Last time I spoke to Hudson through the communicator, he told me he was glad I knew HOW beautiful he was, and how soft and silky his fur is. He also told me he knows that he is a king. And he does not appreciate when I make household decisions without including him. #LOL.)
4:00 p.m.: OrangeTheory workout! Cannot wait to get my sweat on, do some sprints & lift some weights after a week of mismatched workouts due to travel & crazy sched!
5:00 – 7:30 p.m.: Will shower, get ready & hopefully get a little more work done so I can go into the weekend stress-free!
7:30 p.m.: Dinner at Gracias Madre with my dear friend Jordan Dorso. The Jordan to my Jordan, as we always say. I cannot wait to see him. I know I've mentioned this before, but we were attached at the hip for many years, and life has taken us in slightly different directions for the last couple of years. So when we DO get to sit down and be together, I cherish it more than words can say. He's mah boy!
Then the rest of the night is open! I may go out, I may watch the Olympics with some peeps, OR I may come home and read the book I have been OBSESSED with since I started it a few days ago… I Know This Much is True, by Wally Lamb. READ IT. And maybe listen to the Beautiful Writers podcast that my lover Laura Conley told me about yesterday! I listened to ep. 1 and already love it.
This is basically a VERY typical day in the life. Nothing super exciting or out of the ordinary about it… But I happen to love days like this. Where I can be flexible, set my own schedule, throw a workout in wherever I please, have some fun things to look forward to, but also lots of time to do creative and let the ideas flow. It makes me feel like a real blogger instead of a run-around-town-doing-everything blogger media fitness overcommitted person. If that makes sense.
What are YOU guys up to today?! This weekend?! DO TELL!