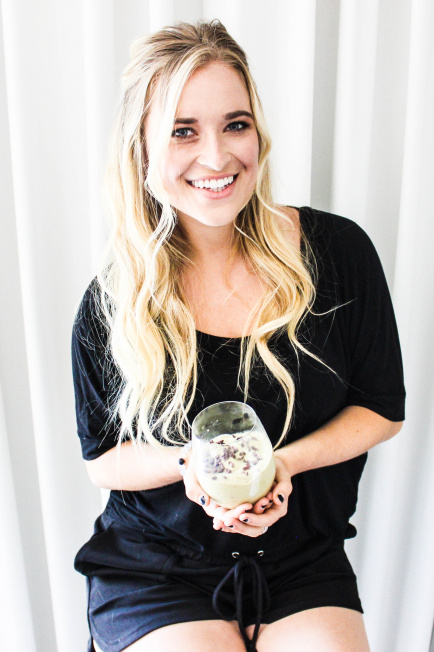 The Unusual Breakfast That I SWEAR BY
Sooo, I have a current breakfast obsession. It's kinda awesome, because it tastes like dessert… looks like dessert… smells like dessert… but actually has no sugar whatsoever & is filled to the brim with protein, healthy fat, vitamins & minerals. And above all, it can be made with only TWO ingredients.
I usually like to add in a few more ingredients, because let's be real. If I can turn anything into a superfood extravaganza (or make it chocolate), I sure as heck will.
But if you only have a couple of things handy, you can legit make it with two ingredients.
What might those two ingredients be, you ask?
AVOCADOS +  ALMOND MILK. (Or any kind of milk that you prefer. OR water, if you're not into milky things.)
And also ice, but does ice REALLY count as an ingredient? No. It's ice.
Say hello to AVOCADO BREAKFAST PUDDING.
I discovered this little concoction because of someone with a bangin' bod that has a huge social media presence, 3 children, and a last name that begins with a "K" and ends with an "-ashian."
Any guesses?
Yep, you got it. Kourtney Kardashian. 😉
But really, has anyone seen her bod lately?! She is SLAAAAYING the hot mama, organic eating, fitness queen game. (Did someone say Gunnar Peterson? My fave trainer ever.)
Anyway, however you may feel about Kourt & her T-Swift controversial fam bam, the girl is a health nut. Like me. And she has an avocado smoothie for breakfast every morning.
When I first saw her sipping her avo smoothie on camera, I was like… Wait. That looks GOOD. And filling & nutrient-rich and replenishing after a workout.
So I went to the store to buy some avocados (of course I already had almond milk on hand — duh-skis), and the rest was history.
I LOOOOOVE this breakfast because it is light and healthy as can be, but also has some "meat" to it, if you will. Avocados are super filling, thanks to their abundance of heart-healthy monounsaturated fatty acids, fiber, Vitamin K, folate, and more. The healthy fats are great for your skin, hair, nails and brain. And they are protein-rich, so you get a lot of bang for your buck — a.k.a, lots of nutrient-density per calorie. (My main stipulation when it comes to foods that I choose to eat.)
Ways to spruce up your avo pudding!
I also love to make my avocado pudding chocolatey, because I love chocolate more than anything. And sometimes a good breakfast pudding is just made so very much more exciting & delicious by being chocolatey.
There are a few ways to do that. You can either had a tablespoon of cacao powder, or you can add a nice big scoop of chocolate protein powder.
I prefer the latter, because I like my meals to have as much protein content as possible… Especially since this is my go-to post-workout or pre-workout breakfast.
As far as chocolate protein powders… Let's talk KURA. You may remember them from my choco banana smoothie recipe in December, or because you may have stumbled upon them in CVS, where they are now available nationwide! It's pretty amazing and thrilling for them (and their supporters, like me) because they are a small, nutrition-focused brand from New Zealand. It's not every day that a non-huge, non-GMO, healthy brand gets picked up by a huuuuuge chain like CVS. It's actually a very big win for us health advocates, because the more healthy & natural options that are available in mainstream stores — THE BETTER.
Truth be told, ever since my girl Louise from Kura shared the exciting news with me, I have hit up CVS a LOT more lately, and I have found a lot of other healthy & organic options… Which makes me happy as can be. And it makes my wallet happy, because… You know how those health food stores go. 😉
Let's also re-hash the things I LOVE about Kura, and then I will share the full recipe with you below, along with a video!
Kura is…
Non-GMO
Gluten-free
Natural ingredients
No added sugar
14g protein (in this case, from grass-fed dairy)
Full of vitamins & minerals: 26 of them!
Contains high probiotic levels for digestion!
THE NICEST PEOPLE WORK FOR THEIR COMPANY. BIG, BIG MUST IN MY BOOK.

RECIPE TIIIIIME //
Chocolate Avocado Breakfast Pudding:
Ingredients:
1 full, ripe avocado
1/2 cup almond milk (or liquid of your choosing)
1 handfull ice
1 scoop of chocolate protein powder (I used Kura here, and highly recommend!)
Method:
BLEND.
SEE?! Easy as can be. And so, so delicious.
Also, CHECK OUT KURA at CVS! Big deal. Support those healthy brands at mainstream stores, boos! They also have a store locator in their site to make it easy peasy for you!
YAY. And YUM. Also, thanks so, SO much for all of your fab responses to my post from yesterday asking what you guys would like to see most on my blog. A lot of you said healthy recipes, specifically healthy DESSERT recipes, so I hope you enjoy this one. 😉
Who doesn't like dessert for breakfast?!