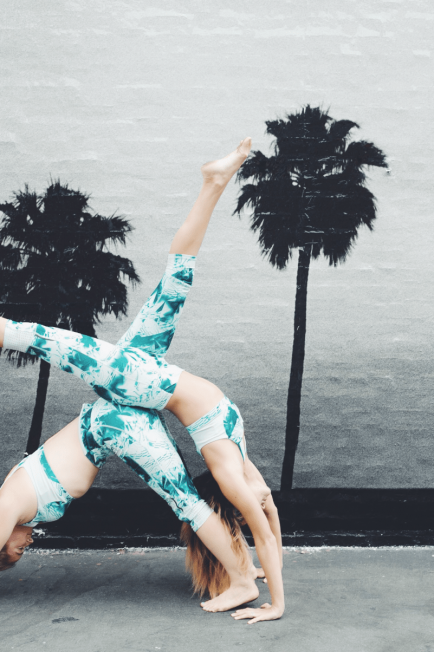 Life After Panchakarma, + Dealing With FOMO
Hi babes! How is everyone doing after the weekend? For me, it was the first weekend in a long time that I didn't have any super specific obligations… So it was both relaxing AND nourishing for my soul.
I caught up with a bunch of friends, got some good workouts in, tried out Sweatheory (awesome infrared sauna & vitamin shot bar) in West Hollywood, boxed for the second time in my life and loved it, had a photoshoot with some of my favorite fellow boss lady entrepreneurs, ate at The Butcher's Daughter not once but twice (lol), cleaned my entire apartment (thank god), and brainstormed for some blog ideas & upcoming projects.
All photos in this post by the talented Ashley Streff.
Needless to say, it was awesome & much needed. However, I will say I was having some serious FOMO about Mind Body Green's #Revitalize2016 weekend, which I couldn't go to because it was in Arizona & I am not supposed to get on a plane for a full month after my Panchakarma.
It was a hard decision not to go, but I knew it was the best choice for me right now because I chose to dedicate myself to the Panchakarma experience in full… before, during & after. But MAN, was it rough to see the photos and videos from the weekend from so many of my friends and fellow wellness peeps that I love.
Dealing with FOMO //
But even that difficulty was a good challenge/lesson for me… I have this strong innate desire to be everywhere at once that I am trying to let go of, because guess what? When you want to be everywhere you're not, you're not fully present where you actually ARE.
I had to work, many times, to let go of that this weekend. To let go of wishing I had just gotten on a plane and made it happen — especially when seeing all the photos & vids. Social media can be a real "present moment killer," if ya know what I mean.
I had to remind myself that I made a decision I almost always neglect but try to do more often: to say "no" when I simply have too much on my plate.
And I also had to remember that I have teacher training almost every single weekend for the next 6 months… and that traveling too much during that time would simply throw my already overwhelmed self right over the edge into full-blown panic.
ANYWAY, I know why I had an extra hard time this weekend about trying to just relax and be in a state of "being" rather than "doing."
Here's the dealio. I was already having a lot of FOMO about not being at NYFW this year. I chose to do my Panchakarma instead… A deep, healing, soul nourishing, "slowing down" type of experience that I knew was absolutely pertinent to my wellbeing after being go-go-go since the day I launched my blog 3.5 years ago.
I didn't realize that, because of the age of social media (duh Jordan), I would have to look at NYFW photos from nearly every other blogger I follow for the full week and then some. Tie in the fact that NYC is my spirit city and I am missing it fiercely right now, and the growing #fomo was becoming almost too much to handle.
But as the week went on I accepted that I wasn't there, and that I will be there in a few weeks instead. There are some MAJOR positives I have been beginning to experience from my Panchakarma (will get to that in a sec), so I worked hard to let my FOMO go.
Plus, because I am not a fashion blogger I let NYFW go more easily because even though I love going to the shows it's not necessarily the content I'm most passionate about producing.
But then there was Revitalize — all about the content I am most passionate about producing: wellness!!! So being right after NYFW, I felt like, "OMG — I am missing everything I want to do this month because I can't get on a plane!"
Fear of missing out is real — no matter what industry you're in, but especially when your whole life is very rooted in the Internet so when you miss something you immediately have to see all the details of what it is that you're missing.
Hard for a "wanna be everywhere all the time" girl like me.
Overall, I think it was a good thing that that happened… All of the FOMO I experienced from NYFW & then Revitalize.
Because guess what? I reflected inward, and calmed down.
I thought about all of my close people in my life I got to catch up with over the weekend — including one of my best friends Brandin (remember him from the BFF video?!) who I hadn't seen in nearly 2 months because of our schedules.
I also thought about how calm, happy and grounded I felt all weekend — something that, for me, with all of the "vata" (Ayurvedic air sign) running through my veins, doesn't happen very often.
I thought about the quality time I got to spend with Huddy and that I finally, for the first time in my whole year of having him, feel like a great and non-guilty cat mama because I have actually BEEN here living life with him instead of jetting off to a diff city every other week.
Oh & this baller Adidas photo shoot I got to do with my lovers because I was actually in town and available. It is the only weekend between now and after Thanksgiving that I will be in LA and not have teacher training… so, yeah, it was MUCH enjoyed and needed, no matter how much my inner self wanted to be in many places at once. <3
My Best Tips for Dealing with FOMO //
Remember that less is more. When we fill our time with way too much stuff all of the time, we aren't fully living. We aren't fully present. If you're a busy person like most of us are — carving out time to simply BE when you actually have a free few days is radically important to do. It makes those travel and social experiences that much more enjoyable when you DO do them.
Take care of your heart, soul & body. I know myself, and I know that I have taken on a lot. I am in a 300-hr teacher training, running my business, beginning to work on book #2, training for a half, speaking on panels, spending time with family / friends, etc. I have been getting EXHAUSTED post-Panchakarma with my regular fast paced life, so adding in anything extra jarring right now just wouldn't be smart. It's hard to slow down, but feels amazing to actually be well-rested and have time for the little things I often don't make time for… like rest!
Remember that for every event or gathering that you miss, there will be another one. For me, there will always be another NYFW & Revitalize. And now that I know how I feel when I don't go, I will block out the time ahead of time next year to make sure I have time to go, be there, enjoy myself, and still have free time on the side before and after. This year, it wasn't in the cards for me. Too much other stuff going on… And that's okay! Putting pressure on ourselves to do TOO much is never the way to go.
Be in touch with yourself. You've gotta make your decisions for a reason. I made my decision to do my Panchakarma and spend more time at home this season, and I made that decision for some serious and legitimate reasons. If I was not in touch with myself and my heart, I would have questioned those decisions when the FOMO crept up. If you are confident in your choices, you can't regret them.
Being PRESENT is the best feeling in the world. When I do too much, I never fully feel present. I remember going to Summit at Sea last year — something I was so looking forward to and was such an incredible place to meet and hang with likeminded individuals from all over the world — and I was not present at all. I was a mess, actually. Because I was doing WAY too much and then hopped on a plane to Miami to hop on the Summit boat for the weekend. All I wanted was to be home and to deal with the newness & unfortunate controversies of my book release. NOW, I have learned, and I basically only commit to things I know I will be fully present for, and it makes life a lot more enjoyable.
& quickly, the most positive aspect of my post-Panchakarma experience…
I have been told upwards of 25 times at this point that I am glowing, radiating happiness and good vibes, that I look like a different person and emit a different energy than I did before my Panchakarma.
WHAT?
Does that sound hokey to you? I mean, come on. I was healthy and happy to begin with. But I'm telling you, my closest friends and some of the most intuitive people that I know feel very strongly that they see and feel a shift.
My public speaking coach (yes, I have one, and he's awesome) said he did NOT recognize me when I came to his door last week, the first time seeing him post-treatment. He said that the shift in the energy I carry is absolutely remarkable.
My best friend Jordan, basically a brother to me, stopped me mid-sentence last night to tell me that the sparkle in my eye is back and that I feel so calm, grounded, and radiate the vibes that I know exactly who I am and what my purpose is. He said not only do I look calmer and more grounded, but I FEEL that way to be around. (Woah.)
Someone else close to me, who knows me incredibly well & is so in tune with me can tell by a two-second interaction whether I am happy or not in a good mood, has said time & again that there is simply something different about me post-Panchakarma. That I am just in line with who I am, and emit a very positive energy.
Every single person in my teacher training… People who I really don't know that well yet, mind you, were shocked by the glow I had when I returned after the treatment.
It's really amazing to get this consistent positive feedback, especially because I feel it too but it's harder for me to tell whether the shift is super internal or also external… it's really unreal, actually.
And I know that part of why I am emitting such a grounded vibe is because I FEEL rooted — I feel so incredibly passionate & pleased with where I am right now.
I know that saying "no" is a part of that, because I've gotten to spend so much time at home and be exactly who I am, in my routine, and living this awesome life I have created, surrounding myself with people who make me happy.
SO! That's why the FOMO just can't get to me, because I know I am doing everything I can to just feel and be as grounded and happy as I can be.
Right now, I feel on a high from it — from knowing exactly who I am, and being so, so, so IN my body and in line with my choices.
Thoughts? Who else experiences FOMO / how do you deal with it? I love this article by my friend Geri Hirsch on why alone time is so important… Check it out if you like this kinda topic!