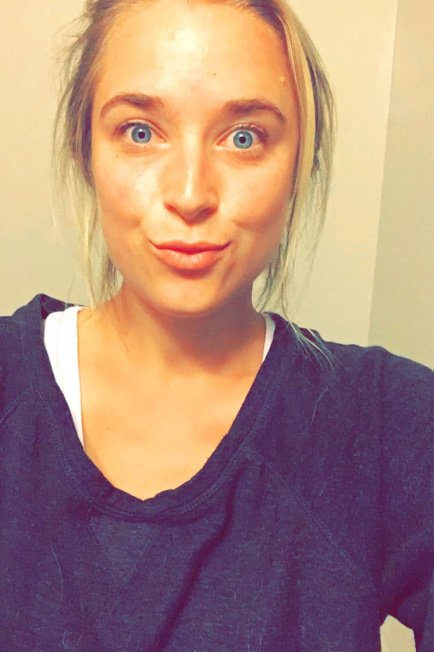 Choco Bulletproof Hormone-Balancing Coffee Recipe & Life Lately
HI BABES.
A) I just got home from NYC and CANNOT WAIT to write a recap of my trip to share with you guys… it was AMAZING.
B) THANK YOU for all of the bday wishes. I am the luckiest girl in the world to have so many supportive, amazing humans in my life.
C) BULLETPROOF COFFEE RECIPE TODAY!
D) My brain has been spinning these last few weeks with all sorts of things. //
Soon I'm going to do a post on all of the reasons why I am a wee bit overwhelmed right now, just to give you a glimpse into my brain so we are all on da same page.
Hints: teacher training, New York, working on da eBook (biz of blogging), working on proposal for book #2, relaunching TBB APPAREL so soon (eek!), Hawaii trip coming up (teaching yoga in MAUI), keeping up on partnerships, photo shoots, panels (GIRLTALK was amazing… lots more to come on that), assisting yoga classes, practice teaching, spending time with the fam, working on a V V exciting project that may or may not be a PODCAST (okay I'm the worst secret keeper)… things like that. 🙂
So anyway maybe I don't need to do a post about it because my hints give you a full-blown look into what my swimming brain is consumed with at the moment.
ALL OF THAT being said, a few things…
I wouldn't trade any of this for the world. Having a full plate makes me happy. But I DO look forward to a few months from now when things feel a bit more settled.
I am always looking for ways to stay inspired & keep things fresh so that my mind doesn't get too jumbled to be what I love most: a creator.
I have had to nail down my routine to basically be laser-focused on what I want to create & produce.
That routine comes down to: self-care, exercise, healthy food, sleep, good people & lots of forgiveness for myself when I can't be everywhere at once. (Basically letting go of FOMO like cray).
INSPIRING ME RIGHT NOW…
SO! I have been inspired by all sorts of things lately when it comes to keeping myself on track and keeping my routine on lock…
One of those things is this post by Lauryn of TSC.
Another is the Beautiful Writers podcast by the amaze Linda Sivertsen.. Specifically her latest episode w/ Arianna Huffington about the importance of SLEEP. It made me feel not so guilty for getting insanely stressed + depressed about my insomnia…
BOSSANOVA music when I'm writing & high school throwbacks on Spotify. Follow me there for all of my current faves. Music is getting me through this "way too overcommitted & feelin' too busy for my own good" funk.
Spending time with the people who inspire me — my friends who have also started companies, friends who have similar fitness goals to me, etc. It's hard to spend time with everyone I want to when things are this cray… So surrounding myself with people who are on my page is super helpful and recharging.
Therapy & constant self-work, always
READING. Currently very, very into She's Come Undone by Wally Lamb — after I finished the very major & real obsession of mine, his I Know This Much is True
ALSO…
Super duper into yummy coffee drinks right now.
I went off of caffeine for about a month before, during & after my Panchakarma. I didn't even have green tea.
And I felt AWESOME! I am a very high-energy, high-vibe kind of person to begin with. Even internally… My nervous system operates on a very high-wavelength. (Which can often get me into trouble… i.e. staying awake ALL NIGHT LONG instead of being able to fall asleep. #FML)
But also, I love coffee. And I don't want to ever fully "ban" it from my life because… it makes me happy! It gives me an extra surge of productivity & excitement every morning. I don't NEED it and I am not dependent on it… but it is something I look forward to every morning and has a very happy, solid place in my routine.
When I drink it — I make sure to add lots and lots of goods into it so that the caffeine itself doesn't spike my blood sugar or cortisol and make my hormones all wacky. All my fave products listed beneath, with the reasons why they rock!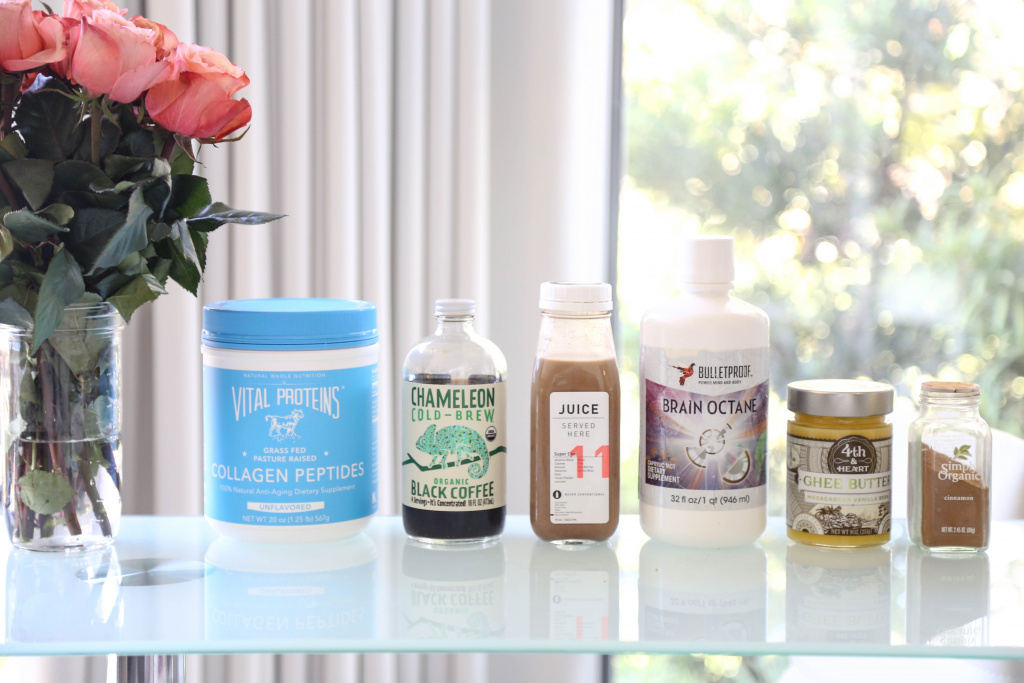 I also love walking to my neighborhood coffee spots & having morning meetings there (or morning dates there..!) — because I also think starting the day with people who inspire you or people you love is the way to go.
SO! That brings me to my current coffee obsession: CHOCOLATE BULLETPROOF.
( a.k.a my own creation that basically just tastes hella good )
* also including all of my fave brands here but just so ya know this is not sponsored, just realness on the brands that I use DAILY.
Ingredients //
4 oz of Chameleon cold brew ( I buy the largest size so I can use it for like 5-6 days straight before I have to re-stock )
1-2 tbsp of Bulletproof Brain Octane MCT oil ( you can also use coconut oil ) — healthy fats that get your metabolism GOIN'
1/2 tbsp of Fourth & Heart vanilla bean ghee ( you can also use reg/non-flavored ghee )
3/4 cup almond milk, either New Barn unsweetened vanilla ( or Whole Foods brand ) OR this treat w/ Juice Served Here "Super Choc"
1-2 tbsp chocolate protein powder ( I like Philosophie "cacao magic" or Moon Juice "deep chocolate protein" or Vega choc protein )
1/2 scoop of Vital Proteins Collagen Peptides ( great for hormone balance, especially in the morning )
a few shakes of cinnamon ( Frontier is a good, tasty, organic brand)
Method //
Pour all ingredients into a blender, & blend! If you aren't using ghee or protein powder, then all you need to do is mix in a glass with a spoon.
But with the ghee & choc powder it's definitely more useful to blend it up so it's nice & creamy!
ENJOY! And hashtag #tbbmademedoit #tbbkitchen on INSTA if you make this so I can see your yummy & amaze creations!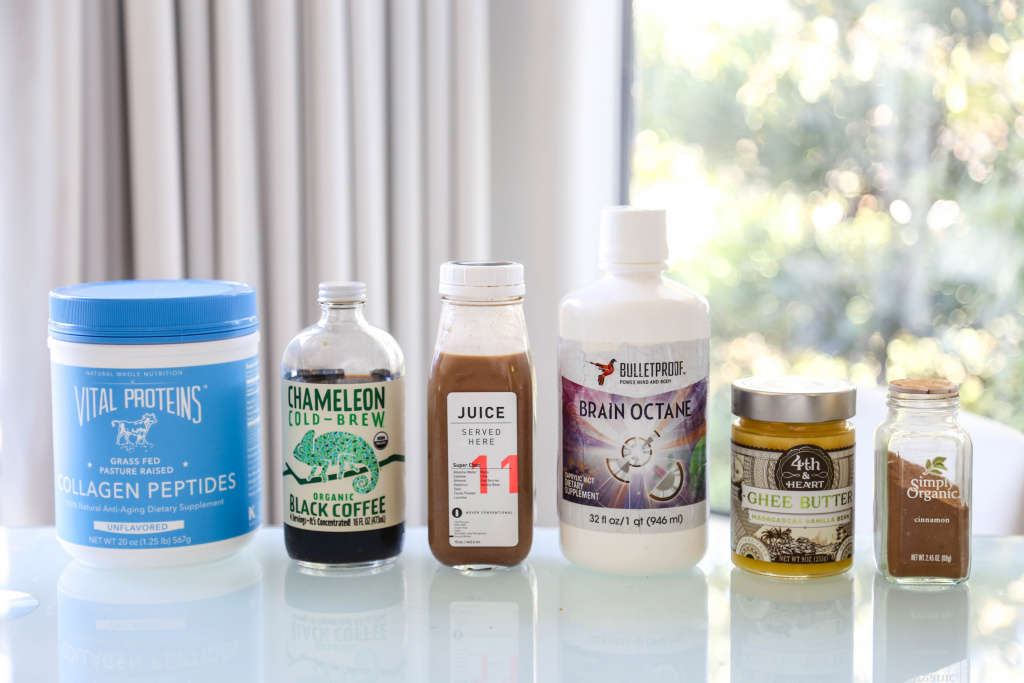 BTW… This is what I looked like after a long-ass 12-hour day of blogging the other day:
The blog life really ain't so glamorous. 😉 // Cat hair on my sweater and ALL. #realness #always
 SO! Thoughts?! Who loves Bulletproof as much as I do?!