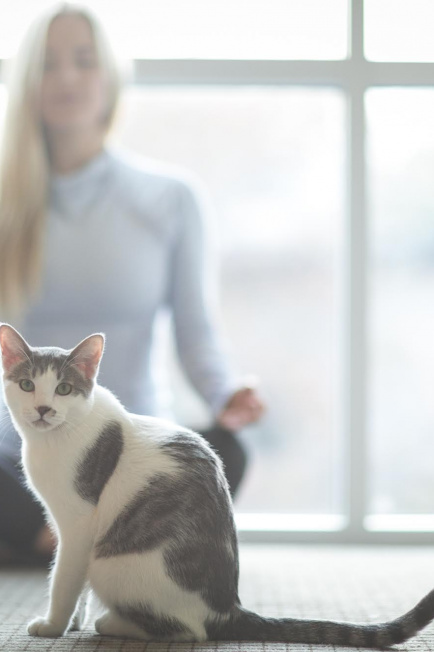 PODCAST Episode with Animal Communicator Miranda Alcott!
GUYS! Episode 4 of The Balanced Blonde Podcast // Soul on Fire is now LIVE on iTunes & Libsyn! My guest is Miranda Alcott, animal communicator, Animal Medical Intuitive, crisis response counselor, spiritual psychologist, and so much more.
LISTEN BELOW OR ON iTUNES!
She is truly unbelievable and has set her soul on fire like no other, so she is VERY fitting for this podcast.
And, of course, my other guest is HUDSON RILEY — my CAT, who Miranda & I interview together in the second half  of the episode!
I am EXTREMELY excited to share this episode for a very special reason, and that's because Miranda's gift is something that I have been dying to share with you all since the very first time I spoke with her a little over a year ago.
I contacted Miranda soon after I brought Hudson home (my kitty, for those of you who may be new readers!) because since Hud was my first animal… I could hardly bear the thought of not knowing what he was thinking or what he wanted to say.
Looking into Huddy's eyes, it is pretty easy for anyone to tell (cat person or not) that he is a super special being. His eyes tell you that he is SMART as a whip, for better or for worse — he keeps his eye on everyone, and when you win him over he is the most loving being I have ever been close to.
Seriously, he is SO LOVING. But he also keeps his boundaries with people until he decides to let them in, which I find very admirable. I need to do more of that! One of the many things I can learn from Huddy.
Anyway, Miranda's story has fascinated me since the first time I talked to her and I have always been dying to learn more about HER and how this gift came to fruition in her life. I wanted to know whether she was born knowing she could talk to animals, or whether this was cultivated later in life.
I wanted to know how many animals SHE had, if she communicates with them on a daily basis, if communicating with animals can be taught (hint: it CAN and she teaches classes that you should totally check out and take!), what it's like to be so highly intuitive — which I can relate to, as a highly sensitive person, and MORE.
Little Did I Know…
Little did I know, Miranda wears SO MANY hats. Not only does she communicate with animals and serve as a medical intuitive for veterinarians all over the world, she also holds a degree in Spiritual Psychology and has a post-grad degree in Consciousness, Health & Healing.
I've known for a while that she can tap into Hudson's thoughts and express them very eloquently to me, and my bond with Hudson has cemented tenfold since being able to hear out his needs and get an even deeper glimpse into his hysterical + wise personality.
But what I did NOT know was that Miranda, being such a highly intuitive and empathetic person, has incredible tips and guidance for people like me since I am so highly sensitive to energy, my routine being thrown out of whack, other people's feelings, the actions of others, etc.
She gives GREAT advice in this podcast episode about dealing with the wave of negativity and unrest that has swept over our nation post-election, and her peaceful and wise words are something I really, truly think everyone needs to hear. (Especially you guys, because I love you guys).
Then we talk to THE HUD!
Then, of course, we talk to HUDDY! He has great advice for me in this episode too… the main point of it being: SLOW DOWN! Slow down, or else you'll never be able to see or grasp what you are meant to have in this life. Relationships, friendships, and more.
He also explains WHY he wasn't using his litter box for a while, and tells me that he loves when I "act like a cat" (and explains that sentiment) — and so, so much more. 🙂
Listen to the episode HERE, and please subscribe, rate and review if you like it! I have gotten such awesome feedback from you guys so far, and I continue to be WIDE OPEN to suggestions, constructive criticism, and more. 
Also, please do check out Miranda's site!!! She has amazing wisdom, workshops, and you'll fall in love with her as a person after listening to her calm, sweet, highly wise words throughout the podcast episode. <3 If you have animals, you will love talking to them…. they (and WE) deserve it! So much love.