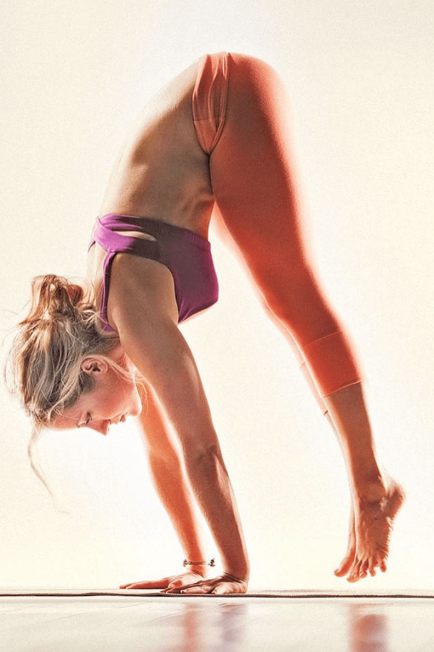 Kathryn Budig is on my Podcast & I am Over the Moon
Image by Jasper Johal — JasperPhoto.com
KATHRYN BUDIG is today's podcast guest… Need I say more?
Over the moon would be an understatement.
Feel free to listen below + skip the story if you prefer, this  episode is GOLD! (You can also listen on iTunes here!!) —
Kathryn has been an idol of mine since very early on in my wellness-lovin' days. As you'll hear in our convo… I discovered her by way of a ToeSox ad when I was interning at LA Yoga Magazine and running the mag's weekly email newsletter.
My first thought was: "Woah, this girl kinda looks like me! Long blonde hair, strong yoga bod [okay way stronger than me but that's neither here nor there], and totally approachable & friendly looking" — which, at that time, wasn't something you saw in the yoga world on the daily. In fact, I was SO YOUNG to be immersed heavily in the yoga world, so stumbling upon someone who looked like she could easily be my friend felt, well, really good.
Fast forward to a few years down the line: Kathryn was on the cover of Happiness + Wellbeing Mag, and the following month I was asked to be on the cover. A few months later, Kathryn was on the cover of Yoga Digest, and the following month I was on the cover of Yoga Digest. Do you a pattern here?
I loved the small world coincidences and it was such an honor to be put in an even remotely similar category to her. At this point, I'd been following the girl for years and was epically inspired by her whole lifestyle and life philosophy.
THEN, dun dun dun, we RAN INTO EACH OTHER IN NEW YORK CITY. I'll save that for the podcast episode, because we discuss it in detail, and we talk about whether that was FATE or just a mere random coincidence.
We also discuss so much more — from 2016 being a WACKY year for all of us (take a look at Kathryn's social media and you'll see that she has had a difficult year for the books in her personal life, which I can relate to  as well), to her upcoming teaching sabbatical for the first time since she began teaching many years ago, to her stance on the shifting yoga world, to social media, to finding balance with all things in life, her favorite meal, and SO. MUCH. MORE.
It was an amazing conversation and so fun to pick the brain of someone I love and admire so deeply. I definitely consider Kathryn to be one of my teachers, so to have her on the Soul on Fire podcast was an honor and a blast.
Feel free to LISTEN HERE, subscribe on iTunes, check out her book, her social media and let us know your thoughts!!!
Also…!
Oh, also, in case you are looking for any last minute gift ideas for the yogi (or just wellness-inspired lady) in your life… you should know I am madly in love with my Sanuk Sidewalk Surfer shoes right now. The style I'm wearing here is from their Donna collection – they're super comfortable and come in the cutest textile prints! They withstood my morning yoga practice which means they are a true active girl's dream. I am always looking for shoes that I can wear with my active lifestyle that aren't legit ACTIVE wear… you know what I mean? 
Happy holidays, my loves! Check out the Sanuk Donna and other Sidewalk Surfer options 
here.
SOOO, let me know your thoughts on the Kathryn podcast!! There is a reason why I said "I am SO glad this is recording right now in the middle of our episode…" she is a total badass. Love her and so grateful that she came on the show.
If you could leave us a rating and review if you listen — I'd be forever grateful! XOXO