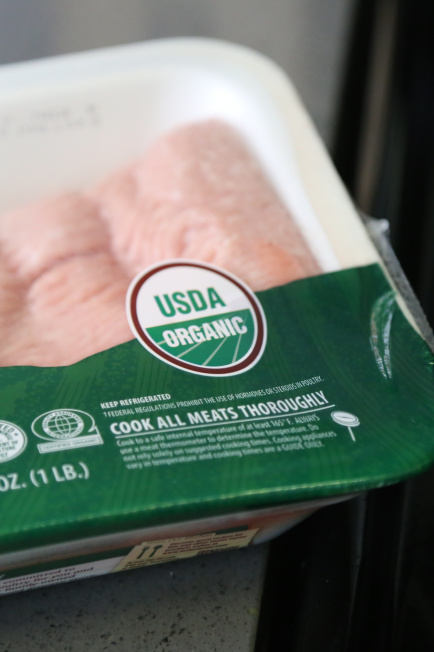 Turkey Turkey // Organic, Free Range Turkey Burger!
Hi babes!
It's #TurkeyTuesday and today I am celebrating with the fabulous Foster Farms Organic Turkey (which I turned into BURGERS… with the help of a fabulous sous chef in my life, because let's be honest… I was a #veggiegirl only for so long!) — mainly because I want you to know about this awesomeness. It's so convenient and easy to find… and this is such an easy post-workout recipe — which is the MAIN question I have been getting from you all lately!
What do I eat post-workout!??! After my Keto OS drink, of course. Well… lean protein (organic turkey, heyyyy), veggies + a tiny bit of complex carbs (mainly sweet potato)! BOOM.
Always gotta re-load on the protein after a workout so our muscles can recover and get the nutrients they need to be strong, lean and full of energy.
Foster Farms turkey is free-range, fed with a certified organic vegetarian diet and always free of hormones and antibiotics. So yes, it's 100% natural. As it should be.
I love the ground turkey the most because I love whipping up an easy turkey patty to eat with my veggies or even a delish heaping of sweet potato fries. Call me crazy, but I have loved turkey burgers more than regular burgers or even veggie burgers for as long as I can remember… my mom and I used to have dates with each other where we would get them at Cheesecake Factory (probably 2,000+ calories, lol) and then have cheesecake afterward. What the heck, early 2000's Jordan and Jane?
These are FAR healthier, I can tell you that much. And because of that, I actually think they taste better also. These babies are packed full of protein with 22g per serving and taste super juicy and flavorful. That is a staple for me when it comes to turkey, because so many brands can be dry and sort of tasteless.
Also, this organic Foster Farms line is locally grown in California's Central Valley, uses zero antibiotics ever, uses free-range turkey raised on organic land and fed an organic vegetarian diet, is 100% natural with no added hormones or steroids & is a nutritious and lean source of protein — a.k.a ALL OF MY STAPLES.
Since we are talking about a healthy form of lean protein here, I also thought I would take a second to address something in this post that I get asked all of the time, which is…
"What do you call your diet / lifestyle / the way that you eat?"
A)
I am label-free so I don't fall into any one genre at the moment but I am definitely close to paleo /
bulletproof
/
keto
right now bc it's making me feel amazing. I will write a huge blogpost on the keto lifestyle in the next few days so you can get in on the action with me, if you want, but basically… it's rocking my world and it's amazing.
B) My meat is always antibiotic-free, free-range, organic, grass-fed, 100% natural w/ no added hormones!
C) I eat clean + eat very high fats and high proteins!
D) Above all I am mindful about my choices and listen to my body above all else, every single day. Sometimes that leads me toward a lot of protein, other times it's a full veggie diet. That's where I'm at right now and I am kind of loving all of the variety.
E) My meals are always colorful with lots of veggies and seasonal ingredients!
TURKEY TIME //
There we have it, babes. I know this plate is super simple — that's the only way that I cook and the way that I like to keep it! It works for me. I honestly don't have time for anything super involved. 🙂
One grass-fed, organic turkey patty, 1/2 an avocado, 1/2 a sweet potato sliced, over spinach salad. 
Join us for #TurkeyTuesday and show us what you've got! I love that
Foster Farms
 hits all of my natural, organic, hormone-free staples and is so convenient. Check out the full blog post to read this recipe + more deets! 
Thoughts? Have you tried this yet? Let me know your thoughts when you do!!
****
*This post was sponsored by Foster Farms, but as always, all opinions are my own!
Check out the Organic Ground Turkey on the Foster Farms' site to try it for yourself… I found mine at Costco and used InstaCart to deliver it, SUPER EASY. THE WAY TO BE.