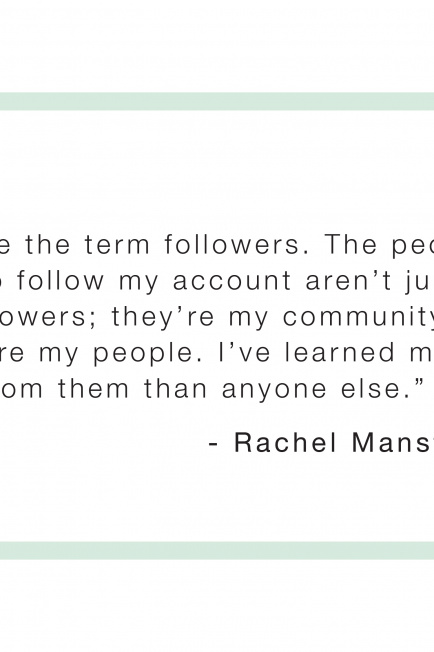 Hi babes!! Today is a quick lil' "hello" type of bloggy post which I am about to start doing a lot more of, because let's just say with ALLLL the projects going on right now (podcast! book! teaching yoga! ebook! #life!) I haven't been writing as many blog posts as I usually do.
So SHORT posts will be where it's at right now, so I can keep getting content out there in between the long-form posts that you know I love to write more than anything!
Regardless, you know this blog will be my life forever. Long posts or short, big or small, deep or less deep… I'm HERE. Always.
You guys rock and I am so glad you are here.
Anyway, today is about the PODCAST ! Today's episode of Soul on Fire is all about INSTAGRAM DO'S & DON'TS with the amazing, sensational, beyond inspirational RachLMansfield. In other words, one of my very best friends in the universe. In other other ways, total rockstar Instagram queen food blogger.
In the episode we talk all about INSTAGRAM DO'S & DON'TS. I don't want to give it all away, but here are some highlights from the episode:
+ DO create quality content that fits with your aesthetic and your brand
+ DO remain consistent and find all sorts of consistency across the board (not just with a schedule, but consistency in all forms)
+ DO show community support & engagement with other people in your community (for us, it's wellness)
+ DO be yourself & do what feels authentically right to you, at all times
+ DO have creative practices and processes so that you can stay in touch with your ideas instead of scrolling other people's ideas ALLLL day long
+ DON'T compare yourself to what everyone else is doing
+ DON'T steal ideas, copy, or rip someone else's idea off without crediting them
+ DON'T hate on other people on the Internet (duh)
+ DON'T assume that bloggers have free reign to send you free stuff (lol, you'd be surprised)
+ DON'T get into the business for the $$$$
AND SO MUCH MORE! This is just a fun little snippet. You can listen to the full episode HERE —

If you listen and enjoy it, please rate, review & subscribe!! Having subscriptions on iTunes is what makes podcasts able to grow and grow and reach new people and eyeballs… so you guys do have the power to make all the difference with this (so cool, really).
Also, having great LEGIT reviews makes my world go round, especially because sometimes people listen out of nowhere, are super unfamiliar with my blog and my journey, and leave a onetime review without understanding what the podcast is all about. (AKA they think I talk too much… I'm not trying to be Diane Sawyer, you guys!). So let's get the tribe up in there to rate & review!!
And go show RACHELLLLL your support and love, because she rocks and she's my everything. We are for sure hosting a retreat together this year, just figuring out the deets… so y'all need to come. 🙂 🙂 XO
Thoughts on the episode?!?!