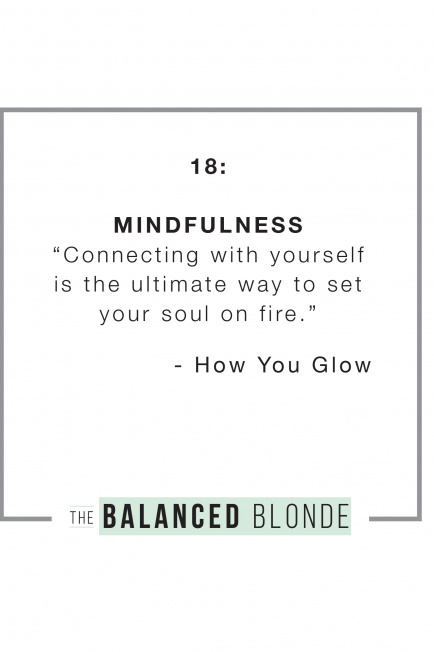 Sometimes It's Okay If You Don't Want to Get Out of Bed
I heard a quote from the fabulous Lainie Devina a few weeks ago that really stuck with me. Lainie is one of the master teachers at Yogaworks that I was introduced to through my 300-hour training at the studio.
She shared this the day after our program ended, when no doubt a lot of us were feeling a little shell shocked about the fact that we had finished this insane endeavor, were moving on from a massive commitment we'd dedicated ourselves to and spent 300 hours working to complete, and many of us were sort of half glad, half freaked out that it was over.
The quote, from her FB page, reads:
"After such significant output don't be surprised if you feel the draw to spend time resting on the couch, and maybe even a little melancholy. That it's completely ok and ultimately balances out the high level of output required in the program [or anything in life requiring intense commitment]. It's something that I've shared with my TT Students and PP Apprentices ever since. What I recognize is that as a Teacher/Mentor I move through the same process. I feel grateful for my teacher's lesson that lets me be soft with myself and gentle as I too transition."
You guys. OMG.
This really hits the nail on the head for me. And it's not just about completing my 300-hour teacher training program. For me, it goes far deeper than that.
I am a notorious over-committer. That sentence in itself bugs me and makes me want to rip my hair out because I've no doubt written it upwards of 500+ times since starting this blog over four years ago. So some of you more longterm readers might be like, "Jordan, WE KNOW!!!"
And if you do know, that means you can most likely relate.
Sometimes it freaks me out how much "output" I have inside of me that I am constantly putting out into the world.
I can be charged with these seemingly endless bursts of energy that allow me to jump from photoshoots to writing my book to working on my blog to meetings on the opposite ends of town to hosting events to teaching yoga to being the fun auntie with my nieces to showing up in my relationship to going out with my friends on the weekends to waking up early to go on a long run to interviewing my podcast guests to talking to my mom on the phone for 3 hours to then hopping on an airplane to a different country and jetting directly to a book signing.
I don't say all of this to sound cool and busy — I don't think it IS cool to be too busy. It's just a fact. I think it's something we all do sometimes, whether we are bloggers, or moms, or CEOs, or doctors, or yoga teachers, or teacher trainees, or all of the above at the very same time.
I don't think everyone is like this… you've got to be pretty "vata" to pull it off. In other words, you have to be sort of crazy.
I have been like this for as long as I can remember. I was born overextending myself. I used to get in my mom's car after school in elementary school and beg her to let me have a friend over, and then beg my friend to spend the night, and then beg that friend to stay up all night talking to me, and do the SAME thing again the very next day.
I could never get enough!
And then in college, OH boy. I was literally never alone for more than 20 minutes at a time. I felt like if I wasn't surrounded by people, having conversations, being everywhere that was "cool" to be, then I wasn't living.
Then I hit a wall. I was young to be hitting this wall. I was 21 years old! I will remember the beginning of that transformation for the rest of my life.
I was studying abroad in Florence, Italy, and a few weeks into the experience I just couldn't possibly drag myself to go to the clubs late at night with my friends. I also couldn't force myself to be as socially out there and engaging as I usually wanted to be. I was with several of my close friends, and also made several close friends on that trip — but I stopped feeling the desire to be the girl that was EVERYWHERE with everyone.
I was happy to stay in and be QUIET. To work on a novel I was writing (didn't finish it, but maybe one day…). To study Italian, of all things.
I just wanted to be… me. I was still going through the transition though. I started getting this deep itch to travel ALONE to a remote island somewhere to do yoga or have a spa retreat or just sit on the Arno River and meditate and speak to NO ONE. Instead, I signed myself up for a wild Halloween weekend at the Pink Palace in Greece (don't go there) which is basically straight out of an episode of Girls Gone Wild.
You see, I resisted this newfound part of myself for a while. I didn't know what to do with it. I thought there was something WRONG with me. When I got back to LMU after our study abroad semester ended, I was still this way! I lived in a house with six of my best friends but I just didn't feel fulfilled in the same ways as I used to. So I signed up for my first Yogaworks teacher training. 🙂 And the rest was history.
JK. It wasn't history. It still took me a long time to fully make the transition from the WILD & FUN Jordan to the "SOMETIMES wild & fun" Jordan, and "SOMETIMES totally needs to keep to herself" Jordan.
Heck, I'm still learning! It's a balancing act, as all things are.
Starting this blog was one of the best things I could ever do for myself on that front, because it gave me an outlet to be unapologetically me. In fact, it gave me a place to connect with people while also laying in bed and chilling out. It gave me a platform to be a voice, to use my voice, to connect and interact, and ALSO conserve my energy and my output to use for other things in life beyond social life, school and work commitments, etc.
Another thing that helped a ton was getting my CAT, Hudson, but don't even get me started. Becoming a crazy cat mama has calmed me down in the most exponentially wonderful way I could ever even begin to explain. It makes me think that having children will do similarly wondrous things for my personality and my priorities.
Anyway, the point of this post is to remind you that it's okay to stay home, relax, and not want to get out of bed sometimes.
It does not mean that you are depressed.
It does not mean that you are lazy or not motivated.
It does not mean that you are antisocial and should be picking yourself up and putting on a brave, energetic face just for the sake of it.
Sometimes it's okay and it's actually wonderful to lay in bed, play your music, and DO NOTHING! Watch a movie, cuddle with your cat, write a blog post, stare at the ceiling, take a nap, read a totally fun and non-informational book that is calling your name, anything you want.
In fact, it is my belief that if we take more time to ourselves, tap into our creativity and just let our minds relax… that is when amazing things can happen.
It's only when we allow ourselves to take breaks that we grow to appreciate all of the amazing things around us and we recharge enough to be able to take on all of our usual, awesome commitments and activities and relationships.
I just felt the urge to write this because I am in bed right now, at 4:38pm on a Wednesday, and in about an hour I will be leaving for an award gala in Hollywood. I will have to do my hair and makeup and put on a gown… and in all reality, while that is fun, I also just want to lay in bed. All night.
And I want to serve as your reminder that that's okay. It doesn't mean that I hate what I do or that I won't have fun tonight. It just means that my body is telling me it's time to take a break, and it's absolutely time to listen. My teacher training program just ended, I recently got back from Bora Bora (amazing!), and when I got back to LA I hit the ground running.
Breaks are okay.
They're good.
Don't fear the bed sessions. 🙂
Love you guys. Also, hope you enjoy today's podcast episode with Rachel Mansfield!! She is everything. XO