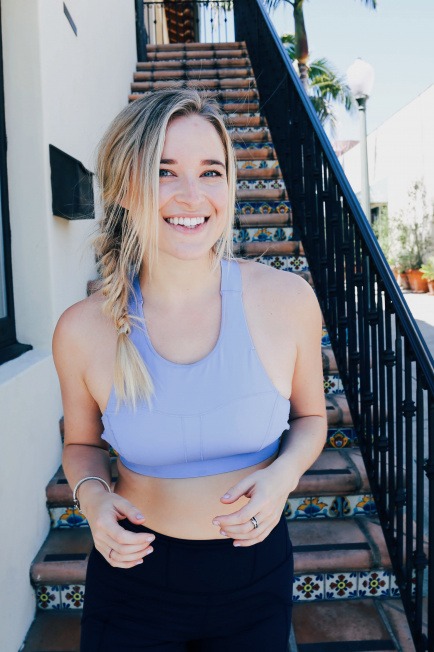 Doing Some Running Again & It Feels GOOD
Hi guys!
This week is FLYING BY.
I am finishing my YOGA EBOOK (it comes out on Monday — WHAT?!?! Have you preordered?!?? If so comment below and tell me!!!), I spent the day doing yoga on a YACHT with some of my fave humans all day yesterday (check Insta to see more!), today was Christina's birthday so we spent the morning at Next Health getting pampered with cryotherapy, cryo facials, B12 shots, and more — all around, this week has been NUTS.
One thing I am super stoked to share on the fitness front is that I have been getting back into running lately.
You know I took a huge break from running after my Panchakarma last September. All my body craved for the first time in years was of course low intensity exercise and all the slow, juicy, sweaty, yogi flows.
And then about a month ago the switch flipped again, and one afternoon (after a particularly awful yoga audition that left me with serious residual anxiety) the only thing on planet earth my body wanted from me was to go on a long, sweaty, spontaneous RUN to let it all OUT.
So, um, duh — I listened. I came home, slipped on my running shoes and RAN. For 6 MILES. And it felt SO FREAKING GOOD, I can't even tell you.
After keeping it chill for so long, my body didn't even know what to do with itself with all of those endorphins.
Although this particular month has been CRAZY so I haven't been able to incorporate running into my routine as much as I'd like, I am working it back in here and there and it feels amazing.
RUNNING INSPIRATIONS //
I also have to say, having running inspirations in my life has made running a lot more fun and inspired for me this time around. Before, it was all about pushing myself to my limits and trying to get my body ready for a full-blown marathon.
It was a lot of me, me, me — even though I didn't think of it that way at the time.
This year, I am really just feeling the FUN in running.
My soul sista Emily Nolan (you guys know her from Episode 16 of the podcast!) is running the PARIS MARATHON this weekend, and watching her train and arrive in Paris this week has me feeling all sorts of fluttery butterflies for her and the whole racing process.
My <3 Jonathan (you guys know him from the podcast also, Episode 11) is such a running inspiration to me. He paced me in my first & only (so far) marathon last year, ran the L.A. Marathon a few weeks ago, is training for some crazy long races this summer, and leads run classes from time to time at Orangetheory here in L.A.
His dedication and his love for running inspires me to no end. Like, way more than he knows.
Between those two and countless other runners I have in my life from my marathon team to the fitness blogging world, I am always inspired to sweat outside. And lately, the form of sweat that's been calling me again is RUNNING.
With a lot of yoga mixed in. Like a lot.
I believe we should constantly allow ourselves to evolve. That's why I never define myself or the way I work out. My preferences are ALWAYS changing, and I really enjoy switching it up!
I AM looking for a half or a full to do this summer + end of the year… taking any and all RECS!
So what am I into running in these days?
I've gotten so many nice comments from you guys about my activewear go-to's lately!
It makes me super happy because I literally live in activewear… and by that I mean I truly do NOT wear anything else! One or two nights a week I'll change out of it, and that's about it.
But when it comes to running I am pretty picky.
I like my running clothes to be comfy, to fit well, to be sweat-wicking, to feel like they're barely there (yes, I don't want them bugging me), and to of course be bright & fun because that's a fun plus with all running clothes.(You want the cars to see you!!!)
Right now my number one favorite is lululemon's new Nulux line. The material seriously feels like it's BARELY THERE.
It feels like a cloud on my skin, TBH.
The Fast and Free Crops pictured in these photos are incredibly comfy to run in, and they are SOFTER than life. It feels like I am wearing nothing weighing me down which I am all about.
And this Fast and Free Sports Bra is RIGHT up my alley, is super flattering on my body type (or at least I feel amazing in it!!!) and I LOVE these hydrangea & jet stream colors.
I have been living in this bra. I ran in it earlier this week and then wore it in a different color to cryotherapy today… YEP. Obsessed.
If you like these clothes as much as I do or agree about the barely-there necessity when it comes to running, shop the post below and give my ALL-TIME FAVE brand lululemon some love!!!
Thoughts?! What kinds of workouts are you into right now? Tell me all! I will also talk more soon about how I healed my cortisol imbalances so that I could start running again without getting acne flareups, holding onto water weight from the hormone probs, etc! I know a lot of you have asked and I am an open book, so soon it's time to TELL.
Shop the post, my babes //