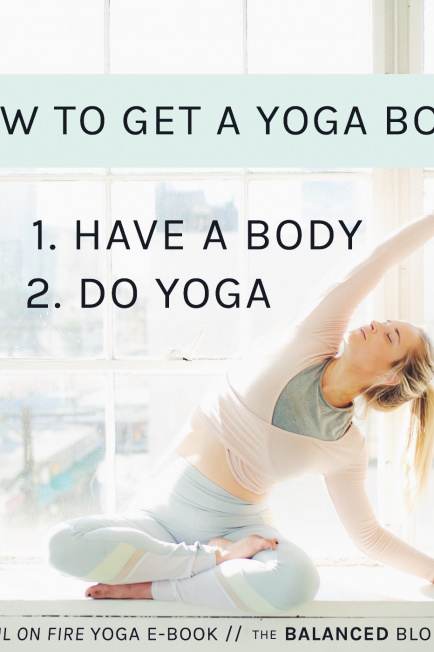 Start Your Yoga Journey & Set Your Soul on FIII-YAHHH
GUYS. It's HERE.
If you've been looking for a sign to begin or advance your yoga practice, I think this miiiiiiight be it. *Monkey with hands over eyes emoji* is ONE HUNDRED percent how I feel RN.
Today The Balanced Blonde Soul on Fire Yoga E-Book is LIVE, avail, ready for purchase, all of the things — and I am over the moon to share every ounce of it with you!
Yep, that's right. I am about to be your virtual yoga instructor, you guys!!! MY DREAM. And soon to be IRL yoga instructor too if I have anything to do with it!
IF this is your sign — you can purchase HERE & also check out today's YOUTUBE video to see a BTS flow from the day we shot all the PHOTOS!
Here's the thing, guys…

I got a little over zealous and wrote a full-blown book. I couldn't help myself! I wasn't planning on it, but once I got to writing, that's what happened.
It's 180 pages. My entire yoga journey is shared in those pages, and ALSO:
+ 10 original yoga flows
+ 80 pose break downs with a photo for each pose (and diagrams to break down all of the linked poses like Sun Salutation A, Sun B, Cat / Cow, Handstand Prep, Headstand Prep, & More!)
+ 2 original yoga VIDEOS
+ inversion tips & tricks
+ flows for digestion
+ my personal yoga journey (I wrote it like a book – let's be honest)
+ a Sanskrit glossary
+ a step by step guide for creating your own flows & sequences
+ yoga music galore
+ all the deets on INTUITIVE MOVEMENT (my current obsession that I want the world to know about)
+ original photography by Ashley Streff & design by Anelise Salvo (both incredible + two of my righthand women)
+ SO. MUCH. MORE.
P.S. THIS EBOOK IS FOR EVERYBODY.
Not just beginners, not just advanced practitioners — it's geared toward teaching you to begin and deepen your practice, practice vulnerability and intuitive movement, and to ENJOY every little bit of this yoga thang. Because it's fun. It's really not that serious.
You guys are already my TBB Tribe, and I'd LOVE for you to join the #SOULONFIRE fam with the first of what I hope will be many yoga ebooks, future audio components and video series, and MORE.
A few big giveaways linked with this ebook launch!!!
I am hosting LOTS of fun giveaways for everyone who orders this week and shares on social media with hashtags #SOULONFIRE & #TBBMADEMEDOIT (and tag me of course, so I can see it)!!!
Beloforte yoga clothing, Wild Friends nut butters & MUN skincare (my Argan oil obsession)!!!

As always, let me know your thoughts! I couldn't be more EXCITED! And please let me know if you have any questions – I want to make myself as available to you as possible during this process if you're about to order, EEK!!!!
Sharing //
P.S. If you LOVE the ebook and want to help me spread the love (can you tell I'm flipping out with excitement!??!) feel free to share one of the below TWEETS on yo TWITTER or tweak and share on Insta!!!
Sample tweets to help me spread da love //
( with this photo, if you are into sharing photos too!!! )
+ So excited about @balancedblondie's brand new #SoulOnFire yoga ebook!!! To get your practice started – head to gum.co/SoulOnFireEbook
+ If you're looking for a sign to get your yoga practice started, @balancedblondie's #soulonfire ebook launched this week. gum.co/SoulOnFireEbook
+ Let's flow together from afar! Check out @balancedblondie's #soulonfire yoga ebook at gum.co/SoulOnFireEbook & get your vinyasa on w/ me!
+ Looking to advance your yoga practice? @balancedblondie's got ya covered. Head to gum.co/SoulOnFireEbook for 180 pages of YOGA!
LOVE YOU GUYS! CAN'T WAIT TO HEAR ANY / ALL THOUGHTS!