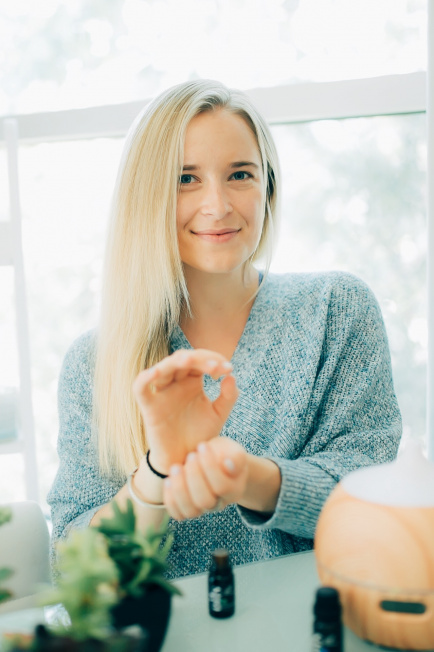 How To Protect Your Precious Energy When You're Stressed Out
Hi beauties!
Today's topic is hugely important to me – how to protect our energy and create boundaries when life starts to get a little stressful. Even if we love our lives to the max, stress creeps in every day. We're only human.
I mean, think about our phones and computers ALONE.
Between email, social media, texting, the Internet, our go-go-go cultural mentality, and so much more, we are ALL in high demand… all of the time. People always want to get a hold of us, and we are pretty much always expected to be there, to be on, and to have all the answers.
And sometimes we just need a little time to our selves!!! To chill out and NOT have all the answers readily available at the top of our brains. Ya feel me?
Workin' On My Spirituality //
As a yogi through and through, I have been working on developing my spiritual side a lot more this year. I felt a calling to it at the very onset of 2017, rang in the New Year with a yoga class & intention setting meditation, and have since been showered with all sorts of amazing healing energy and love in so many ways.
This year so far I've dabbled in kundalini yoga, talked to multiple psychics (legit psychics. not mumbo jumbo random storefront psychics… people with a gift & a healing energy that transcends all things normal!!), learned about reiki and crystal healing energy (coming soon to the podcast!), I continue to see a functional medicine doctor and Ayurvedic practitioner, and I meditate daily on top of my daily yoga practice.
AND I've gotten into essential oils. Majorly. They have rocked my world. Right now I am beyond obsessed with my brand new Bluetooth Oil Diffuser from artnaturals that you can find HERE. I highly, highly recommend it! (You can also use code Diffuser10 at checkout for 10% off of a diffuser from their site!!!!)
More on that down below in my stress-relief routine. 🙂
Let's just say that homegirl is working on her spirituality BIG-TIME. I recently connected with two lovely ladies (check them out at High Vibe Livin!) who live here in LA and have been teaching me private kundalini classes to me, doing angel card readings, and even connecting to my spirit guides / higher powers!!
Stay tuned for an upcoming podcast episode with them & for their appearance in my latest vlog!
It's powerful stuff and has really broadened my outlook on what spirituality and protecting our energy can look like in my life.
I KNOW it can sound like a little "woo woo" if you're not used to spirituality in this way — you know when I get into things I really get into things — but I feel so connected to my core and my deepest, truest self right now all of the spiritual awesomeness is hard to ignore.
So, How Do We Protect Our Energy?!
I can only speak for myself, but with the way the Internet is (and especially the blog world!) it can be easy to feel like something is wanted from us all of the time.
Even on my days off, there are emails rolling in, texts to respond to, social media photos to post, podcast episodes to schedule, people who want to connect or have their questions answered, and WAY more. Sometimes I have serious mental breakdowns about feeling like I am never truly alone.
I will say I love how connected the Internet allows us to be, but sometimes we need to learn how to shut it OFF.
Sometimes I can get sucked into a total vortex hole of email-land and it feels like every single time I glance at my inbox, I am being asked to do something else huge that is going to expend even more of my dwindling energy.
During those times, I have a routine I like to do and it goes a little something like this:
1. I take a break from what I'm doing. This could mean getting up, going for a walk, meditating, journaling, or even taking 30 minutes to listen to a podcast or watch a mindless TV show. Trying to force myself to keep expending energy when the time isn't right is not going to be helpful to anyone, and especially not to myself.
2. I use my essential oils! Okay, this part is fun. So I told you about the new artnaturals diffuser I've been using that seriously makes enjoying the benefits of oils in my house so, so easy. You can set it to a timer of 1, 3, or 5 hours (perfect for someone like me who can't even remember to turn off the oven when I'm done cooking… #whoops) so it goes off on its own. That way you can use it as you doze off to sleep too, huge plus! You can also listen to a tranquil playlist directly from the diffuser itself, which I love to do as I fall asleep or mid-work day.
Plus, how CUTE is it? It does this cool thing where you can watch colorful LEDs blend (it's incredibly relaxing), and of course you can inhale the super calming aromatic mists. My current fave oils of theirs are Eucalyptus, Peppermint and Lavender. It's insane how calming they are and how they can seriously seep right into your aura and make you feel like a brand new person.
Check out their essential oils here (some of my very faves) and all of the cool bundles they have to make it easy for you to choose!
3. I MOVE my body. When I start to get incredibly stressed to the point of being on the verge of a breakdown, it usually means I haven't gotten in enough exercise. When I get my heart rate up consistently and make time for a sweaty run or a powerful vinyasa class, my tolerance for stress is way, way, way higher. Lately I have been trying to carve out more scheduled me-time so that I don't end up missing my workouts due to getting sucked into work, stress or exhaustion after a long day!
4. I share less with people who I don't feel that I'm vibing with. This one is pretty huge for me, especially because I tend to share a lot with a lot of people. I am open book. But recently (I've learned this from the High Vibe Livin girls!) I've been trying to keep more to myself (even things I'm crazy excited about — actually, especially those…!), because it actually harnesses that creative energy and makes it more powerful when it's not dimmed and diluted by people who don't understand or don't vibrate on a similarly high frequency.
This has been a GAME CHANGER for me, because I really do let other's lower energy or negative energy bring me down quite a bit if I don't keep myself in check.
5. I try to schedule at least TWO FULL WORK DAYS per week to be home to let my creative juices flow, to have the luxury to take a mid-day yoga class, to not be bogged down by meetings and events, etc. For me, a "work day" is usually from about 11am – 6pm because I teach yoga in the mornings and some evenings. After I teach in the morning I usually go to coffee with someone or take a walk to clear my head. Then if I can schedule a full day to be home and DO ME, just a couple times a week, it makes a world of difference for all of the other, crazy social days during my week.
When I do that, it allows me to podcast, vlog, share my life, go out on the weekends, and continue to create content with ease because I've taken care of myself enough to do so.
So to sum it up: I take breaks when I need to, I use essential oils (artnaturals!), I get my exercise in consistently, I don't open myself WIDE up to people who are not vibrating on my frequency, and I try to schedule alone time / creative time for myself as often as possible.
I strongly feel that when something is constantly wanted from us, we can never truly tap into who we are and what's going on INSIDE. That is where meditation, kundalini yoga, oils, crystals, and all of this beautiful healing energy work I've been learning more about this year come into play.
And be sure to check out artnaturals for their amazing Bluetooth Diffusers & incredibly healing oils!
Would love to hear what you all think and if these tips have been helpful to you! Let me know, and hope everyone is having a beautiful Sunday!! XO