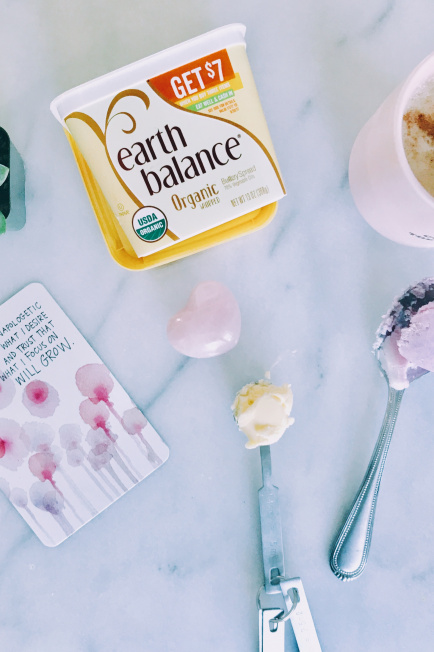 Butter Coffee: The Addiction Is SoOoO Real & I'm Cool With It!
( First of all, this post is sponsored by Earth Balance Buttery Spreads, as part of their #GoPlantMade initiative, so be sure to enter our GIVEAWAY on Instagram by following both of us, liking my photo announcing the giveaway, and tagging a friend who would love to #GoPlantMade! Each new comment with a tag is an additional entry! )
So guys, let's talk about BULLETPROOF COFFEE. (With Earth Balance Buttery Spread in it because YUM and DAIRY-FREE and VEGAN and NON-GMO! Sorry for all the caps, but v excited.) I am big into plant foods right now… the healing properties of plants, plant-based alternatives, and much more. I'm not going #vegan on you (trust me), but plant medicine is a massive part of my life right now that I will be sharing more and more on very soon.
So, #GoPlantMade butter couldn't be coming into my life at a better time. And butter in my coffee is my daily staple, which you probably know if you follow me because I am freakishly into it and all of its health, brain and energy benefits.
A lot of people on the Internet call this delicious, metabolic amazingness "Butter Coffee" which is, well, right to the point because BP coffee is most definitely buttery coffee. For the purpose of today's post, I will be using that term to celebrate the use of the BUTTER we are giving away on social media today!
People ask me all the time, "What is Butter Coffee and WHY do you drink your coffee this way?!"
What Is It? It's coffee (I like to use cold brew) with a tablespoon of butter in it, a tablespoon of MCT oil, and in my recipe… cinnamon, stevia (or monk fruit) sweetener and usually a dash of adaptogens like ashwaganda (helps with the coffee jitters) or chaga!
Why Drink It? This combo of butter, MCT oil, and coffee (an herb, at its core!) works in unison to kickstart the body's metabolism, supercharge your brain function (with the power of those Medium-Chain-Triglycerides and the healthy fats!), and create fat loss with no cravings. The fat keeps you full, and helps your body run off of fat versus off of glucose (sugar).
Of course, I am not militant with this lifestyle. Homegirl likes food. At some point in the late morning, I need breakfast. I love to wake up with a nice cold Buttery Coffee (yes, some people like it hot! You can totally do it either way!) and work, work, work or meditate, meditate, meditate or flow, flow, flow (can you tell I've had my coffee already? LOL) on those MCT's, healthy fats, and caffeine, and then eat something once my bod starts to get hungry.
It's important to note, for a lot of women we need collagen and/or protein in our Buttery Coffees to keep our hormones stabilized and keep our blood sugar from going out of whack. Especially if you're prone to cortisol spikes and dips (yep, like me), then I recommend adding a healthy dose of collagen peptides into your coffee for hormone stabilization and blood sugar maintenance.
You can also use a yummy protein powder of your choice if you thrive off of protein first thing in the A.M.! Noteworthy: collagen peptides have quite a bit of protein as well.
So now… let's talk about the BUTTA!
I like Earth Balance Buttery Spreads because they're vegan (a.k.a dairy free), lactose-free, non-GMO, gluten-free, have 0 grams of trans fats, no MSG, and are an excellent source of omega-3's. Those omegas are part of what help kickstart our brain function in the morning and get that Butter Coffee to do its job!
The butter mixes great with the MCT's, which are a unique form of fat that require less energy and enzymes to be digested when compared to another type of fat known as long-chain triglycerides. MCT's also have powerful anti-fungal abilities, which I am all about right now more than ever with my candida overgrowth and general hormone imbalances.
Drinking Butter Coffee first thing in the morning does put us into a ketogenic state (depending on what else you add to your coffee, or what time you eat dinner the night before) which is also important to note if you're playing around with going in and out of ketosis or want to see the benefits on your brain and hormones from the keto lifestyle!
Again, I am not militant about keto whatsoever. I like to put almond milk in my morning coffee sometimes to make it extra rich and creamy and delish and filling, which technically wouldn't keep me in keto. Which, for daily purposes, is fiiiiiine with me.
I am however mixing ketosis into my healing process from candida, hormone imbalances and food allergies… but that's another story for another day!
Now! Who wants this recipe?!
TBB's Fave Butter Coffee Adaptogen Tonic //
Ingredients:
8 oz cold brew coffee
1 tablespoon butter (Earth Balance Buttery Spread!)
1-2 tablespoons MCT oil (start with 1/2 tablespoon if you're brand new to this product)
2-3 drops of stevia, depending on how sweet you like your bevvies
2-3 shakes of cinnamon or pumpkin spice (especially with Fall coming up… #pumpkin is a fave!)
a sprinkle of Ashwaganda, and a sprinkle of Chaga (loving Four Sigmatic as always)
*Optional: A scoop of collagen peptides and/or protein powder
Method:
Pour all ingredients into a high-speed blender, and blend! If the butter is solid, you'll want to melt it first and/or mush it up so it blends nice and smoothly. This Buttery Spread is perfect for blending purpose, because it is silky smooth to begin with.
So babes, there you have it! My favorite, go-to, EVERY DAMN DAY, morning drink! With a plant-based butter spread to boot.
Also… is it just me or has this been the fastest week in all of existence, thanks to LDW? I can't believe I live for MGB's Revitalize tomorrow, and I extra can't believe I am teaching yoga there on Saturday morning! I am so excited, and will definitely be loading up on my BUTTA COFFEEEEE to get me all PUMPED UP!
Lastly… thank you for the love on my FULL MOON post yesterday, I really enjoyed writing it and will be sharing a lot more content like that from here forward.
Oh & be sure to enter our Insta giveaway of this EARTH BALANCE BUTTERY SPREAD! I love giving products away to you guys that I genuinely use and adore. MUAH!
SaveSave