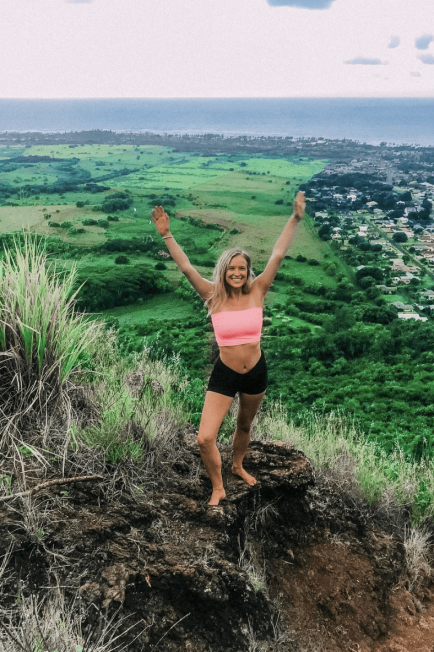 Maintaining a "Normal" Schedule With Chronic Illness
Despite the title of this post, I believe it's pretty much impossible to maintain a normal schedule with a chronic illness. For me at least, and I must add that in because everyone's experience with illness is incredibly different. Especially Lyme! Lyme looks SO different on everyone.
Maybe it's my super air sign (Libra-Aquarius-Libra), reflector (Human Design), head in the clouds personality coupled with being really sick, but between the two maintaining even a somewhat normal working schedule (and life schedule) has been something I have had to let go of.
I feel really lucky and grateful that I have a career that allows me to switch things up at the last minute when I need to, work from bed, work for myself, and say NO to whatever is not serving me, but that doesn't mean it's easy or that there isn't a whole lot of stress on the backend because of all of the changes I have had to make.
I spent the first four years of my business saying YES to everything. Doing as much as I could. Speaking at every event I was asked to, hosting my own events, working with countless brands, going on brand trips, podcasting and blogging nearly every day of the week, collaborating with everyone I could, teaching yoga and leading retreats and collecting certifications by the month, and working on other projects like my TBB clothing line (which I have since shut down), my book, YouTube, and more.
When I think back to how many balls I had in the air, my first thought is: "What the heck, Jordan?! You taught yoga at the crack of dawn, worked on your clothing line / blog / podcast / Youtube / book / events / brand collabs / etc. When did you REST / hang out with people???" My second thought is: "No wonder I'm so sick now."
In many ways I was predisposed to chronic illness because I have a very delicate system and various genetic mutations that make it all too easy for me to get sick, and all too difficult for me to detox… but in other ways, I know that stress triggered the Lyme & mold in my system to run rampant and knock me down with a vengeance this year.
And you know my outlook on that: as much as it sucks, it's a gift. A gift from the universe to slow down and take a good, hard look at the way I am living my life so I can make the necessary changes to live BETTER & in a way that will make me thrive rather than make me sick.
There are so many things I want to do that are outside of the realm of all that I have been doing for the last five years. I truly see myself as an author first and foremost, and a poet, and someone who puts their family & friends first — not someone who puts work first which to be honest has been a part of building TBB up until this point.
But in order to be an author, poet, and a human who puts PEOPLE first… I have to carve out time for those things. And prioritize them. And shift my schedule and make the hard CHANGES that come along with shifting my focus. I am reading a book right now about morning routines (will do a full post on it ASAP) and it is inspiring the shit out of me to change the way I do things so I can create & manifest from a place of calm and FLOW.
But anyway… to the point of this post. MY SCHEDULE. How am I doing it? Let me walk you through…
How I am Maintaining My Schedule While Super Sick //
Well, the hardest part is simply NOT KNOWING how I will feel each and every day. I have good days where I can do a surprising amount and I feel more like the energizer bunny I have been all my life (no joke, that was my nickname for my entire childhood & adolescence!), and I have bad days where I can't get out of bed to even walk to the kitchen to make food.
And a part of me knows that cramming a ton of stuff into my good days makes me crash a lot harder afterward, so as gratifying and fun as it feels in the moment to take advantage of feeling well, I also have to consistently remind myself not to do TOO much or the aftermath is truly, truly not worth it.
It has been a balancing act trying to use my energy wisely, rest when I need to (and even when I feel like I don't need to), take advantage of those good days to be productive and do what I love and keep my business running smoothly, AND be okay with clearing my schedule and cancelling everything I wanted to do when my body simply says NOPE, not today.
IT'S HARD!! I always want to do everything and it is hard for me to accept and believe that right now I really just can't. Not to mention, my already small windows of time to be active and do things because of how much I need to rest is totally cut in half because of the amount of time I spend in treatments, in doctor's appointments, measuring out my supplements and tinctures and meds, and doing holistic treatments to manage my pain and discomfort.
It is a lot. I think anyone with a chronic illness can relate. And then there is the whole aspect of every time I see people they say things like, "YOU LOOK SO HEALTHY! YOU'RE ON THE UPSWING! I was worried last time I saw you because you looked a little pale but WOW I can tell you feel SO MUCH BETTER NOW!"
And YES that is nice to hear and it's coming from a well meaning place, but all it does is make me feel more misunderstood and frustrated and sad because… I don't feel well. I have the appearance of a healthy, super health-conscious, active 27 year old and the insides of a failing elderly person. At least when I had rashes all over my body it was an indictor to those around me that something was going on.
Now that the rashes are gone for the most part (thank goodness), all they can do is take my word for it. Or see for themselves that after 3pm most days I am bound to my bed and can barely greet Jonathan when he gets home from work.
Although structuring my days is a gamble because I frequently have to change them around at the last minute and I am STILL of the mentality that I can do way more than I actually can… I have found a routine that somewhat works for me for NOW that I will share below. 🙂
The Sched…
So as I mentioned, by 3pm ish every day I am down for the count. If I spend the early part of the day resting then I can manipulate that a little bit to have more energy in the later part of the day. But so far the way I am enjoying constructing my days is this…
7:30 – 9:30am: Wake up, spend time in bed cuddling Hud, meditate and reflect on my intentions for the day and my most important projects, putter to the kitchen to make coffee or matcha or mushroom coffee, make a smoothie or chia pudding, jump on my rebounder to get my lymphatic system moving, journal and plan out my day, stretch.
9:30 – Noon: Around this time or a bit later I turn my phone on (I sleep with it on airplane mode), post on Instagram and respond to text messages OR start writing for the blog or the book I am working on before checking these things because they start to distract me. If I am in a creative mood, I will keep writing undisturbed. If I am a little more frazzled or foggy, I use this time to respond to emails and get caught up with that side of the business.
If I have a podcast guest on this particular day, I try to have them come over between 11 & noon. This is peak energy time for me, as the breakfast/caffeine/energy is kicking in and I have a few good hours to feel like myself and feed off of other people's energy and good vibes. I have an assistant take photos and videos during the interview so I don't have to worry about that, and by the time the interview ends I am pretty much down for the count. Podcasting is a ton of energy but I so enjoy it, so it is worth it.
If I don't have a podcast guest that day, I may record an intro & outro for a podcast episode that I have already recorded with a guest. That takes a similar amount of energy so doing it around 11 or noon is usually best for me.
Noon – 3pm: Some days I may be wiped out from a super productive morning, or other days I feel the energy flowing through me still so I keep working, head to a meeting or appointment, walk around my neighborhood to get some exercise, or most likely just keep writing. This part of the day is when I usually do photoshoots or take photos for my social media and the blog, because I still have energy but it doesn't require quite as much brainpower as my morning tasks. Usually many more emails have rolled in by now, so I will check them again and try to clear them out so I feel good about signing off early in the evening.
3pm – 6pm: This is generally my time to stop working and shift my focus to something else. If I have been hard at work and super productive, I will take a break to read a book, lay down, call a friend, exercise / do yoga, go on a walk, hang with my mom (she just moved in upstairs!), or more often than not go to more appointments. This could be anything from ozone, to infrared sauna, to cryotherapy, to acupuncture and cupping, to a facial, to bodywork, to an appointment with my Lyme doctor, to blood tests, etc. I have appointments pretty much every other day and the timing isn't usually my choice but if it is, I try to choose 3pm ish.
6pm – 8pm: In this window I try to stretch, do yoga, or go on a walk if I haven't yet. Jonathan gets home around 6 so we'll make dinner together or I will have already made something and eaten it (lol) because I eat as early as humanly possible. Sometimes I will meet a friend for dinner or have someone over to make dinner because J frequently works late and I love using this time to see people and spend time with my loves, and more often than not this includes an Erewhon date! By 8ish I am VERY wiped out and usually get in bed, read, watch Netflix, and cuddle and talk about our days with J. This is my favorite part of the day but also a very uncomfortable time if I am in a lot of pain from doing too much. Sometimes I wind down with a bath or meditation session.
AND THEN there are days like today where it's 11:30am and I have not gotten out of bed. Or days like yesterday where 4pm rolled around and I was DOWN for the count… in bed.
Or other days like tomorrow where I have committed to teaching a special event at AloTHRIVE for Alo Yoga so I will be conserving my energy for that and can hopefully pull it together to wake up earlier than usual and get in the headspace for it. 🙂
Or even other types of days like events at night, birthday dinners, and other things I don't want to miss so I have to plan accordingly.
I will say, being in Hawaii was awesome because I had an abundance of energy from the excitement of the engagement, from having NO stress, and from the purity of the air and so much time outside in nature and doing yoga at the glorious studio we found.
Things that GIVE ME ENERGY (or spoons, as I call it) are… time with Jonathan and Hud, yoga, being outside, going on walks / hikes, being at the beach, being with my BFF's who I don't have to try to be anyone or anything else around, and writing. It's hard because sometimes the simple act of getting myself outside or to the beach seems IMPOSSIBLE when I feel so low… but I know it helps.
Having a supportive partner and also having my mom down here to help me makes this time in my life possible. For example, today my mom is my "photographer" and I have pushed back our shooting time first by a few days and again today by several hours. I wouldn't be able to do that with a regular photographer but it is truly impossible for me to work in a normal fashion right now. And thank GOODNESS for Jonathan understanding when I have no spoons left and can't even sit at the dinner table with him.
Also things like HAVING BOUNDARIES and hard no's with things helps a ton. I don't take brand phone calls or work phone calls. Point blank. Might sound crazy, but I do things all over email (except for the rare occasion when that isn't possible) because I know that phone calls take way too much energy from me and I literally have to plan my day around them. I generally don't go on other people's podcasts or shows right now for the same reason — but occasionally I will do it if I feel like the experience will give me energy because it will be so fun / positive.  I also limit my time with people who don't know me inside and out, because it requires excess energy to be "on" in this situations. Those boundaries make a WORLD of difference.
It's rough and something I know people don't think about when they see a photo of me hiking the gorgeous Kauai trails or jumping up and down with glee & getting engaged. Those are parts of me too, and I AM SO GRATEFUL that I am able to have BOTH… the good days and the harder days. I didn't have good days like I have lately until pretty recently so I am very very happy for them.
I just wanted to shed some light on it all for you guys because if you are in a similar position, you are not alone and you may find solace in structuring your day similar to the ways I have been. Or my biggest tip would be to find your own structure that works perfectly for YOU, and your own activities/things that add to your energy cup instead of draining it.
Would love to know your thoughts below and your tips for maintaining a schedule while recovering from and dealing with chronic illness. Love you guys so much! And today's podcast episode with Lauren Paul & Molly Mae Thompson of the Kind Campaign is a MUST if you haven't listened yet! XO