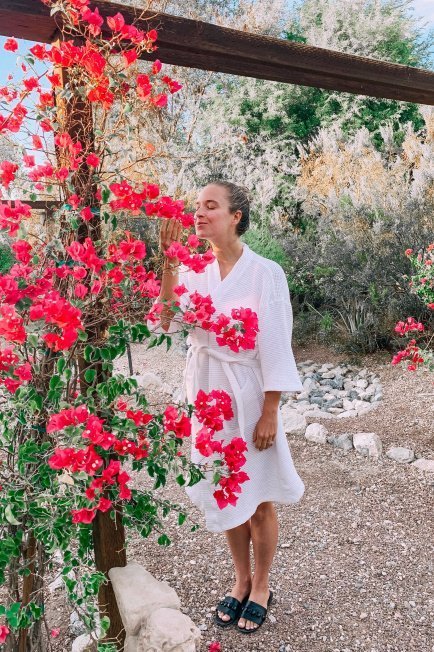 The Importance of Going Inward to Heal
Hey guys! I am going to keep this short and sweet for a couple reasons – one, because I am GETTING MARRIED THIS WEEK! What?! And two, because I have been tech detoxing for several days now and I just wanted to pop on for a quick hello…
I have been getting so many intuitive messages lately to slow down, turn inward, use technology (and especially social media) more sparingly, and the message was loud & clear that until I do those things my body will not be truly relaxed or in a true healing state.
In fact last week three of my trusted healers and dear friends Sadie Adams, Jessie De Lowe, and Kelsey Patel (who is officiating our wedding!!=) shared the same message with me each in their own words. Turn inward. Drop the pressure. Where does the pressure come from? Be in your energy. Drop the people pleasing. Just be. The more you can just be, and relax  and go inside, and be GROUNDED, the better you will serve your community and your loved ones.
And my most trusted healer of them all, HUDSON, said the exact same thing to me two weeks ago when we spoke our animal communicator Miranda (who you can listen to on TBB Podcast here & here). He said that until I go truly inward, I cannot heal. And that although I have slowed my life down significantly, I am still using my energy very, very inefficiently.
He said so much more too (which I cannot wait to share with you guys soon- Huddy podcast episode round 3, anyone?!) but the main gist was that my energy is all over the place and it's time to bring it back to me.
The key word for this time in my life is inward.
Which is so interesting and perhaps even more needed than ever with our wedding coming up this weekend with 201 guests (not even kidding- my NUMBER!), joining my life in union with my best friend, traveling to Bali for the remainder of November on our honeymoon, and really stepping into this new initiation as a wife.
The truth is being a wife is so different than being a girlfriend, or a fiancé. I am realizing that now. I know I am not there yet, but I am learning the lessons about stepping into this new role. Being married is a spiritual initiation, it's a binding commitment that agrees what was once yours is now both of yours. It is stepping into a "we" vs. an "I." And there is so much in my universe coming up for me around that. These last few weeks especially.
For example my first love who suffers from many severe addictions, who I have spoken about very openly over the years (who you can hear all about in my first ever solo episode, Episode 32 of TBB Podcast- On Trauma) reached out to me and we had some very hard, but very needed conversations.
Not to mention my health is reaching a new level of HEALING, and I am so grateful, and I am beginning to reframe my mind from being a sick person to being a healthy person. Even if I have a long way to go. The universe is bringing a lot of things into my ether to show me that that is the truth.
I have realized over the last several weeks that social media, technology, and being "available" are all addictions of mine. Tech is highly addictive- and when your work, play, and livelihood are ALL RIGHT THERE on just a few little apps, it's hard not to be addicted. Add my addictive personality on top of that and it's just a huge addiction.
I took a nice long break from Instagram this weekend (I even deleted it from my phone for a few days) and I cannot even begin to tell you how healing it was. It's like for the first time in 6.5 years I was actually taking REAL "time off." My thoughts were more clear, I was so much more present for Jonathan & Hud, and I was able to make decisions with much more ease. My mind wasn't so clouded & confused with other people's info & opinions flooding my mind.
I know I have taken small breaks before and I have gone a week or two here and there without social media (like during my Ayurvedic Panchakarmas), but something about this experience was different- even though it only lasted a few days. This was healing in a new way. Especially after the conversations I had last week with my friends/healers about approaching life differently as I enter this new phase of my life… the time to myself was so profound. Maybe also because I enjoyed it SO MUCH, whereas in the past I was very eager to get back on the apps after some downtime.
On Saturday night I went to sleep at 8:30pm and didn't wake up until 11:30am the next day. My body NEEDED that. My mind and my soul needed that. If you read TBB regularly, you know my belief is that we astral travel in our dreams, and I feel like my soul got a deep cleansing and healing during that particular night. And not to mention it was on the Scorpio new moon, which is all about cleansing/detoxing/letting go/being true to oneself.
Now with our wedding coming up in just a few days, I feel clear. Last week I was a bundle of nerves. You can read all about it on my last post! But this week I feel like a new woman. I feel clear, calm, centered, and like I can breathe again. I have all of my treatments & appointment in order this week- IV ketamine, lymphatic massage, IV stem cells and exosomes, facials, nails, organic spray tan… then BOOM, we head to Ojai on Thursday morning.
Also, side note, pray for our neighborhood and surrounding neighborhoods in LA right now because we are very close to being evacuated for fires near the Getty. Our neighbors in Mandeville Canyon, Temescal, etc. right up the road have all had mandatory evacuations and we are waiting on the word over here. I am manifesting no evacuations, but we are making some arrangements just in case.
Yet even with that, I feel calm. Nothing can rock this boat after taking some serious downtime this weekend which I do feel was more needed than ever. Heading into this new phase of my life, as a wife (!!!!!), and as a HEALING, HEALTHY human, I plan to do things a lot differently.
New boundaries with social media will be a big part of that. New boundaries with my podcast will be a huge part of that as well. And reframing this idea of being a people pleaser who is terrified of letting people down, that will be a big part of it too. Because when I am terrified of letting people down all the time, I really just let myself down time and again. No more of that.
I want to thank my love for being so supportive of me during this time, and my family & all of my friends. I have been doing a lot of soul searching these last few weeks- beginning with a beautiful DMT ceremony at my bachelorette party in Tulum. I have been spending a lot of alone time and down time for the whole month now preparing for our wedding weekend and that is what I need- I know everyone prepares differently.
I am just so grateful for those in my life who love me for WHO I AM. Cultivating that type of community is so healing and I am just so grateful for it.
Being present, spending lots of time in nature, resting, reading so many good books right now (you can find them on my Amazon shop page!!) & just flowing through life are all helping so much.
How was everyone else's weekend? What are your thoughts on digital detoxing / going inward? Would love to hear, and sending you all love!!