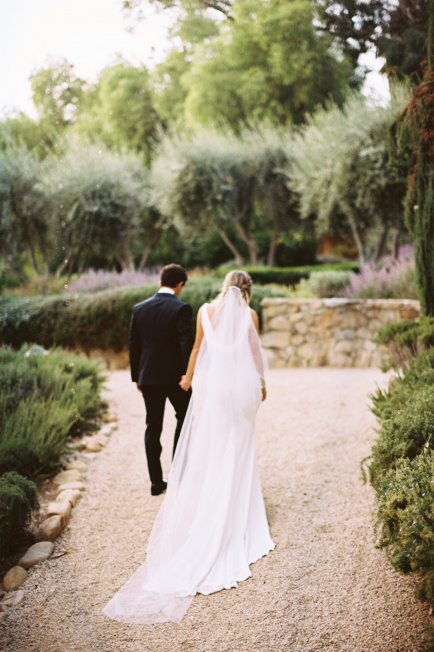 Preparing My Health for Our Wedding & How I Felt on Our Wedding Day
HEY GUYS! I have missed you guys so much – I hope everyone had the best November, Thanksgiving, holiday weekend… All. Of. It. I have been enjoying the major downtime I've been taking during and after our wedding, during our honeymoon in Bali, and readjusting to life (and this time zone lol) here in LA as an ALBRECHT.
There are really not even enough words to explain or express to you how much my heart and my body have needed this time off. Oh boy. My body is sinking into a deep rest, now that the wedding and honeymoon are over. In the last week alone I have been uncovering deep truths about myself, my health, and this entire journey, going deeper into myself than I ever have before. It has been a LOT.
The quietness in LA around the holidays is my favorite. There is nothing quite like it. It's been so peaceful and so healthy for both Jonathan & I after such a crazy and jam-packed (and magical) month. I am looking forward to bringing that peace with me into the rest of the month and through the end of the year… and the end of the decade, I mean WOW.
*All photos in this post were taken by the amazing Tynan Daniels & Tony Modugno of Via Imagery. My dear friends who captured our wedding & I couldn't possibly recommend them more!!!
My Health on Our Wedding Weekend !!
I have so much to say and will be blogging away this month, back to somewhat of a more regular schedule while still deeply honoring my body and what my soul needs in order to continue healing. Today I wanted to pop on to share my first wedding post, which trust me will be the first of many!!!
I want to share ALL of the wedding details & goodness with you, and I will. We are going to be getting our photos back this week, and getting the preview of our video in the next few days too. I am elated to see it all and relive every moment of that magical day and weekend.
Given that I have been so open in sharing my healing journey with you guys, I thought it would be fitting to write first about how healthy, vibrant, energized, and amazing I felt throughout our whole wedding weekend.
That's probably the most-asked question I've gotten on Instagram and email, "HOW DID YOU FEEL ON YOUR WEDDING DAY?!?!" especially because I know there are so many other chronic illness warriors out there dealing with the anxiety-inducing day-to-day question of… how will I feel on a day I really, really want & need to feel good?
To sum it up and not keep you guessing, the answer is… I felt INCREDIBLE. I felt healthier & more alive than I have in as long as I can remember. And I attribute that to a lot of different factors. But first I will back up & tell you how I was feeling leading up to the wedding and the many emotions and steps it took to get there…
The Week Of the Wedding //
The week before the wedding, I have to be honest, was one of the hardest and most physically and mentally challenging weeks of my entire Lyme journey. We know this, that STRESS does not help our case at all when we are suffering from any illness. And no matter how hard I tried, no matter what I did, no matter how many rituals and letting go exercises, no matter how many meditations and yoga classes and healing treatments I dove into – the stress was REAL. It was there, and it was thriving.
Any bride knows this to be true. Any bride with a chronic illness that leaves you wondering if you'll potentially be completely debilitated on your wedding day knows this stress on a whole other level. But truly, all brides know the stress. All of the last minute details- the welcome signs, the decor, the flowers, the rugs, the hair, the makeup, the dress alterations, the gift bags, the last minute cancellations, the cake, the vendors, coordinating the bridal party and every single guest, curating an amazing experience, finishing your vows, preparing for the biggest party you'll ever throw, preparing for becoming one with the love of your life, making sure you don't forget to bring anything important — it's all GOOD stuff, but it's stressful nonetheless. It's a lot.
And you want it all to go perfectly! I was also a mess because I was riding an unbelievably wavy rollercoaster of emotions. One minute I would convince myself I was going to feel amazing no matter what, the next minute I would feel a bad symptom and come crashing down from that fantasy of feeling amazing and worry that I wouldn't be able to enjoy a single second.
Anyway, the emotions were on overdrive. To ensure that I was doing everything I possibly could to feel my best and eliminate my Lyme symptoms, these are some of the thing I did that week:
+ I got regular micro current facials with my dear friend Sadie Adams (at Take Care Body Mind in Venice) that are like mini shamanic healing sessions, I highly recommend them. One week before the wedding Sadie could sense that my body had HAD it, that we didn't need to go deep with the micro current, and she mostly did subtle body healing energy work on me – it was so needed.
+ One week before the wedding I got an incredible lymphatic drainage facial with gua sha and this amazing green goddess mask with the lovely goddess Elizabeth of Honest Rituals. This was an epic, juicy, amazing experience that also de-puffed my face and deeply recharged me. I was able to meditate on the table and really get into the wedding mindset. It was also the perfect activity to do the weekend before my wedding because I was not feeling going out & being social- I wanted to get in tune with myself and really calm my nerves and feel centered.
+ The Monday before our wedding I did a ketamine IV at my doctor's office (Pro Health Group in Beverly Hills). I had been doing them on a semi-regular basis for Lyme symptoms and to rewire the brain to really accept healing. To learn more about ketamine-assisted healing, check out this TBB Podcast episode with Dr. Mike Dow on the subconscious mind. Ketamine took me to a very, very heart-centered place and I am a huge fan of it overall, but that week it left me feeling very raw.
It left me feeling a bit too open, if I'm being honest. Jonathan drove me to the beach after the treatment where I sunk my feet in the sand and truly just sobbed- I was overcome with so many emotions. If you need something to wake you back up and tap you in deeply to yourself, I recommend it. But I think I was already to awake and so tapped in that it just brought me in SO MUCH, I actually needed something a bit more stabilizing and grounding. Just trying to be as honest with you guys as possible. It was hard… I didn't know why I felt so down when I wanted to just feel so excited and so "up."
+ The next day, Tuesday, I woke up feeling like I had the flu, strep throat, the whole works. Was this induced mentally because I was getting SO NERVOUS about not feeling well for the wedding? Probably partially, yes. I also believe my body was physically having a really hard time that week with all of the stress piled so high. I had my nurse Amber come over to do a High Dose Vitamin C IV, a double dose of IV Stem Cells, & Exosomes. Stem cells and exosomes are incredible for killing sick cells in the body and multiplying brand new, healthy cells from a newborn baby. It activates the immune system and sometimes leaves you feeling a bit worse before you feel better, but I have always had good experiences with them. (I did stem cells before my bachelorette, my bridal shower, etc. and always felt amazing for a couple weeks afterward).
+ A big one, huge one here & so simple (and FREE) is that I said NO to anything that didn't feel right to me. I didn't go out, I didn't celebrate Halloween, I didn't do a lot of things that I had originally committed to because I know myself and I wanted to save my  full energy for the wedding. I do think it's important to put yourself out there and do things you may not always initially want to do because community can be so healing- but this week I knew, I needed to draw inward.
+ I did hot yoga as much as I could to CLEAR MY MIND and also get my body moving, and seriously this was an absolute game changer for me. Highly recommend to any bride! I did it every day for several weeks except for the days I had low energy and needed to rest. My mind needed it more than my body, it is my medicine.
+ I had been getting regular colonics for about a year which has helped massively with digestion, clearing out toxins, and honestly is a meditation for me every time I'm on the table.
+ Wednesday was spent getting our last minute stuff together, getting organic spray tans & nails (nails at Olive & June- non toxic and THE BEST), and then Thursday we headed to Ojai!
+ Thursday morning I woke up and realized I had full-blown, massively painful hemorrhoids. I have had hemorrhoids for a while (you can read about my healing tips here), and of course the morning we were leaving for our wedding they flared in a big way. When they get painful, I can't even walk. So thank GOD for the best colorectal doctor in town, because he squeezed me in that morning for some shots (they really help), then we were on our way.
+ That morning I was a bundle of stress. Thinking "Why the f**k am I waking up with hemorrhoids? I felt like I had the flu less than 24 hours ago. Am I really going to be okay so soon for something so big and important?"
+ But honestly the second we got to Ojai I felt differently instantaneously- I felt amazing. Like a huge breath of fresh air. We were there, everything was set, it was time to CELEBRATE, ENJOY, and LIVE IN THE MOMENT. Thursday night we had dinner with a bunch of our best friends who came to Ojai early to celebrate with us, and honestly from there on out I felt amazing.
+ I know it might sound like a big jump- to feel so shitty and so scared and then feel so good. I believe part of it was the car ride to Ojai… two-ish hours with Jonathan to really reflect and get excited about what we were stepping into. We blasted gangster rap and made rapping videos (our fave) and got into a really good headspace. This is yet another reason for me to believe that healing is MENTAL. Once I let my stress go, and allowed myself to really be in "what is" vs. worrying about anything that wasn't in the present moment, I started to feel so much better, and so much more excited,
+ Later in the night Thursday after dinner we had our friends, my parents, and my parents' friends back to our bridal suite to hang out, tell stories, drink wine, and toast to the weekend ahead. I was buzzing! Not even tired! We were up late and I still woke up early feeling great. It's such a great testament to the power of mindset, being surrounded by love, and doing the work beforehand to ensure I would feel good.
The Wedding Weekend //
In short, I felt SO GOOD, so energized, so vibrant, so in tune, so ME from the second we arrived on Thursday until we left on Monday afternoon – and even after that. I didn't start feeling my usual Lyme symptoms again until one of our first few days in Bali on our honeymoon.
Everyone told me leading up to the wedding, "Don't worry about your health, you will feel amazing no matter what. It's impossible not to feel great on your wedding day." And every single time someone said that I thought, "…well, then you haven't met my symptoms. They're the most unpredictable in the world."
But the truth is – they were right. And if I could go back in time and save myself 14 months of worry and stress and panic about not feeling well enough on my wedding day, I would. At the time I knew it was unnecessary stress (all stress is unnecessary) but I couldn't really put a stop to it no matter how hard I tried. The weeks leading up to the wedding were full of the most stress I have experienced in a long time, and while there were so many aspects of planning that I enjoyed- I do wish I could go back in time and reverse the STRESS that I inflicted on myself! It was not necessary or needed at all.
Beyond what I did the week of the wedding, I did so much in the last year to prepare for the wedding health-wise. From water fasts to stays at We Care Spa in Palm Springs (full body healing experiences), from ayahuasca retreats to weekly Lyme treatments to daily herbs and supplements and twice-weekly IVs. I know I've had my healing routine on lock.
So I am allowing myself to look at it in a new way now, a different way. That maybe it wasn't just the amazing energy of my friends, family and loved ones on our wedding day that made me feel so good and so healthy – maybe the truth is (definitely the truth is), I AM HEALING. I am reaching a new level and new milestones. The painful past is in the painful past.
One of my huge intentions with getting married was to let this be a clean slate, a fresh page to begin life on together. Jonathan signed up for forever with me at a very traumatic and difficult time for my body – and he has stayed, and persisted, and been my biggest supporter and believer during this entire journey. Getting married is such a big step – I knew I wanted it to be a step toward health for me and for us. To really energetically and physically LEAVE the past where it belongs.
To speak of the wedding weekend specifically, although I have so many posts I will be sharing to break the whole thing down and share it with you guys, I will say that I was riding a bubble of love energy the entire time. It was truly impossible to feel sick, because everywhere I turned were my best friends, my family, my love, his family (my new family), and the gorgeous nature and surroundings of Ojai.
My bridal party played a huge role in this. It makes me cry to even write about it, but they are everything to me. They showed up big time- supporting, loving, extending their energy in every single way they could and they made the weekend truly PERFECT for me. When you get married, you're really spending more of the weekend with your friends than you are your significant other- until the ceremony of course. And they made it just perfect for me, I couldn't have asked for more love and support.
MY LOVES! I'M CRYINNNNGG!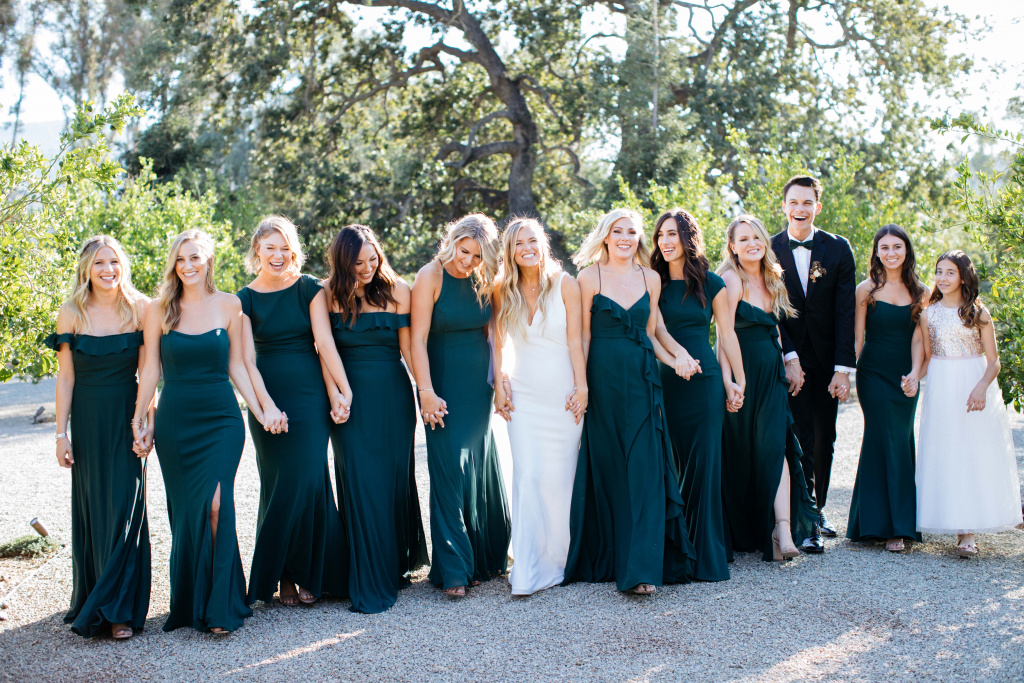 From our tradition of spirit animal cards (we love this deck!) while getting ready to being the last on the dance floor at the end of the night- they just get me. And I really, truly believe having people around you who love, support, and GET you on the deepest of levels, is the most healing thing we could ever ask for. Everything I needed, they were there- to help me scrapbook for Jonathan, paste my vows into my vow notebook (don't you all know I'm a very last minute person? Lol), make sure I was eating enough, even do reiki on me (KELSEY!!!), let me pet them as if they were Huddy (DANIELLE!!), and make me feel so special, so seen, so loved, in every single way.
My mom of course played a huge role in all of this too. She was with us the whole day getting ready, there for every special moment, helped keep things on track and enjoyed every second right along with me. She was an honorary Maid of Honor, for SURE. She is truly one of my best friends in the universe. And my dad, WALKING ME DOWN THE AISLE and our special moments beforehand. Oh my god, I cannot wait to share more of these moments with you guys.
And then there was my love- Jonathan. We slept separately on Friday night as goes the tradition of not seeing each other until our first look on Saturday, but he came back to our bridal suite with me Friday to tuck me in and lay with me until I fell asleep. In true Jordan fashion I wanted to discuss the entire rehearsal dinner- "What was your favorite speech? Who was your favorite person to talk to? Who surprised you the most?!" on and on- and he is always up for all of it. He is my person. My everything.
Then when we had our first look, OH MY GOD YOU GUYS… I CANNOT WAIT TO SHARE!!!!!
The overarching words to describe how I was feeling the whole weekend probably came from my mom, when she said on Sunday, "You've seemed drunk in the best way since yesterday and you still seem drunk!" And what she meant was, DRUNK on LIFE. I don't drink alcohol anymore but I have never felt so high on life itself. 
Everywhere I turned were more people I loved. I danced like crazy the entire night of our wedding, and even after the afterparty ended. I was bouncing off the walls, with enough energy and then some to spend with every person I had the chance to connect to and dance with at our wedding.
Every ache, pain, and symptom I've had for the last year magically disappeared for a few short days. Maybe it was my angels, maybe it was the prep I did beforehand, but I'm quite certain it was mostly the love that surrounded me from all angles the entire weekend and afterward.
It had a lot to do with how much I put into feeling well and healing this year, yes, but it also had so much to do with living in the MOMENT. I have been studying Zen Buddhism and Stoicism for the entire month of November and I can confidently say- when you live in the present moment, there is no such thing as pain. This is coming from someone with significant, hellacious physical pain. And I believe this to be so true- when you live in the present moment, there IS only the present moment.
The food I ate (thank you GoMacro for being my go-to the entire weekend), not drinking alcohol, sleeping as much as I could, the high dose vitamin C I got that week, etc. all significantly improved how I felt on a cellular level- for my specific body. But beyond that, it was the energy. Everywhere I turned, were more people I love so deeply. Friends came from Australia and from MONACO (Jenna!!!), from the Bay Area, from NYC, and from LA- anywhere our guests traveled from, we were honored and so full of magical love to have them there.
THAT is what heals.
THAT is what creates happy moments and memories.
THAT is what ensured my radical health and vibrancy the entire weekend.
THAT is what I now live for, and will be aspiring to cultivate in my daily life moving forward.
I know you can't recreate the love of a wedding, but you certainly CAN fill your days with the people you love, doing things you love, living in the present moment.
Not to mention because I can't stop writing, reading Jonathan my vows and hearing his vows were truly some of the best moments of my entire life. Many of our guests said the same to me- and that really sets my soul ablaze. How could I not feel amazing?!?!?
My love reading me his vows – one of the most special moments of my life.
SO MUCH MORE TO SAY! LIKE BEYOND!
I feel like this is probably a good place to put a pin in it. I want to tell you all about the Friday night rehearsal dinner (and getting roasted by our bridal party!!!), the afterparty Friday night (so much fun- yes I had the energy for it, it was amazing), the whole day Saturday, the afterparty, then our brunch on Sunday!
& yes, there is a Bali guide coming too… 😉
So! I'd love to hear your questions and your own wedding experiences. Share with me below! Ask me anything. I'll be here to answer! xx
Best. Night. Of. Our. Lives.