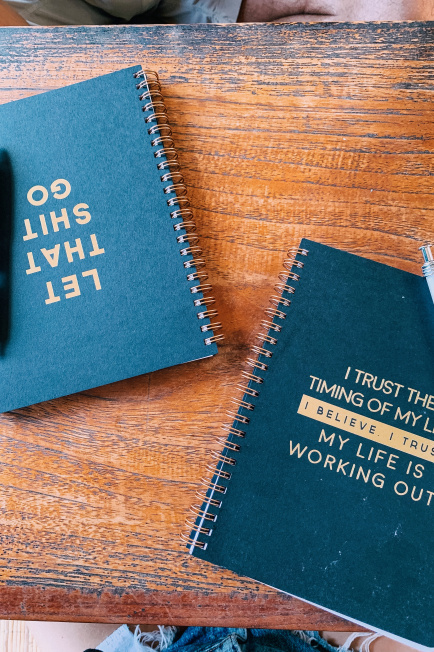 A VERY TBB HOLIDAY GIFT GUIDE FOR HEALTH NUTS! | Simple, Healthy, Affordable!
**EDITED & UPDATED IN DECEMBER 2020!!!**
Hey guys! I wasn't going to do a gift guide this year because technically I am still on a bit of a life hiatus post-wedding and honeymoon, and have been pouring all of my energy into healing. But the funny thing is… when I pour my energy into myself, I am SO RECHARGED that I want to do & create all of the things!
So if that isn't inspo to pour into our own cups first… I don't know what is. I haven't recorded a podcast episode in months and have only written one or two blog posts this entire season, and dayum — my own cup feels SO FULL. I have been working on me, listening to my intuition and healing my relationship to so many aspects of my life (workaholism, stomach problems, being unable to make decisions without asking a million people for their opinions, the list goes on) and actually feel more tapped in than EVER.
The most exciting thing I am working on is an EBOOK & a 22-Day Reset Program for January 2020, so if you're not subscribed to the blog, subscribe here to be among the first to hear about it and receive the link when it goes live. I have felt so in the flow and aligned while creating it, I really think and know it's going to be a deeply special and transformative offering.
On that note, let's get into the TBB holiday gift guide! 
I don't know about you, but sometimes I get overwhelmed by gift guides because there are SO. MANY. OPTIONS. Like, where to even begin and what to even get and for which person?!?! So this gift guide is curated for the typical TBB reader (a.k.a me, a.k.a you) who is into health, wellness, fitness, spirituality, and self care. 🙂
It is also a simple list because, like I said, I didn't want to crowd it up with a bunch of excess. I hope you find some things in here that excite you or work for other people in your life! So let's get into it!
I am not getting paid to include any of these brands, but for a bunch of these, you will find my unique discounts and offerings. Some of them (not all) are affiliate commissions, so by purchasing through my link I receive a small percentage & you're helping to support me/my blog/this small business and I am eternally grateful.
Most of these gift ideas are very affordable and perfect for giving to your girlfriends, family members, other halves, and even to yourself! Everyone deserves some self gifts over the holidays. 😉 Near the bottom you will find some bigger items & splurges, so if they're in your budget this year… great! If not, lots of other options & maybe they'll inspire you to save for next year!
FOOD & BEVERAGE PRODUCTS //
* PRO TIP- bundle a few of these wellness items together to make a super special wellness goodie basket for your friends and fam!
+ Four Sigmatic adaptogen coffee/matcha/lattes! You can use the code BLONDE for 15% off. Oh… what healthy person in your life doesn't want to try some adaptogen coffee, hot chocolate, or matcha?! Adaptogens are super-herbs that bring our body back to homeostasis – they work with each body differently, depending on what your imbalances are and what your body needs. Some of my favorite adaptogens are ashwaghanda, eleuthro, and Rhodiola. All of which you can find in Four Sig products!
My favorite Four Sigmatic products are their… adaptogen coffee, chaga mushroom elixir mix, mushroom hot cacao (it's like a delish, creamy HOT CHOCOLATE!), and their regular mushroom coffee mix. You can find all of my faves on my curated page, here! If you're going for the Four Sig gifts this year, I recommend including their skincare (it's amazing) or also getting a BUNDLE! That way you're giving your loved one a nice curated bundle of things you think they'll love… and will enhance their health!
+ Liquid I.V. – You can use code BLONDE for 25% off! This is the PERFECT GIFT for your friends who will be sipping on cocktails all holiday season long, or your friend who loves to workout and get their sweat on. Or your friend who travels frequently! Liquid I.V. is my best friend Brandin's company, and I have been involved with them since the beginning. It is a next level hydration supplement that hydrates you 3x faster than regular water.
I personally love having a LIV in my bag when I travel, exercise, or even when I am just out and about because it helps me combat headaches. I get horrible headaches when I am dehydrated and one stick of LIV (even 1/2 stick, usually) always rescues me from those terrible situations. Use the code BLONDE for a discount, and enjoyyyy! And know that you're supporting an incredible young entrepreneur and fast-growing young company, a company who also has an incredible giveback mission.
Also… their PASSION FRUIT flavor is life! (They also have new sleep products & new energy products!!)
+ Cured Nutrition CBD – You can use the code BLONDE for a discount! What would a holiday gift guide be without a little CBD?! So, for the record, CBD doesn't get you high. CBD is a phytocannabinoid found in cannabis plants that has been found to help alleviate anxiety, boost cognition, and help with movement disorders and pain. I LOVE using CBD for joint pain, to help calm my anxious mind, and to help me fall asleep at night.
Cured Nutrition is my faaaavorite CBD brand for so many reasons – one, because their founder is amazing and I had a chance to spend some time getting to know him this year. Two, because it's simply the best brand I have found on the market so far (and trust me, there are SO MANY right now, it's kind of insane and can be overwhelming to choose). Products of theirs I love specifically are their MINT TINCTURE, and their hemp-infused max salve for pain (it has shea butter in it and literally smells and feels amazing on the skin… I use it when my hands start to really hurt from some major joint pain I have).
I even got my dad started on it with his arthritis, and it is helping him a lot. So if you have a parent or a friend in your life who suffers from arthritis or pain, get them hooked on the salve!! It's NEXT LEVEL. & use that code BLONDE for a discount!
+ Beauty Bar Chocolate! If you have chocolate lovers in your life… THIS IS THE STUFF. We discovered that men and women alike are obsessed with this chocolate, but somehow there's something special in it that has men really into it. (My dad and Jonathan both barely even like chocolate, and they are both obsessed with Beauty Bar. Not even kidding.)
To keep adding to the adaptogen train (can you tell what I am into?) this would be a great gift (one of their CBD bars, or one of their regular!) to add in with Four Sig, and with REBBL! Or honestly with any/all of these as a fun mix & match!
+ Arrae Co Bloating Capsules! Oh my goodness you guys, these have changed my life. This brand was founded by TBB reader Siffat Haider, and she is incredible. I take 2-3 of these holistic bloating capsules after every meal & they have literally changed my world. The best of the best… from a sensitive stomach gal to the highest degree.
BOOKS //
Books, books, books! Books are an amazing gift. I don't know about you, but I love to receive books on holidays more than just about anything else. Whether it be a great coffee table book, a philosophical deep dive, or a fun beach read… I LOVE BOOKS!
You can head to my Amazon shop page for a big list of my current fave books & reads that have changed my life this year — and I honestly recommend any & all of them!
Among the list that are actual top favorites right now that I would highly recommend gifting would be…
+ The Daily Stoic (& The Daily Stoic Journal) by Ryan Holiday — This book is for one of your more deep & philosophical friends, but don't be worried, it's still a very easy read when it comes to philosophy. It's curated so that each day of the year is matched with a quote from one of the ancient Stoics. Stoicism is an Ancient Greek school taught that virtue, acting from the highest good, and living in harmony with nature and with others. If you're looking for a great way to start your year off on a new and inspired foot (or if anyone in your life is, GO WITH THIS BOOK & the accompanying journal!!!!). Also, he was on the podcast this year — take a listen here!
+ My 22 Day Detox Ebook — I created this in January 2020 to help people heal, find balance, find food freedom, enjoy delicious plant-based vegan food, embrace the SOS-free lifestyle, and overall live a beautiful anti-inflammatory life. It goes deep on spirituality, emotional eating, tips for eating out on an SOS-free diet, meal plan ideas, beautiful food photos, stories, my journey, and more. It also has more than  50 Exclusive Healthy, Plant-Based, SOS-Free Recipes To Enhance Your Life, Help You Find Food Freedom, And Fall In Love With Your Lifestyle. 

+ Super Attractor by Gabby Bernstein — Gabby is one of my ultimate spiritual teachers and guides. I go to her books and her programs every time I need a boost to tune back into myself and drop the bullshit of negative self-talk and fear-based actions. Her books are also great for friends who are just getting into spirituality, as she writes them from her approachable and very personal experience and shares many intimate details from her own life. She draws on the teachings from A Course in Miracles (another great read, also on my Amazon page, for someone who is ready to go MUCH DEEPER) and from her own teachers like Marianne Williamson, Wayne Dyer & Deepak Chopra. HIGHLY RECOMMEND, and would be great to give to a girlfriend, your mom, etc.! Similarly, her Super Attractor Card Deck (also on my Amazon page), would make SUCH A GOOD GIFT!
+ The Rose That Booms in the Night by Allie Michelle — This poetry collection was written by a dear friend of mine, Allie Michelle. She is so young, and SO WISE. Her poetry is like medicine for my bones. Honestly, each time I open this book it brings me exactly when I need, right when I need it. There are poems in her book about love, loss, growth, evolving, and truly just being human even when being human is the hardest thing to do. HIGHLY RECOMMEND, she is pure magic.
+ Honestly all of the other books on there from Nine Perfect Strangers for your friend who lives juicy fiction (written by the same author who wrote Big Little Lies!), to The Soul of Money (who has heard my dad rave about it on insta and the podcast?!), to the Definitive Book of Human Design, are all some of my top favorites & books that really influenced (or entertained!) my life this year. It would be fun to gift a bundle, and pair it with some skincare or even some CBD for a "wellness night in" gift basket!!!
SPIRITUAL //
A bunch of the books above absolutely fall into the spiritual category, and here are a few more ideas for you…
+ Waking Back Up To Your Own Soul // The Course: My 9 week audio course that can be listened to like a podcast! We go deep on 5D consciousness, healing ancestral trauma, healing pain in the body, manifesting, channeling, opening up psychically, the Kabblah, the Law of Attraction, and beyond. Essentially, it aligns us with what lights us up, helps us to relearn our inner cosmic power, and to reclaim the true essence of who we are.
+ CRYSTALS! My absolute favorite place to shop crystals is Energy Muse, which was founded by the amazing Heather & Timmi who have been staples on TBB Podcast. Not only do I love their crystal gift bundles to give to people, I also love their jewelry! They have beautiful bracelets that come with intention setting exercises that I love gifting to people in my life (you can choose a set of Love, Health, or New Beginnings). I also love gifting their Energy Clearing Kits to my friends and fam that comes along with crystals, sage, and a singing bowl! You can now receive a discount off of Energy Muse products & crystals with the code BLONDE!!!
+ JOURNALS! My friend Tricia makes these AMAZING journals at Your Joyologist, with the best quotes on them that Jonathan and I are obsessed with. She also sells mugs, tumblers, magnets, and key chains with inspirational quotes on them like, "Fuck The Shoulds, Do the Wants," and "Everything Is Going My Way." A simple and easy gift for someone who loves to journal or is looking to get more in tune & inspired on a daily basis.
+ The Wild Unknown Animal Spirit Deck & Guidebook! You can find these at the top of my Amazon shop book page and OMG, you guys. THESE ARE SO FUN! My bridesmaids & I pulled these cards at the beginning and at the end of my bachelorette party in Tulum, and they were SO SPOT ON. The first time we pulled, I was the Golden Egg card which is a spirit card and it spoke to my heart so truly and in such alignment it was just WILD. Then, we pulled them again the morning of my wedding! You can even see them in our wedding video that I shared on Instagram yesterday! HIGHLY recommend these as a gift, along with a journal and a book for a fun bundle, or on their own depending on who you're gifting to!
+ You can always gift an EXPERIENCE to your friends, like a phone call with a medium, a session with a Reiki master, a sound bath experience, a trip to a kundalini class or yoga class, or a yoga retreat together! The options are endless!! My best friend and I are going to see a medium together for our gifts to each other this year… and I am SO EXCITED.
SKINCARE & SELF CARE //
+ Cocokind skincare! — Okay you guys, my friend Priscilla is such an amazing badass entrepreneur and this wouldn't be an official gift guide without her products being on here. They have so many new and amazing masks and other things you can peruse, but my personal favorite is and always will be the MATCHA STICK! This highlighter trio set is an amazing makeup set with my personal fave… their chagaglo! So yes, you're seeing the adaptogens that I love even in makeup on this guide. It's amazing. Also, their macabeet stick makes a great blush. Highly recommend their products and you know you're supporting a fantastic and inspiring entrepreneur in the process.
+ CANDLES!! The amazing brand Taja Collection made this incredible custom candles for our wedding that we helped design, and I couldn't be more in love. They have a bunch of customization options from color, to size, to fragrance, and it's literally a perfect gift to give to the people you love in your life, with their initials, or an inside joke, or something special between the two of you written on there. 🙂 Super special and incredible brand!
+ SAUNAS !!! Now we are getting into the more splurgey gifts. I have both a Clearlight sauna & a Sunlighten sauna in our home, and I am OBSESSED. With Clearlight, you can use the code BONDE for $450 off a cabin style sauna that is literally amazing (or any of their products, but I have the one-person cabin style one!), and you can also use the code BLONDE with Sunlighten for $200 off any of their saunas plus free shipping. SWEATING in an infrared sauna is amazing for those of us with chronic illness, or anyone looking to boost their detox routine.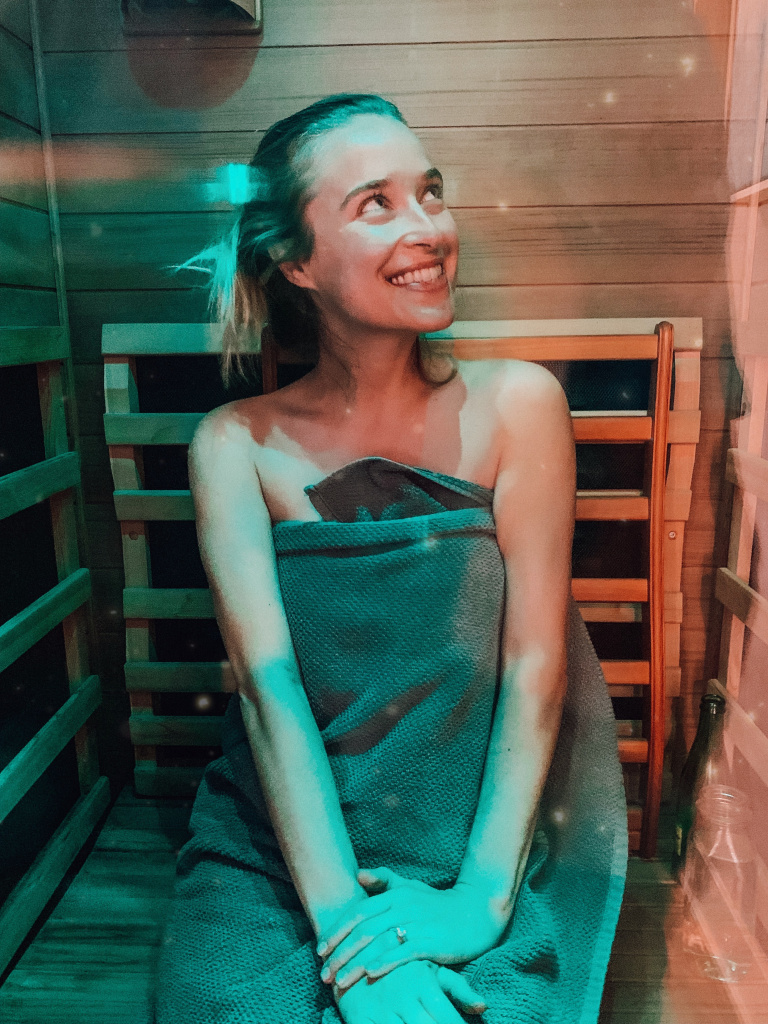 Alright guys, that's what I've got for ya for now! I said I would keep it simple so that's what I am trying to do, even though you know me – I could go on forever! As you can see here, there are no clothes, bags, shoes, etc. on this gift guide. This is a guide for the HEALTHY GAL or GUY in your life or someone who you are looking to inspire to get more into the health & wellness world… I saved the super woo-woo stuff for another day. 😉 And keep an eye out for my ebook launching EARLY 2020 for a VERY SPECIAL RESET PROGRAMMMM that can serve as a gift to YOURSELF or someone you love this holiday season.. eeep!
Let me know below what/if anything here strikes your fancy! And tag me on Insta if you order it so I can see! YAYYY! Also, find PART TWO of this healthy holiday gift guide here: PART TWO!