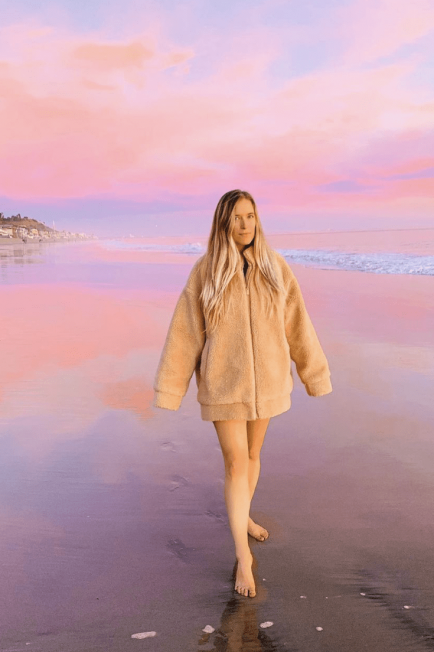 My 48 Hour Digital Detox & The Bliss It Brought Me
Hi guys! Happy Monday! I know it's not just me when I say the burnout online has been so real lately. Especially for those of us who see & work with energy… let's just say the energy of the internet world has been a lot. It's also reflecting the energy of the offline world which has been a LOT. I hate to talk about darkness, but the energy of the world has been rather dark (I know this is no secret to any of us) & all of us empaths are feeling it big time.
By the end of last week it was extremely clear to me that I needed a break from my phone. Not just social media, but my phone in general. Every time it buzzed (or god forbid rang — lol), I felt something deep inside of me jolt into fight or flight mode. The anxiety has been brewing SO intensely and I have been feeling it in every muscle & bone of my body.
I sleep with my phone on airplane mode every night, and by the time I turn it on I usually have between 45-60 text messages. Every morning. At least. I feel like my phone has kind of turned into a DM inbox, especially because I haven't changed my phone number ever & have had my same number since 6th grade, giving it out with wild abandon. Old habits die hard.
I receive text messages often from people I haven't seen in 15+ years. Or people I've met once. Or people I've never met. But you know what the craziest part is? I feel a deep & innate need to get back to everyone. Every time I try to not respond to place a boundary in my energy field, a week or two passes and I feel like a bitch. I don't like to ghost people. So then I go on a responding spree. But I also know that my energy is precious and as time goes on, I realize how much I need that energy for my own healing body, my own family, my husband, and my close circle of friends. There is only so much energy to go around!
And although some things can easily be ignored, a lot of the messages I wake up to every day are from my team and my family. So the moment my phone goes on, I am immersed in a different world. An online world. One where being "on" is the name of the game & if too many hours pass by without me getting back to someone, they will start to worry about me! Or things with TBB just simply won't get done.
I know I am not the only one in this boat and I am certainly not special because I wake up to so many messages. 😂 I think all millennials are in this boat, and especially those of us who have chosen a more public life. I was recently told, "You know you have too many friends when you have a birthday to go to every single weekend." Well, that would be me. I love having a lot of friends. But because of my life on the internet, I also have a lot of internet friends, and then a lot of eyeballs that can form opinions on what I am doing or saying even if we are not friends. Where does all of that energy go…?
We live in an "on demand" world. We are all on demand, at all times. My time with my phone on airplane mode every night and into the next morning is deeply coveted for me, because it's just about the only time I am alone with my thoughts before I get into response or reactivity mode. All of the most efficient business people I look up to talk about this time as the best time for thinking — proactivity vs. reactivity. My goal is to be able to turn my phone on AND remain proactive and creative, but is it just me or is that a really hard thing to do!?!?
Anyway, this weekend I kept my phone off for 48 hours and believe me when I say it was fucking bliss. Yes, my mom got a little worried so if you are going to follow suit I recommend you tell your family before you do it so no one freaks out. 😂 I thought about telling her on Friday night before I turned it off, but to be honest keeping it off was very spontaneous. And truth be told I have told her & others many times that "I'm going to turn my phone off for the weekend" and that lasts about 2 hours before it's back on. So I didn't really want the pressure or to make it a THING, I just wanted to do it if it felt right. And boy did it feel right.
On Saturday morning, Jonathan and I woke up and just KNOWING in my heart that I wasn't going to turn on my phone filled me with an unexplainable joy. I felt free. I felt like I could breathe, and like I had space to do… whatever the hell I wanted?! What a novelty! It actually felt like the 90's again which I miss & think about all the time. How sad is that? That I had to turn my phone OFF to actually experience that feeling of total freedom again. To return to something that is an actual birthright for all of us, to keep our energy inside of us for even a day.
All day we laid in bed, binge watched our favorite show (This is Us — we are late to the game but it is SO GOOD), cooked healthy food together, went on a long walk in our dream neighborhood, went to Erewhon (turns out grocery shopping is a hell of a lot more productive when you don't look at your phone every 15 seconds), made dinner and got in bed early to cuddle & read. I read a whole novel this weekend. It was so simple… and returning to the simple joys of life for even one day blew me away.
For the record I texted my mom from J's phone around 6pm that day! She was annoyed & had been worried !! Hence why you should tell your family if you are going to go phone-free. 😉 And as much as I LOVE how connected my mom and I are, and it's my favorite thing about our relationship, it's also kind of sad yet again that we as humans are used to being SO ON that if the majority of a day passes by without someone we love getting in contact, it scares us. I mean, I'd feel the same level of worry if I didn't hear from my mom all day. We are a society and a culture that is supposed to be reachable from the time we wake up to the time we fall asleep.
What I learned from the experience…
Of course Saturday was so blissful that I had to do it again on Sunday. Plus, there was the mounting anxiety of, "What if I turn my phone on and have 60+ messages and then my day is not mine anymore?" So I kept it off. Went to the farmer's market. Went on another long walk. Had more quality time with my love. Got massage & cupping. Then I kept it off until this morning, and something miraculous happened! I had ENERGY to get back to people. I was EXCITED to talk on the phone, to catch up with my close friends, & to hop on social media and share a little tidbit about my weekend.
The burnout was already healing. And that was an amazing feeling. But I feel in my bones I will be approaching social media & my phone differently from here on out. What used to serve me as a blogger, writer and human no longer serves me in the same way. I built my career off of sharing everything… very much to a fault. I reached a point somewhere along the line where I felt that if I kept certain aspects of my life to myself, then I would be boring, or people wouldn't want to follow me anymore, because I lead with an open heart and share it all. But also somewhere along the line I lost the energy I used to be able to give to myself.
So now, that is what I am focused on. Returning that energy to myself. I have a lot of big goals for my business and my life, and I recognize that I can accomplish absolutely none of it if I keep going at the pace that I have been going. It's easy to tell myself, "it's just one more email, just one more DM, just one more little slide for my IG story…" but that's not what it is. It all compounds. When I did a plant medicine ceremony last year I saw my email inbox & the time I spent within it as an absolute energy assault. I know that is a strong word, nut our energy is precious. Our time is also precious. And I really fear that we as a society give too much of those things away (both time and energy) for our own good.
Energy Boundaries !!
Today I am writing with a clear mind. I really believe that if I had not taken a break over the weekend, I wouldn't have had it in me to write this post. I am also looking up at my organizational post-it notes that outline my goals both in business & in life for the rest of 2021 and beyond. I have some BIG goals, you guys. I am excited about them. And it's going to require a lot of my energy to bring all of this to fruition. I know I need to use my energy wisely & have respect for what I am really trying to do here, and not continue to play small in the ways that I have been. Playing small is scrolling social media all day & using all of my creative energy to write Instagram captions + respond to DM's / comments all day. Playing small is considering myself an influencer rather than the spiritual teacher I know I am in my heart.
I am transitioning into that person now. Spiritual teacher. I envision myself in a white bubble of light, and I envision my business in a white bubble of light. I genuinely believe in this energetic shift I am creating, and I know that we can all do the same if we feel called to. I also genuinely believe and know that what worked for many of us in the past isn't going to continue to work as we move further and further into operating from the 5D. BOUNDARIES are going to become not only more needed, but completely imperative. 
So yes, all of this is my focus right now. I can't say I learned all of this from my 48 hours off of my phone — this has been a long time coming for me. These thoughts have been percolating and brewing for YEARS. I have simply reached a point now where if I don't operate in this way, everything will suffer. My business, my energy, my mind and heart. I promise to continue to show up with an open heart and let you into my life but I won't be sharing *everything* & also, I don't think seeing everything serves the greater good anyway. I would much rather show up as a teacher and guiding light, what I know to be in my heart, than an internet diary pouring my heart out into the ethers every day. You feel me?
You will see all of this reflected in my upcoming Celestial Diet & Lifestyle program (are you on the list yet?!), other exciting projects I have in the works, but ultimately in the energy with which I will show up in the world. Energy speaks louder than words. & I believe and know it is time for me to be the example of all I believe in, and highlight a different way of doing things. A new way of doing things. This will also be reflected on my podcast — you will see a lot more solo episodes and a very different type of energy exchange. A much more sustainable one. It's going to be good. 
I would love your thoughts below. What are your boundaries with social media? This is something I will be working on big time from here on out, and would love all of your own ideas, hacks, tips & tricks !! XO