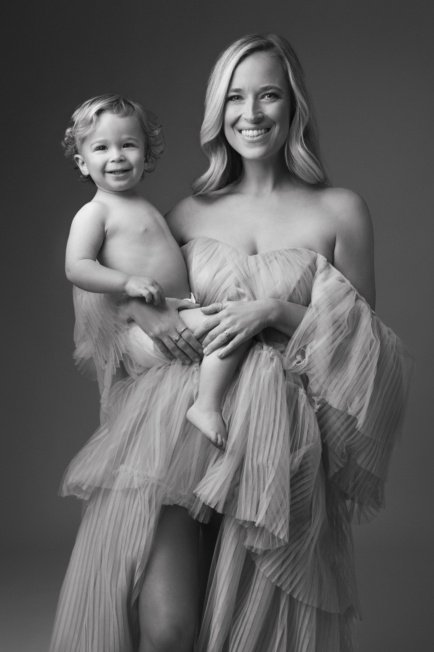 Hi to all my favorite people! How is everyone's weeks going? Am I the only one who is shocked that it is already mid August…?! Not only has this summer been flying by, but this year has been flying by. I am excited for fall — YES, I am more of a fall person than a summer person. Any other crazy chilly weather people out there like me? 🤪
Let's get into today's 12 things! It's gonna be a good one!
1. If you have been following on my IG stories lately, I am really in the headspace of elevating my personal style. I always say my style has two vibes and these are the vibes: one, teenage girl at an emo concert wearing an oversized band tee & biker shorts. That is my DAILY go-to. With some nice sneakers like Anine Bing all white at the moment. Or two, chic podcasting mom with a back blazer, crop top, black pants and black boots. I also can really get into the sundress vibe, I have a ton of Christy Dawn dresses. Anyway though I am trying to recycle some of the stuff in my closet and opt for more timeless and sophisticated pieces. Keep your recs coming because I have been loving them!
2. I have been told a lot of times lately that the Kion links in previous blog posts were not working. I have no idea why that is, but I want to drop the link here once more for anyone who is excited to try the protein aminos and haven't yet!! I am SUCH a fan. I had the founder Angelo Keely on my podcast & we talked not only the importance of protein and amino acids, but also his incredible story of recovering from being stabbed at 17. It was a WILD convo and so good. Check out Kion with my discount link HERE!
3. I am alllll about red light & sheet masks lately for my skin. My sensitive, eczema prone skin has been loving that routine. I want to do a roundup of all of my favorite sheet masks. Any faves I should add to my list to try out for you guys?! As far as red-light, I am LOVING my Lume Box. Use this link for $250 off. (Such an amazing deal right?! Kind of insane!) They are the best of the best, low EMF, all the things.
4. A few additional benefits of red light therapy, if you are wondering!! It improves skin, reduces inflammation, improves skin recovery and elasticity, boosts mood & energy, can help alleviate joint pain, can help with acne and eczema, boosts collagen, and more. To do that it works with your mitochrondrial health. So fascinating and awesome. Again, use this link for $250 off my favoriteeeee red light in the game.
5. I just spent the morning with Atticus at the farmer's market and it was heaven. I always meet so many amazing TBB readers there. It's like our community flocks to the farmer's market, just like we flock to Erewhon, yoga studios, all things wellnes-y. 😉 If you ever see us in any of those places (or anywhere else), come say hi! It is truly one of my favorite things in the world to connect with you guys.
6. To go back to number one on the list, my favorite place to get oversized tees is Urban Outfitters. Just trust me. I think I have like 10 and they are all on the constant rotation.
7. We have been manifesting buying our first home (!!!) and I feel like we are getting closer and closer to landing on it. It has been a long journey with lots and lots of patience. Probably more patience than I have ever poured into anything. Send us good energy for looking at some places this week. <3
8. I have been really into listening to this frequency music on YouTube lately while I work and write. It keeps me in such a good headspace and makes me feel so calm.
9. Who else is watching The Summer I Turned Pretty?! I am obsessed. It should be criminal how obsessed I am with both Conrad and Jeremiah – lol. I think I am team Conrad though… younger me always loved the bad boy. But I also cannot stand how Belly keeps going back and forth between them and is contributing to tearing apart their relationship. That part has been insanely hard to watch. WHO FEELS THIS WAY?! I need your thoughts!
10. Speaking of good TV shows, I watched the first season of Tell Me Lies last week and it was sooooo good. I was looking for a good show to binge and I was so sad that season 2 hadn't come out yet. I watched the whole first season with the idea that season 2 was also out, so needless to say it was kind of devastating to find out that I have to wait until next year for that. But if you are looking for a good show, highly recommend. It's a little dark but I like dark. Also I feel like it never became that popular of a show for some reason so it's kind of under the radar!!
11. If you are more of a book person than a TV person, I got you. I devoured Minka Kelly's memoir Tell Me Everything this past week and it is SO good. She is a fantastic story teller and she has been through so much in her life. I honestly was not even that familiar with her before reading this but I didn't have to be in order to get into it. Such a good memoir – HIGHLY recommend.
12. If I were to start a brand new podcast in a whole diff genre, I think it would be a celebrity memoir podcast. Or a book club podcast in general. I know those exist already but I feel like it would be SO much fun. I still would love to do a monthly TBB book club podcast… tell me if you want me to do that!!!
Alll my loveeee, my favorite humans. Get excited for tomorrow's pod episode. It is a super special one with my OLDEST guest of all time, by far. That is your hint. Any guesses?!