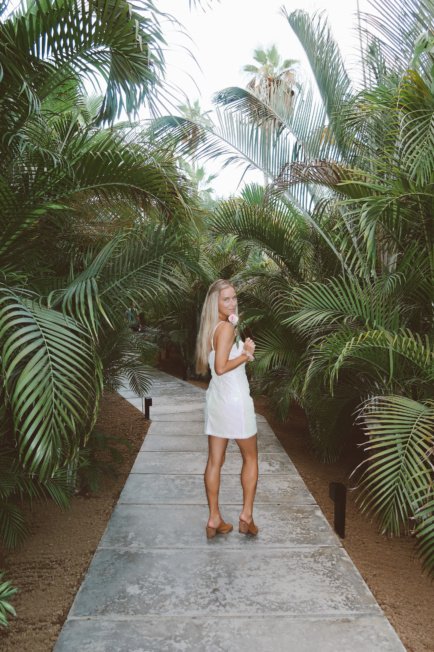 Hello, hello! Happy 12 things Tuesday! How is everyone doing? We are back from Cabo, most relaxing time ever, and I am excited to connect with you guys today.
I know there has been a lot of heaviness in the world these last few weeks, and I am holding all of the space for however you may be feeling. My heart is with everyone + anyone who is personally affected by what is going on in Israel and Gaza. As a Jewish woman this has definitely hit close to home, and has been devastating beyond words. As always with this post I hope to bring some brightness to your day… so that's exactly what we're gonna do. ♡
12 Things Tuesday !!
1. The level of exhaustion today I feel is *beyond words.* We got back from Mexico late Friday night, and then on Sunday morning I flew to the bay area for my best friend's son's first birthday. Then, I flew back later that night to get home for a big meeting I had yesterday. I was on such an adrenaline high from that meeting… and now my entire body has crashed & burned. All such fun stuff, but I really need a day of rest now. My body is speaking to me!
2. I just sent out like 2928392 voice notes on my phone — my favorite way to communicate with my friends. I took quite a bit of time away from my phone in Cabo so I had a lot of people to get back to. Highly recommend communicating via voice note for my fellow people who have a lot to say. 😉
3. I can't believe Libra season is already almost over. I feel like it just began?! Time has moved incredibly fast this year, but this season especially has been moving at the speed of light.
4. Things are moving along with the meditation platform (!!!). I am recording tons of meditations for you guys, and hoping to launch by early November. Originally I was hoping sooner but there's just way more to do on the backend than I anticipated! But it is all so exciting and I cannot wait for what's to come… ahhh! Who is ready?!
5. That said, what kind of meditations do you want to hear? Any requests for me? Send them my way!! Be specific!!!
6. Atticus is so, so into taking off people's bracelets and putting them on his own wrist right now. 😂 It is so cute and hilarious. My parents both wear EMF blocking bracelets and he is obsessed with putting both of them on him at all times. He gets upset if one of them isn't wearing their bracelet. He is such a creature of habit & routine and I love that about him. <3
7. We are in our preschool touring era!!!! I cannot believe that we are already at that stage. I put it off for as long as humanly possible but it has been fun to get into so far, and I have learned so much already about all of the various alternative schooling processes. Spoiler alert: I will never send my kids to a *regular* school. So we are looking at all of the cool alternative ones, nature schools, Waldorfs, etc.
8. Have you listened to last week's podcast episode where Shelby, from my team, interviews me!?!? It is such a special one. A favorite for sure. She had the best questions and it was our annual birthday episode. Just so much fun.
9. My nails are hot pink right now and Atticus calls pink, "PEEP." It is the BEST thing ever. He says "MORE PEEP" to everything now because in Cabo we had pink lights in our villa and now he wants me to turn on the pink lights (peep lights) everywhere we go!
10. This age, almost two years old (22 months to be exact), is my favorite yet by far. I cannot believe how it just gets more and more fun. 🥹
11. I am reading this book by Wayne Dyer & Abraham Hicks (Esther)… and oh my god, it is so good. A life changing book. I am almost finished with it and I already want to start it again from the beginning. It is full of such universal wisdom, I do not even have any words.
12. I created a page for you guys to shop my Revolve looks, since I basically buy all of my clothes on Revolve!!! Everything I wore in Cabo is on there, plus what I wore to T Swift, my fave jeans, fave flannels, all the fall favorites!! I hope you love!!!!
LOVE YOU ALL! How is everyone doing today!? Xoxo