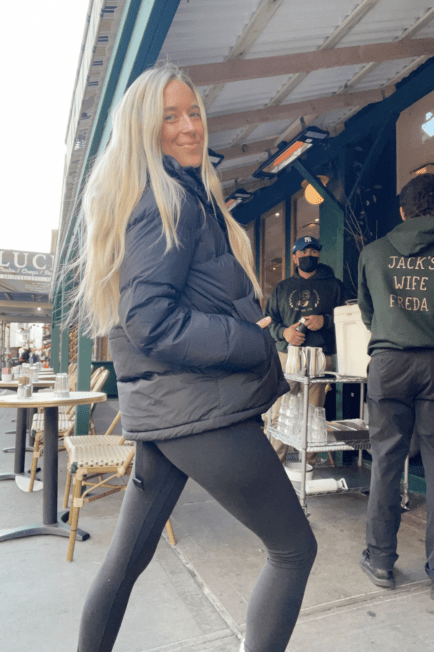 My loves, hiii! Happy Thanksgiving week & hello, hello to my favorite humans. I am so sorry that I missed last week's blog post — I believe it was my first time missing one all year! I was in NYC having some very exciting meetings for something I have been working on for nearly a decade, so I was full-on in the zone. I can't wait to update on you guys on that, eek!
On that note, I saved up a bunch of things I wanted to tell you guys so today is going to be juicy. With that, let's dive into this week's 12 things. ♡
12 Things Tuesday //
1. I am so happy that you loved the BOOK RECS post! I know that so many of you are big readers like me, so it was about time we did a big roundup of a bunch of my favorites. If you missed it, check it out. If you've read anything from the list, tell me below so we can discuss + dissect!!!
2. We are getting closer & closer to the launch of TBB meditation platform! Are you on the VIP waitlist yet?! Those who are on the waitlist will be the first to know about the launch & will get exclusive access to founding members pricing, huge wellness giveaways (!!), personalized one-on-ones with me, bonus content, and so much more. If you are looking for a meditation platform that has it all… you're gonna love. I am so flipping excited.
3. The meditation platform launch got pushed a bit because of what I was doing in NY!! I have been so focused on bringing that to life, that the meditations are going to end up taking a few more weeks. I want everything to be perfect when it comes to life. From design, to sound (specifically created binaural beats just for these!), to user experience, to launch photos and beyond, I just want it to be the best experience overall that it can possibly be.
4. What are you all doing for Thanksgiving?! We will be in LA this year with Jonathan's family. I am excited to stay in town, especially after traveling last week. I love this holiday so much. I feel like it is such a cozy time of year and really begins the season where everyone finally slows down. It's kind of the time of year that is most aligned with living as a Reflector (in Human Design), because people actually get why we shouldn't be go-go-go and constantly available during this time!! I love it.
5. I am still so sad over the passing of Matthew Perry!!!! 😭 I haven't addressed it here yet but I have been SHOOK. I know I am not the only one who literally felt like I knew him, because Friends has such a special place in so many people's hearts. I particularly became a diehard Matthew fan, even beyond his Chandler character, when I read his memoir & saw him on Diane Sawyer last year. It was so clear how much he was struggling & it just breaks me that he didn't get to experience peace before he died. He will forever be in our hearts. I have been loving seeing the tributes from all of his former cast-mates. ♡
6. Do you guys want me to do a holiday gift guide this year?! I LOVE making them but I also feel like they're so so overdone they're literally a dime a dozen. But you know a TBB one will be special and massively TBB approved, holistic, magical, all the things. I am leaning toward YES but tell me your thoughts?!
7. Speaking of, if you're looking to shop TBB merch (angel number collection hellloooo!!) for holiday gifties, we are offering 20% off this week with code SAVE20 for Black Friday / Cyber Monday! Get on it, babies!! I even ordered a bunch to give for gifts hehe. Will be doing a big giveaway with it in the soon-to-launch meditation platform for SURE!
8. I am SUPER into my Bon Charge infrared sauna blanket right now!!!! Picture this: A luxurious cocoon of warmth envelops you as infrared technology works magic to soothe your muscles and melt away stress… like, excuse me?! Imagine the detoxifying benefits that can rejuvenate your skin, promote better circulation, and boost your overall well-being — it's amazing. I have been living in this since getting home from NYC. They're offering an amazing 25% off sale on their Sauna Blanket — BEST time to get one! Your body and soul will thank you for it. Head to their site, and the discount will automatically apply to your order.
9. Being back in New York last week was literal magic. I stayed in Meatpacking, just a few blocks away from where I lived in the west village back when I started this blog. It was like taking a trip down memory lane. It always makes me so nostalgic to be there, and going back for the first time since pre-pandemic (WILD) & especially now that I am a mom and my life has shifted so much was really such a trip. I loved seeing all my friends and just had the best time ever.
10. Restaurant highlights in NYC this time around!!! I LOVED abcV, such a staple. It's a must in NY and is the vegetarian, high vibrational take on the iconic ABC kitchen. I also looooved Sant Ambreous, such an amazing spot in the West Village. You feel like Carrie Bradshaw sitting outside having a leisurely midday lunch. They have a few locations but I love the one on Perry Street. At Sant Ambreous, get the salmon with mashed potatoes!! Other winners: Souen Macrobiotic (my fave of all time for true healthy food), Jack's Wife Freda for just a good vibe in the best neighborhood (only decent food though), Barbuto in Meatpacking for a delish upscale dinner, & Morandi in the West Village for a local's fave Italian spot.
11. For juice/smoothies in NY, Juice Press always but if I am being honest I feel like it's gone downhill/very much commercialized since I used to live there and go daily. And for the BEST matcha with homemade cashew mylk, Dr. Smood!! They used to have decaf but apparently they don't anymore? Honestly there were so many more places I wanted to go to but didn't have the time on this trip!!! I had a lot of room service at my hotel because I was a worker-bee / writing machine the whole time I was there!
12. We took our family holiday card photos on Sunday!! I am SOOO excited to see them. We did them on the beach in Manhattan Beach, and it was a beautiful sunny day. Not quite the winter-y vibe I pictured on the cards but it's very LA so I can't complain. Attie had a blast and was so happy and cute the whole time. PS he is talking so much now I cannot get over it. It is the cutest thing in the world.
13. A bonus one today… I just got off the phone with my Chinese medicine doctor, and she is amazing. She is a true intuitive. I like to call her my psychic witch doctor. She. has helped me SO much.
How is everyone doing?!?! Love you all so much! XO & happy holidays!